February 13th, 2004 by Karen Shelton
Introduction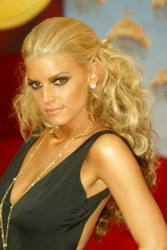 Whether you're a fan of MTV's Newlyweds or not, you've probably spotted Jessica Simpson here, there and everywhere lately.
In just a few short months she has been featured on a billboard in Time's Square, on the cover of countless magazines from Rolling Stone and Teen People to 101 Celebrity Hairstyles, to name just a few of the many covers she has graced.
(Image of Jessica Simpson at the 2005 MTV Movie Awards, Shrine Auditorium, LA, CA, June 5, 2005 - Images by David Edwards - DailyCeleb.com).
America's beloved beautiful blonde ditz has done virtually the entire talk show circuit chatting it up with the ladies on the View, flirting with David Letterman and exercising her velvet pipes on Leno.
Along with her husband Nick, she helped Dick Clark ring in the 2004 New Year, was the hilarious co-hostess on Saturday Night Live and kicked off the scandal tainted Superbowl half time show.
Jessica has also been snapped on all the major red carpets for the awards shows ranging from the 31st American Music Awards and the Billboard Music Awards to the recent Golden Globes. Of course Jessica's strands always look absolutely spectacular.
Mane Man Ken Paves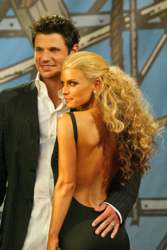 Since Ken Paves, her hairdresser, is one of my all time favorite people, I have my home Tivo set to record every possible Jessica sighting so I can study her ever revolving array of spectacular tresses.
(Image of Jessica Simpson at the 2005 MTV Movie Awards, Shrine Auditorium, LA, CA, June 5, 2005 - Images by David Edwards - DailyCeleb.com).
Over the past year Ken has coiffed Jessica in an eye popping, whirlwind tress collection, of award winning styles. Jessica has gone from long to short and back to long, straight to curly and through a collection of updos, twists and ponies in short order.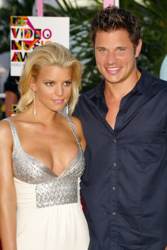 Whereas Jessica used to be compared to the other pop tarts of her era, such as Britney and Christina, Jessica is now setting the standards and leading the rest of the rock chick pack.
(Image of Jessica Simpson and Nick Lachey at the 2004 MTV Video Awards Arrivals, American Airlines Arena, Miami, Florida, August 29, 2004 - Photo by: David Edwards - Dailyceleb.com).
Even more importantly, Ken has helped Jessica achieve a new fashion and beauty cachet. With Ken's inspired coiffure designs, Jessica has publicly morphed through a series of style clones ranging from a sassy tressed I Dream Of Jeannie, to a young innocent version of Cinderella. With Ken's help and brilliant interpretation of her true persona, Jessica instantly becomes a modern Barbara Eden, Marilyn Monroe or Goldie Hawn, for a few hours or a few days.
Secrets Of Jessica's Transformations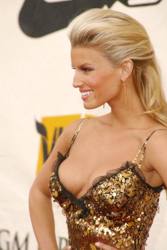 Regardless of your opinion about the different hairstyles that Jessica has donned over the past several months, you would probably agree that she is always tressed befitting the rising superstar status that she has achieved.
(Image of Jessica Simpson at the 2004 VH1 Divas Concert in the MGM Grand Hotel, Las Vegas, Nevada, April 18, 2004).
So how does Ken manage to keep Jessica's look ever changing, fresh, gorgeous and newsworthy? Since Ken has worked closely with Jessica for man years, he has developed a special relationship of her inner soul and the images she wishes to express. He has also learned exactly how to coax her strands into styles that are best for Jessica.
Through a combination of long killer hours, hard work, creativity and unprecedented hair genius Ken helps to transform Jessica. He also masterfully designs Jessica's styles with a vast collection of wigs, hair extensions, styling products and tools. Ken invests a lot of personal elbow grease or whatever it takes to help make Jessica gorgeous.
Cross Country Blow Drying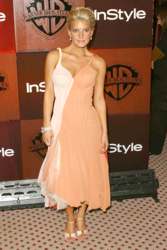 Lately Jessica has been keeping a brutal cross country schedule of performances, appearances and photo shoots with Ken trekking right behind. Popping back and forth in a frenzied pace between Los Angeles, New York and Chicago, Ken is often spotted racing through airports to catch a red eye in order to coif Jessica.
(Image of Jessica Simpson at the InStyle Golden Globes After Party in the Beverly Hilton Hotel, Beverly Hills, CA, January 25, 2004 - Photo by David Edwards - Dailyceleb.com - all rights reserved).
In fact, if you looked closely, you could sometimes spot Ken in the background of The Newlyweds shows in the process of doing Jessica's hair for her various appearances.
Lugging his trusty red blow dryer, Mason Pearson popular hairbrush and Candice, his wig form, Ken packs for every possible Jessica hairstyling scenario.
Because he is an absolute perfectionist, Ken often hand sews and color matches any hair extensions destined to create a new style for the blonde superstar. He also works closely with Jessica's celebrity hair colorist, Rita Hazan. (Rita Hazan Salon in New York City - 212-734-4757).
Jessica's Hair Secrets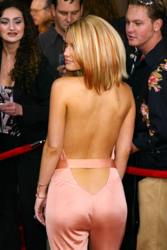 The key to Ken's brilliant hair designs for Jessica are tied to the fact that he has established a long and trusting relationship with her.
(Image of Jessica Simpson at 31st Annual American Music Awards, Shrine Auditorium, Los Angeles, CA, November 16, 2003 - Photo by: David Edwards - Dailyceleb.com).
Jessica trusts Ken to make her hair look stunning and Ken understands what styles she loves and the image that she wishes to embrace. Together, the two of them consult in advance about hair styles for major appearances and events.
Ken also utilizes the very best styling products for Jessica's fine hair. As a result of all the constant hair changes, blow drying and curling, Ken keeps Jessica on a program of regular conditioning treatments.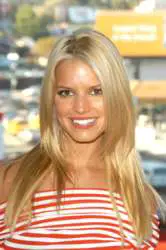 Even though her hair is finely textured, she has lots of hair and it requires pampering and special care, to keep it in great health.
(Image of Jessica Simpson at the USO's Salute The Troops free concert, Hollywood and Highland, California, May 10, 2004 - Photo David Edwards - Dailyceleb.com).
Ken uses a combination of Phyto and L'Oreal Kerastase cleansing, conditioning and styling products for Jessica's strands. He religiously uses the Phytolaque Soie, the red hairspray bottle, as he calls it, on her strands. Ken loves the Phytolaque Soie for Jessica because it provides a good but light hold for her hair type and texture.
Summary
The next time you spot Jessica Simpson with a spectacular new hairstyle that you would like to copy, but can't seem to quite master, don't fret. Instead, remember that the beautiful Jessica has one of the very best hairdressers at her side for any major public event. When you have a hair god like Ken Paves on your side, you are guaranteed a heavenly style.
Social Media Network Information
Please follow me on Twitter at: http://Twitter.com/HairBoutique. I look forward to meeting new people
from all walks of Twitter and learning from their Tweets. Visit us at Hairboutique.com located at: http://www.HairBoutique.com, on Facebook, MySpace and YouTube.
Thank you for visiting us at The HairBoutique Blog and for leaving your comments. They are very much appreciated. We apologize in advance but must remove any direct advertisements or solicitations.
- Revised Publication Date: 02/19/10
If you want to talk more about this or other hair care articles on HairBoutique.com or anywhere else, please post a message on HairBoutique.com's Hair Talk Forums.