Last updated on June 25th, 2005 by Karen Shelton
Introduction
It would probably surprise many Jennifer Aniston hair watchers to learn that the beloved star of TV's Friends didn't like all the attention that was focused on her tresses.
The actress whose "Rachel" look triggered a world class hairstyle frenzy wants to be known, admired and loved for her work as an actress and not for her perfectly coiffed bob, highlights or curls.
First Conversations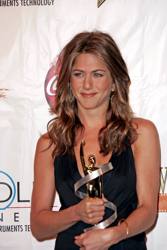 David Edwards DailyCeleb.com All Rights Reserved
Jennifer has been working with famed hairdresser Christopher McMillan (Christopher McMillan Salon), for years. Chris is responsible for the majority of her stunning tress transformations during her ten year long run on Friends and currently.
Note: Christopher McMillan Salon, 8944 Burton Way, Los Angeles, CA). According to Hollywood insiders, Jen is a very loyal, devoted and loving friend in real life.
She and Chris McMillan have not only worked together for years masterminding some of her spectacular hairstyles that have captured the love of the masses, they are best of friends and Jen supports Chris.
Jennifer has coarse, naturally wavy hair that she prefers to wear either straight with a lot of movement or with soft waves and curls. Although she morphs back and forth between different hues, her base is usually a light caramel with lots of baby blonde highlights around her face.
Steal Jennifer's Style - Step By Step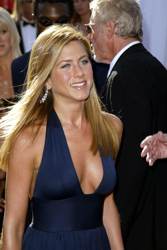 David Edwards DailyCeleb.com All Rights Reserved
Jen's short Rachel bob was the first hairstyle she wore that created a frenzy. However, since she first appeared on Friends in 1994 the Aquarian (February 11, 1969) has changed her hairstyles over the years and appears to prefer her hair long and soft with a hint of texture.
To style your tresses straight like Jennifer, complete the following steps:
Step 1: Shampoo and condition your hair with your normal products designed for your current hair type, texture and condition. If your hair is highlighted like Jessica's use either a moisture enhanced or color enriched formula. If your hair is dry from chemical processing, consider diluting the shampoo formula to protect your strands.(
(Shampoo products to try: Phyto - Phytojoba Hydrating Shampoo, PHYTO - Dry Hair System, Phyto - PhytoBrush Shampoo).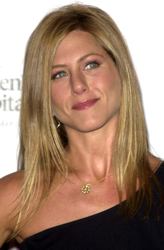 David Edwards DailyCeleb.com All Rights Reserved
If you have fine or thin hair, use a volume enhancing shampoo. Skip any rinse-out conditioning products that might make hair too soft and flat. If you must use a rinse-out conditioner, make sure that you limit how much you use and that you concentrate on the middle to the ends.
Rinse well with a cool water spray which helps build natural volume and increases shine.
Step 2: Towel blot strands. Detangle strands from the ends to the roots.
Step 3: Apply a volumizing gel or similar products to the roots. To protect against heat and add body, distribute a leave-in conditioner, mousse or gel from the top of the ears to the ends. Distribute well.
Note: If your hair tends to frizz or is naturally wavy or curly, you may wish to combine a volume product for the roots with a smoothing serum for the rest of the hair. (Anti-Frizz Product to try: Rene Furterer - Control Emulsion Anti-Frizz)
(Root volume products to try: Phyto - Phytovolume Actif, PHYTO - Volume System, Phyto - Phytovolume Shampoo).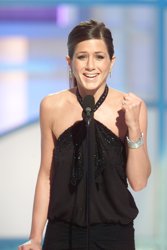 Paul Drinkwater NBC All Rights Reserved
Step 4: Working from side to side use a boar's head or natural round brush combined with your blow dryer to straighten and build in body.
Step 5: To build in volume at the roots, use the round brush to lift your tresses up and direct the air flow from the dryer up the hair shaft to the root. This "ruffles the cuticle" helping to add natural fullness.
If you prefer, bend over at the waist and direct the air flow of the dryer up the hair shaft towards the roots. When hair is 90% dry, bend right side up and work on the hair from the ears down to the ends.
Note: Hairdressers differ on their opinion whether it is beneficial to blow hair "upside down" or not. Use your own judgment on which technique works best for you.
Step 6: Use the round brush to straighten the remainder of the hair by rolling individual sections carefully around the brush and directing the air flow down the hair shaft towards the ends. This helps to straighten, close the cuticle and adds shine.
Step 7: While drying the ends, use the round brush to turn the ends under slightly while finishing.
Step 8: Seal the style by finishing up with a blast of cool air, if possible, from your blow dryer.
Step 9: Carefully comb in your desired part.
Step 10: To add soft curls and waves to Jessica's straight hairstyle, separate hair into 2-3 inch sections. Working from side to side near the roots, use a 1 1/2" curling iron and create big curls with the iron.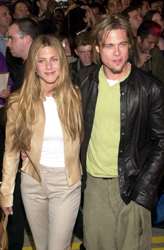 David Edwards DailyCeleb.com All Rights Reserved
Release each curl and then carefully pin into place with a bobby pin. Continue to curl and pin until the entire hair has been finished. Let the curls air dry until 100% cool
Step 11: Spray the pinned curls with a strong hold hairspray or volume spray. Carefully unpin the curls.
(Hairspray to try: PhytoPro - Instant Hold Spray #15)
Step 12: Apply a tiny drop of shine serum, drops or spray into the balms of your hands. Lightly brush the palms over the top of your style and you are ready to rock ala Jennifer Aniston style.
(Shine product to try: Phyto - PhytoLisse (Formerly Phytodefrisant RelaxSerum
If you prefer, you can use a curling iron to turn under the ends a little bit or use a straight iron on selected pieces around the face to give a contrasting texture to the bobbed look.
Summary
Although Jennifer Aniston is no longer our weekly Friend, she continues to star in a variety of films Even though the lovely actress is going through a lot of changes in life, don't expect her hair to slow down in the change department any time soon.
If you want to talk more about this or other hair care articles on HairBoutique.com or anywhere else, please post a message on HairBoutique.com's Hair Talk Forums.