Last updated on March 26th, 2006 by Karen Shelton
Introduction
Jennifer Aniston recently created a major new buzz with her sizzling stacked ponytail. Since she set the world on the end of their strands with her famous "Rachel", Jennifer has maintained a fairly simple but sultry hairstyle that consisted of wearing her luscious chocolate brown strands down around her shoulders in an array of textures.

It was a wonderful surprise to see the beloved actress wearing the latest trendy hairstyle that is currently sweeping Hollywood at her recent Friends With Money premiere.

Jennifer opted for a tousled pony that was "stacked" in the back to give her lots of "tail". Her tresses along the front and the crown were softly raked back and her natural waves were in evidence cascading throughout the tail sections of the sassy stacked pony.

One of the hottest pony styles right now is the high Ponytail set at the top of the head near the back of the crown. Celebs are showing up all over Hollywood with a myriad of high ponytails in a dizzying array of textures with various accessories.

Jennifer's pony is set high at the back of her but appears to be "stacked", which means that it consists of more than one pony or is strategically pinned around the base to give the appearance of hair that is stacked on top of other strands.

Although Jennifer seems to prefer wearing her hair long and loose, she did wear a sleeker version of her 2006 ponytail back in 2003 at the 2003 Golden Globes. That ponytail was worn lower down on her head and with less volume. The ponytail proved lucky since she won in her category that year.
Steal Jennifer's Stacked Pony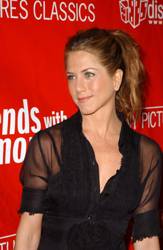 DailyCeleb.com All Rights Reserved
Although the famous Friend is wearing a high, stacked, ponytail with a loose tousled feel, it was definitely not created without some styling effort. There's little doubt that Jennifer hit the Red Carpet without the assistance of her long term hair guy - Chris McMillan.
The benefits of a stacked pony is that it creates a lot of fullness around the base. Having more than one pony placed right on top of another creates a lot more volume for the tail section.
A similar effect can be created with a circular pattern of bobby pins that lift individual strands and stack them to create a fuller tail section.
When creating a stacked pony, it is also possible to snap on a put-on pony to blend in with the rest of the hair and give it that fuller sexier look.
If you wish to copy Jennifer's stacked pony start with hair that is shoulder length or longer and is either naturally straight or has been pre-straightened so that you can create the smooth side and back sections.
If your hair is too short for a ponytail but you adore the look take your mouse and visit the HairUWear site for beautiful and incredibly affordable PutOnPieces that come in an array of add-on pony lengths and hues to match your own hair. You can also shop for a second pony that you can add to your own hair to create a similar stacked look.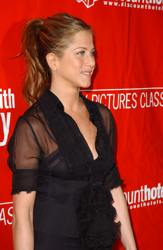 DailyCeleb.com All Rights Reserved
Note: My own personal favorite is The Swing Style which can be popped on your head in a matching color. For more info check out the article about Anna Kournikova.
Either you or your hairdresser can help you successfully add a PutOnPieces pony so that you can have a similar high pony stacked style.
Depending on your face shape, hair texture and type, work with your stylist to select whether you should go with a slicked back front and sides like Jennifer did. You may wish to modify this ponytail by adding a front fringe or some loose ringlets along the cheekbones.
Step By Step Instructions
Follow the steps listed below to steal Jennifer's sassy stacked ponytail hairstyle: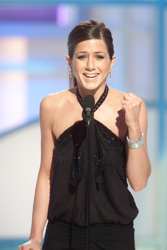 DailyCeleb.com All Rights Reserved
1. To duplicate Jennifer's soft 2006 ponytail, shampoo hair with a product designed to address your hair's special needs. If you color, highlight or chemically treat your hair, select a shampoo that supports those treatments. If you prefer, use a dilution formula or a conditioning only (CO) treatment. Note: For extra volume in the crown area, try PhytoVolume Shampoo or PhytoVolume Mousse Shampoo.
Note: Ponytails are often easier to style when hair is slightly aged from the last shampoo. Newly washed, soft, or slippery hair, can often be trickier to work with then "day old" hair.
If your hair is naturally slippery, you may wish to let your hair "age" a few hours after shampooing before attempting this style.

2. Apply the appropriate rinse-out conditioners. (Avoid if hair is super thin or fine). 3. Finish with a cool/cold water rinse to close cuticles and encourage natural shine. 4. Towel blot and apply very light cocktail of desired leave-in detangler, conditioner or styling products (firm holding mousse or gel). 5. For extra control along the crown and sides, apply a firm holding or sculpting gel. 6. Blow dry hair straight using a blow dryer with a concentrator attachment. If hair is naturally curly or wavy, apply a straightening balm like Phytodefrisant or similar to damp strands. Use a boar's head style paddle brush and separate hair into individual sections.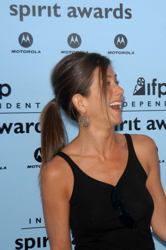 DailyCeleb.com All Rights Reserved
Note: For detailed tips on how to blow dry hair perfectly straight read Celebrity Hairdresser's Tips: Blow Drying Your Hair 7. When hair is completely dry, spray entire head with a firm holding spray like PhytoPro Strong Finishing Spray or similar. 8. Use a Mason Pearson, Kent or similar boar's bristle brush or your fingers to direct all of the hair away from the face towards the back of the head. 9. Gather hair into a ponytail with a base that rests right at the very top of the head near the back of the crown. Before attaching a hair-friendly Bungee Band or Blax in the same color as your hair, make sure that the crown and sides are completely smooth. 10. Separate the ponytail into two separate equally sized ponytails on top of each other. Attach a Bungee Band or Blax to each individual ponytail. Arrange the ponytails so that they rest on top of each other and form a continuous pony.
Note: If you prefer, attach an add-on ponytail in the same color as your hair.
11. Once the stacked ponytails are created you have many options. You can wear the tails straight, with curls or waves. Depending on the type of texture you desire for your tail, use a curling iron or straightening iron. 12. When the entire pony tail is curled or straightened, brush pony to integrate the new texture. Spray well with firm holding styling spray like PhytoPro Strong Finishing Spray . 13. Apply a light touch of shine product to add shimmer. Remember not to apply too much shine product.
Finish your look by adding appropriate accessories such as earrings, necklaces and where desired, hair accessories. Scale them to work with the length and size of the finished spiked hairstyle.
Summary
Jennifer Aniston made hair history with her Rachel. Everyone wanted her look. For 2006 she has adopted the latest hairstyle of the moment - the stacked ponytail. Steal her gorgeous crown high stacked pony and wear it for any party hair event.
It's a perfect style for Proms, Weddings or other dressy events where you wish to create your own Red Carpet magic. Be daring and inventive and jazz up the style with gorgeous earrings and other accessories.
Social Media Network Information
Please follow me on Twitter at: http://Twitter.com/HairBoutique. I look forward to meeting new people
from all walks of Twitter and learning from their Tweets. Visit us at Hairboutique.com located at: http://www.HairBoutique.com, on Facebook, MySpace and YouTube.
Thank you for visiting us at The HairBoutique Blog and for leaving your comments. They are very much appreciated. We apologize in advance but must remove any direct advertisements or solicitations.
- Revised Publication Date: 05/25/10
If you want to talk more about this or other hair care articles on HairBoutique.com or anywhere else, please post a message on HairBoutique.com's Hair Talk Forums.