Last updated on February 20th, 2000 by Karen Shelton
Introduction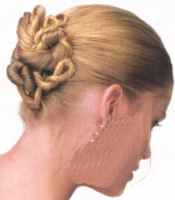 If I had a dollar for every emergency email that I receive from a frantic young lady who has "medium to longer hair" and is attending a Prom "in just a few days", I would be rolling in dough.
Luckily I keep lots of little hair secrets for "instant hair help" in my bulging file cabinets. The "instant prom style" that is presented in this article has been one of my many "instant updo" styles that I have had for many years.
They look great, work for most medium to longer hair lengths and don't require a trek to the local salon. They never go out of style and can be instantly updated to the trends.
This "twisted bun" style is very easy to do but looks great. It is a timeless classic that can be dressed up with the instant addition of jeweled hairpins, glitter or other dressy hair accessories. This style works great with a tiara or just plain and elegant.
If you can brush your hair and put it into two ponytail, you can create this style. What will you need for this style?
1. Two "hair friendly" elastic bands in the same color as your hair, that will hold two ponytails of your hair. Be sure to get elastic bands that will hold the thickness of your particular hair.
2. Lots of bobby pins, the smaller the better, that match your hair color.
3. Hair pomade, wax and hairspray.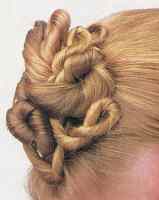 4. Accent hair accessories such as crystal pins, headbands, flowers or whatever works with your particular dress.
This style looks stunning with tiny springs of baby's breath pinned around the twists. I
t also looks great with magnetic rhinestone flowers, a gorgeous tiara or a simple rose, daily or tulip.
Instructions For Creating Twisted Bun
I have had these instructions, which I found originally in a Cosmopolitan magazine, for so many years that the paper has turned yellow from age.
I have personally worn this style for many different dressy events from Christmas formals to evening weddings. I always get raves about my hair.
Although I can do this style myself, it always works best if a friend can help you create the twists so that they are all the same approximately thickness and tightness.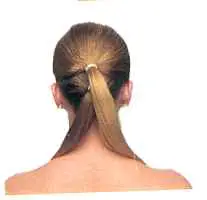 This style actually works best on "aged" hair. That means hair that has not been recently washed. Usually a 12-24 hours period between the last shampoo and creating this style is best.
Newly washed hair has the problem of being flyaway, soft and hard to handle. When the hair has had a little time to "age" the oils in the hair help keep the style smooth and shiny.
1. Rub a dollop of pomade or hair grease into your hands and then distribute through your dry hair.
2. Brush the hair back behind your ears and then gather the hair into two ponytails. The first ponytail would be at the middle of the crown with the second ponytail laying lower, closer to the nape of the neck.
Note: Be sure to gather an equal amount of hair in each ponytail.
3. Use a "hair friendly" elastic band to gather the hair in the same color as your hair color so that the band blends in with your style.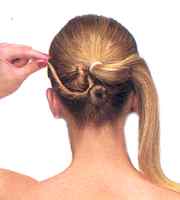 4. Take small sections of hair, approximately 1/2 to 1 inch in thickness (when in doubt use a soft measuring tape to determine thickness).
5. Twist the hair until desired tightness is reached and then pin to the base of the hair.
6. Start with the bottom ponytail and pin the top ponytail to the side to allow for easy access to the bottom section.
7. Pin the hair strategically around the ponytail. It is best to use hairpins that match the hair in color.
8. When you are finished with the bottom ponytail, repeat the same twisting and pinning steps with the top ponytail.
9. Add soft tendrils at the sides of the hair if you wish. Use a good hairspray at the end to hold all hair in place.
If any loose hairs escape, use a good hair wax or pomade to smooth the hair back in place.
This style looks stunning with any Prom dress or formal dress that is strapless or has thin straps. It also allows you to wear hot earrings and a gorgeous necklace.
Dress up the twisted bun with jeweled flowers or hairpins or real flowers. Be creative and spontaneous and you can't miss.
If you want to talk more about this or other hair care articles on HairBoutique.com or anywhere else, please post a message on HairBoutique.com's Hair Talk Forums.