July 8th, 2003 by Karen Shelton
Introduction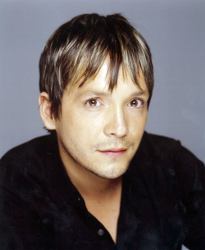 It seems like every time I catch up with celebrity hairstylist Ken Paves he is getting on or off a plane to some celebrity hair happening. (Photo of Ken Paves courtesy of Ken Paves - all rights reserved).
OK, so there was the time that Ken was giving me an impromptu phone interview on his crackly cell phone while standing on the tarmac, under the roaring engines, of Victoria Principle's private jet. Ken and Victoria were leaving Chicago where they had just completed taping of an Oprah makeover show, which went "fabulous" by the way.
As you may or may not know, Ken is a regular, along with New York's Rita Hazan, on Oprah's fab hair makeovers. Ken cuts and styles while Rita weaves her color magic on the lucky makeover clients. When I caught up with Ken in the Windy City, he and the lovely Ms. Principle were rushing off to LA where Victoria was scheduled to be on Larry King's TV show. Yes, of course, Ken was doing her hair for Larry King and in fact, has been doing Victoria's hair "for a long time."
Then there was the time that I just happened to catch Ken rushing to the Las Vegas airport in the wee hours of the morning after tending to the spectacular backstage strands of songbird Celine Dion. KP, as his friends call him, had to be back in LA bright and early to work his hair magic for a cover shoot with curly girl Minnie Driver. After wrangling Minnie's gorgeous curls into a beautiful style, Ken had to pop over to a Jane cover shoot where he created even more hair wizardry with long time client Pamela Anderson. Not only did Ken do Pam's Jane shoot, he regularly creates spectacular looks for the blonde beauty's various showbiz and TV appearances. Pam has even been known to drop by Ken's award winning Pave Salon in Clinton Township, Michigan.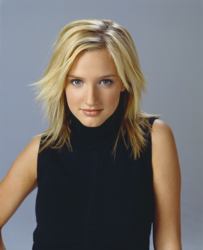 Needless to say, rushing to and fro and running through airports is just part of Ken's daily existence. It is all part of his joy filled days tending to the tresses of JLo, Jessica and Ashlee Simpson, Lara Flynn Boyle, Heather Locklear, Calista Flockhart, Kirsten Dunst, Camen Electra and Christina Applegate, to name just a few of his many star studded clients. (Photo: Ashlee Simpson as Cecilia on 7th Heaven - Copyright The WB - all rights reserved).
Ken genuinely adores all of his clients and is the first to say how incredibly blessed he is to get to work with them. And his clients adore him back. Ken is an incredibly talented stylist with vision, creativity and a heart that is pure gold.
Since it had been a few weeks since I last caught Ken sprinting through an airport, I was experiencing extreme celebrity hair news withdrawal. I decided to track the hair maestro by phone. Believe it or not, I caught him at home in LA, in the late hours of the night, doing what else? Packing of course. Ken is heading off in the early hours to New York City with Celine Dion.
For those not in the know, Ken recently transformed Celine into her hot trend setting new shorter style. He commented that "Celine's hair is growing out to a little longer length that looks great on her." Ken likes the longer locks on Celine and remarked that "her hair looks very chic".
As we chatted Dallas to LA, Ken filled me in on his recent celebrity hair happenings. He gave me all the details about how he created the spectacular waist length sultry beach hair styles for the lovely Jessica Simpson's new Sweet As Sin music video. Using all human hair extensions with a natural wave to match Jessica's natural hair texture, Ken created a romantic, yet long, sensuous look, that worked perfectly with the video's setting behind a still waterfall. Ken was very pleased with the results and said that Jessica's hair looks "simply amazing". He reported that "he used his fav Phyto and Kerastase products on Jess's locks to achieve perfection".
Ken also reported "he will be popping in and out of Jessica and hubby Nick's upcoming reality TV show" and is filmed doing the lovely Jessica's hair in the background. Be sure to look for him on the upcoming TV reality show. He will also be doing Jessica's tresses for her spectacular birthday bash on Friday (July 11, 2003). No stranger to cameo appearances, Ken can be seen briefly exiting an elevator in The Wedding Planner, thanks to long time client, JLo, who insisted that he have a small part in her film.
Ken has a very long history of doing the hair for all the Simpson women. He did Jessica's hair for her 2002 wedding to Nick Lachey and is included in Jessica's forthcoming wedding book.
Speaking of the Simpsons, Ken promised to send photos of Ashlee Simpson's hot new hairstyle that he recently created at his home in LA. Ken and Ashlee put their heads together to create "a hot new style for her ongoing role in Seventh Heaven", which is about to resume filming for the Fall 2003 season. Ken reported that Ashlee has an amazing new "very light blonde" look that is "absolutely stunning".
Although last season she was required to have her hair the color and style that the producers envisioned for her role as the girl next store, her new look is "what Ashlee wants". Ken removed 8-10" of her hair extensions and then cut approximately 2" more off the overall length. He "layered it beyond layered" and said the results are "Chrissy Hynes meets Joan Jett meets Bianca Jaeger." According to Ken, the new Ashlee Simpson style will "turn heads" because it is "so edgy and hot".
By the way, if you are wondering where the gorgeous Simpson sisters get their great looks you only need to look at beautiful mom Tina Simpson, whom I had the great honor of meeting, to understand where all those great looks originated.
New York News
Even though Ken is flying to New York tomorrow to work with Celine's hair, his schedule is jam packed with lots of hair happenings and activities. He is scheduled to do long time client Christina Applegate's hair for a Cosmo photo shoot. Ken has been working with Christina for some time and did her hair for her wedding.
While he is in The City, Ken reported that he promised to create a brand new hair look for Carmen Electra. I asked him it this would impact her wedding hair and Ken assured me that Carmen's wedding is scheduled for some time in the future. So any new hair style he creates will not really impact how Carmen wears her hair for her upcoming wedding. In his spare time, Ken will make the City's celebrity hair rounds maybe popping in to see his good friends Rita Hazan and Louise O'Connor at the hot new Adir salon. He will be one very busy boy, which suits the hair maestro just fine.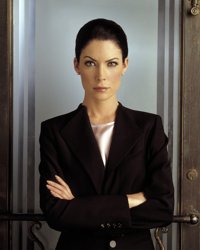 So what else is Ken up to? As always, he is attending to the luscious locks of Lara Flynn Boyle who is "doing just fabulous" and who is "fine with leaving the Practice" since she had already planned to go off and "work on several movie and films" in the very near future.
Ken accompanied LF, as he calls her, on last summer's Men In Black II European premiere tour and reported it was "one of the best experiences of his life". Ken commented on the fact that LF has gone with luscious face framing caramel highlights that "look amazing". He will be catching up with LF when he returns from New York City because "she is due for her regular haircut". (Photo of Lara Flynn Boyle above - courtesy The Practice - all rights reserved).
The ever energetic KP will also continue to jet home to Michigan to work with at his Paves Salon, consult on his own forthcoming hair care line and continue to attend to the heads of his fabulous celebrity clientele.
Ken is such a joy to chat with because he always has such interesting and exciting news. Even better, he is one of those people that are doing ten different things while chatting on the phone. You can just feel his energy pulsating through the phone while he talks. Geez, if only I could bottle some of the Ken Paves power, I would be in energy heaven.
If you want to talk more about this or other hair care articles on HairBoutique.com or anywhere else, please post a message on HairBoutique.com's Hair Talk Forums.