Last updated on December 1st, 2000 by Karen Shelton
Introduction
In current times famous women from Hillary Clinton to Charlotte on HBO's hot series, Sex In The City, have been seen sporting fabulous types of headbands.
Headbands are eternally popular with young and old. male and female. Headbands offer a fabulous way to instantly dress up an existing hairstyle, deal with a bad hair day by controlling unruly hair or help with the painful and long process of growing out bangs.
When were headbands first invented? It is hard to say exactly when they made their first appearance. Some fashion and hair experts believe that the earliest human had their own versions of headbands made out of animal skins or hides.
A famous Egyptian goddess from 600 B.C. is portrayed in the book, The Changing Face of Beauty by Madge Garland with what looks very much like a 60s style headband.
Byzantine women displayed in old mosaic portraits were shown wearing jeweled bands and head dresses.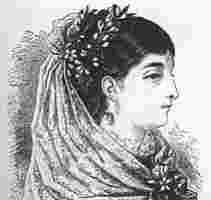 During the period of the 1880s women would fashion headbands out of flowers or branches and use them as decoration. The photo above is taken from a copy of Demorest's Monthly Magazine published in 1880. The photo was of a bride who had a headband of leaves and flowers with a shawl attached at the back of the floral decoration.
This was a very popular look during the 1880 -1885 timeframe. Woman during that time would also use ribbon to form a type of headband to hold the hair off of their face.
Headbands Change With The Fashion Times
Although the look of headbands changed into the 20th century, headbands have continued to be popular throughout the ages. Whether they are made from twigs, flowers, ribbons, cloth or other materials, headbands are one of the most endearing hair accessories ever invented. (Image of 60's man with headband from Roots of Street Style by Zeshu Takamura)
During the 60s both men and women embraced a wide range of headbands that included strings of flowers, wide scarves and headbands worn closer to the forehead than at the back of the head. Headbands were as popular for men as they were for women.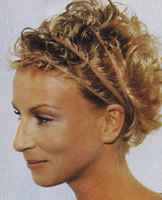 The very popular and somewhat racy bra headbands made their explosive debut on the fashion runways. The story of their invention is tied to a necessity to hold models hair back from their faces while they were being made up for the shows. The models loved the look so much, they began the next hot hair accessory of the moment. (Image of woman wearing bra strap headbands).
Although the bra strap headbands are not the red hot headband of the late 90s, they are still very popular with a segment of the population that appreciates their flexible adjustability. After the initial craze wore off, HairBoutique.com considered discontinuing their collection. Ironically we kept getting requests for the bands long after they were considered out of the spotlight.
A recent visitor wrote to me and told me that she loves the bands because they work great with holding back naturally curly hair. Which is the whole reason that headbands remain popular forever.
How To Wear Headbands
Besides being an instant hair accessory, headbands rank high on the user friendliness scale. Headbands have many uses which include the following:

1. Great at the health club. Headbands are not only fashion accessories, they are extremely functional. They will hold your hair off of your face and prevent salty perspiration from sucking all the moisture out of your hair. Many people who work out at the health clubs will wear cloth headbands to absorb maximum perspiration. The beauty of cloth is that is can easily be tossed in the washer.
2. An instant hair changer. Whenever I am bored with my very long hair I resist the urge to chop it off and instead search for the hair accessories. Headbands are fabulous for giving me an instant new look for my long hair. I wear them to hold my bangs off my forehead, to dress up a business look or to add instant sparkle to a nighttime event. I have tried all the headbands that we sell at HairBoutique.com and love them all. They are great for any length of hair, long, short, medium or somewhere in the middle.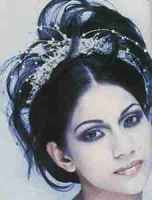 3. Headbands work for long or short, thick or thin, curly or straight. One of my best friends has super curly hair. She has at least 100 different headbands that she uses for a wide range of curly hair styles. She wears the illusion headbands close to her forehead and lets her curls balloon over the back. She also wears other headbands to hold her hair smooth around the crown and then redirect the curls to the back of her head. She has a headband for every outfit and they look great on her.
4. Survive bangs. Many people get bangs on an impulse and regret them for a long time. A headband will instantly remove those annoying bangs. Headbands will also help you survive a painful growing out period.
5. Dress up a style. Jeweled or sparkly headbands look great at the Prom, for a wedding or for any fancy event. Tiaras are a very special and elaborate form of a headband and they look hot with just about any dressy outfit. (Tom Carson Photo)
6. Headbands can give the illusion of fullness. Some of the teeth headbands will lift and separate hair so that it looks fuller on top. Headbands that smooth the hair near the hairline allow hair to pouf out behind the band creating an overall fuller look.
7. Headbands are affordable. Although Tiaras can costs hundreds or even thousands, stylist and functional headbands can cost just a few dollars. Some of the hot new illusion and flexible jeweled bands can cost as little as $5.95 to $7.95.

8. Headbands look great with other accessories. (Photo of L.Erickson USA - 1 1/2" Scarf Headband - 100% Silk Charmeuse - Mocha Swirl). Another friend would match her headbands with complimentary hued hair clips and create an amazing look that combined the various accessories. Be creative with headbands.

9. Headbands are great bad hair day fixes. If you hair flops, pop on a headband. I usually keep at least one headband in my desk at work and if my bangs flop mid-day, I pop on a headband for instant sagging hair relief. (Photo above of L.Erickson USA - 3" Scarf Headband - 100% Silk Charmeuse - Chocolate)
10. Headbands allow for individuality. The hippies in the 60s used headbands as a form of personal statement. Even some of the martial arts practioners wear their own form of headbands as part of their gear.
Hot Headbands

Although illusion and headwrap headbands are still very popular, the faux snakeskin along with the animal skin headbands have burst into the scene. The Fall Fashion look for clothing and shoes if crammed full of alligator, snakeskin and jungle looks. Since hair accessories tend to following the clothing trends, any accessories made out of these materials are very hot.
Headbands look great on any age group. Hillary Clinton has been photographed at several events over the past seven years in a variety of headbands.
The next time you are bored with your hairstyle or need a great bad hair day fix remember that headbands can be your best friend.
If you want to talk more about this or other hair care articles on HairBoutique.com or anywhere else, please post a message on HairBoutique.com's Hair Talk Forums.