January 15th, 2010 by Karen Shelton
Introduction
When a Bob Hairstyle is cut correctly to work with the natural texture, type and condition of the hair, it can be a true work of hair art.
Some hair types and textures are not good Bob Hairstyle targets. Others are excellent candidates. An experienced hairstylist can look at your hair and tell you how your hair will turn out as a bob.
Janine Jarman on Season 3 of Shear Genius on Bravo/TV learned the hard way about challenging hair textures when trying to create a beautiful bob.
Early on in the Shear Genius competition Janine was tasked with transforming a spiked out punk haired princess to a more glam style.
After removing the glued spikes Janine discovered her client have voluminous naturally curly hair.
While Janine probably would have created a perfect Bob in her Hairroin Hollywood Salon with plenty of time, she was fighting the clock which results in jagged edges and a helmet head finished style which put her in the bottom three.
The message? Naturally curly hair, unless it is first chemically straightened or relaxed, is not as good of a texture for creating the classic bob haircut. Yes, it's true that if your hair is cut short, it's easier to straighten it with a flat iron but you have to ask yourself. Do you want to become a daily slave to a flat iron?
Even if the style can be initially created, keeping it sleek and straight in a classic Bob is a lot of work with defrisant, round brushes, hot dryers and hot irons unless your hair is naturally stick straight or only has a slight bit of bend.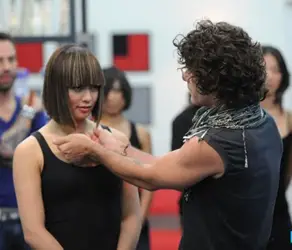 Bravo/TV Shear Genius 3 All Rights Reserved
Best Bobs?
Although the Bob first became a sizzling hairstyle back in the 1920s and 1930s circa Louise Brooks, Spice Girl Victoria Beckham brought the Bob back in a big way when she showcased a sleek and super polished angled bob style.
Her celeb friend Katie Holmes followed suit and made the Bob even more popular.
Victoria's hair has been cut and attended to by a wide range of celeb hairstylists including Jessica Galvan, Larry Sims and Ken Paves.
Victoria likes to try different hairstyling pros which explains a range of hairdressing signatures for her tresses.
Many polls resulted in Victoria winning for best Bob with Katie coming in at a close second.
Bob Hairstyle Secrets
One trick many hairdressers know about creating a crisp, flawless bob hairstyle is to place a flat hand mirror directly and horizontally under the perimeter of the finished cut.
The glass in the mirror reflects the line of the Bob at a perfect angle for checking and fine tuning the cut.
What does this trick tell you about a Bob? That's it's key to find a hairstylist with lots of Bob cutting experience and skill. Ultimately how good your bob looks depends on the hairstylist who cuts it for you.
Steal Bodacious Bob Tips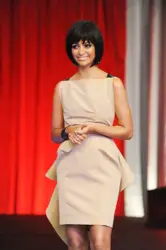 Bravo/TV All Rights Reserved
This style is best for hair which is naturally straight or has very light natural waves and/or loose curls. Yes, it can be cut on hair which has lots of curl but to create the traditional Bob shape it will have to be either chemically relaxed or straightened or flat ironed daily.
According to Michael Boychuck, owner of Primp Salon in Nevada, people in dry climates like Las Vegas love the bob's geometric cut because it's basically wash-and-go.
Again, keep in mind that it depends on your base hair texture. This may not be true for all hair types.
Follow the steps below to re-create Camila's gorgeous hairstyle worn on an episode of Shear Genius 3.
Although her long naturally curly tresses were most likely covered by a Bob wig, you can still create the look on your own hair with the following steps:
1. Cleanse your hair according to your normal routine (Diluted Shampoo, Water Only, Conditioner Only). For added fullness use a volumizing shampoo. 2. Rinse well and apply rinse-out conditioner appropriate to your hair length, type, texture and condition. 3. Finish with a cool or cold water rinse. 4. Towel blot to remove excess moisture. 5. Apply styling cocktail including a volumizing product to pump up roots. If your hair tends to frizz include an anti-defrisant product to the cocktail. Detangle from ends to roots.
DailyCeleb.com All Rights Reserved
Note: The key to creating a sleek Bob style is a great blow out with tons of root life.
6. Create desired part with tail comb and separate hair into 2 inch sections. Work around the head using a100% boar bristle round brush in combination with a blow drier with a concentrator nozzle. Direct air flow from roots down to the ends for shine. Once each strand is dry, move onto the next Note: To add volume to the roots, pull each strand up with your fingers and direct air flow from the ends to the roots. This will build in more fullness.
7. When hair is completely cool go over the strands with a medium flat iron to add sleekness and turn the ends under. 8. Finish with a shine enhancing hairspray. Add an optional hair flower.
Summary
Social Media Network Information
Please follow me on Twitter at: http://Twitter.com/HairBoutique. I look forward to meeting new people
from all walks of Twitter and learning from their Tweets. Visit us at Hairboutique.com located at: http://www.HairBoutique.com, on Facebook, MySpace and YouTube.
Thank you for visiting us at The HairBoutique Blog and for leaving your comments. They are very much appreciated. We apologize in advance but must remove any direct advertisements or solicitations.
- Revised Publication Date: 04/25/11
Send this page to a friend..
If you want to talk more about this or other hair care articles on HairBoutique.com or anywhere else, please post a message on HairBoutique.com's Hair Talk Forums.