July 11th, 2003 by Karen Shelton
Introduction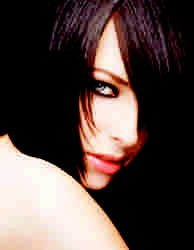 (Beverly Hills, California - June 26, 2003) For the second year in a row, the international color community lauded John Paul Mitchell Systems and Artistic Directors for Paul Mitchell the color Linda Yodice and Scott Cole for a job well done. This past June at Haircolor USA, the conference attendees voted Paul Mitchell the color Artistic Directors Linda Yodice and Scott Cole Haircolorist of the Year."
The over 1000 color artists who participated in the Miami-based prestigious color conference and educational symposium spent two instruction-packed days learning the latest hair color visions of leading manufacturers.
Participants then cast their votes in the categories of Most Innovative Technique by a Manufacturer, Most Inspirational Classroom by a Manufacturer, and Haircolorist of the Year.
Last year, attendees of Haircolor USA 2002 awarded Block Color, the unique dimensional coloring technique developed by Linda Yodice (shown to the side courtesy Paul Mitchell - all rights reserved) and Scott Cole, 'Most Innovative Technique Developed by a Manufacturer'.
Linda Yodice views this year's award as a natural evolution from that honor in terms of the Block Color's focus on everyday needs in the salon. "With the Art of Block coloring - the set of basic Block coloring techniques we emphasized in the classroom this year - we really concentrated on salon reality. We wanted to give students a set of skills that could apply easily and start using right away. We shared a method to combine efficiency and beauty; out class helped hairdressers make better use of their tools and their product to successfully harness their creativity and create a stunning end result."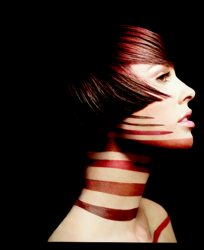 "Linda and Scott are exceptionally talented artists and marvelous teaches," stated John Paul DeJoria, CEO of John Paul Mitchell Systems. "This award serves as testament to their commitment and our commitment here at John Paul Mitchell Systems to the success of the professional hairdresser. Block color techniques - dimensional coloring techniques that clients cannot replicate at home - keep color clients in the salon and out of the grocery stores." (Image above - Haircolor USA for Paul Mitchell - strap & block color design - all rights reserved).
The John Paul Mitchell System classroom at Haircolor USA introduced students to basic Block Coloring techniques with the Art of Block Color (featuring the Straps technique), then broadened their creativity with more complex Block Coloring techniques from the Justapose collection.
Paul Mitchell the color - easy to apply, more predictable, and totally reliable - is formulated to serve the needs of the professional hairdresser and is the ideal product to support these techniques. 2003 has been a stellar year for John Paul Mitchell Systems and Paul Mitchell the color: HaircolorUSA has honored Paul Mitchell the color's Linda Yodice and Scott Cole, and NAHA awarded John Paul Mitchell Systems Master Associate and Head of the Color Department at Paul Mitchell The School Lucie Doughty 'Haircolorist of the Year.'
Contact: Isabel Smith Rachel Rosenman John Paul Mitchell Systems
If you want to talk more about this or other hair care articles on HairBoutique.com or anywhere else, please post a message on HairBoutique.com's Hair Talk Forums.