April 16th, 1999 by Karen Shelton
I can't tell you how many times I have visited David Starr's site devoted to Diane Witt and gawked at her gorgeous hair.
So many questions run through my mind when I see Diane's incredible hair. I wonder, how long does it take to shampoo and how long does it take to dry? I also wonder if I live to be 120 if my hair will ever get that long?
Diane is truly an inspiration and a definite role model for someone like me who wants to grow her hair as long as possible. I also admire Diane for her willingness to share her hair with the world through the Guinness book. I am not sure I could personally handle the attention and fame that Diane has received as a result of her incredible hair.
Diane Getting Her Hair Measured
I think one of the best and most dramatic photos of Diane is the one where she is having her hair measured by the Guinness Book officials. In the photo Diane is standing on a stool and her 10 feet of hair (yes, I said 10 feet) is trailing down to the floor.
The photo is in black and white but is still stunning to view. The amazing thing is that the photo was taken several years ago. As of 1993 Diane was reported to have hair that was much longer than 10 feet.
Long Hair History
If you do decide to stop by this interesting site, you must read the Long Hair History that spans a time period from 1955 until 1997. All the major long hair award winners are listed including Diane.
As of 1997 Diane Witt of Worcester, MA is listed in the Long Hair History as having hair that measured over 12 feet, 8 inches in March of 1993. According to other reports on this site, Diane's hair grows at a rate of 6 inches per year. So by now (1999) you can imagine how long her incredible hair is.
An Update On Diane
I have to admit, I am curious. I would love to be able to read more about Diane. I always wonder what happened to Diane and that incredible hair? The site has great photos of Diane in 1988 and 1990. It also has photos of Diane on the Caryl and Marilyn show but there is not date listed for the show. I hope that someday David can provide more shots of Diane and that gorgeous hair.
Long Hair Shots
While the site is dedicated to Diane Witt and her award winning hair, David also provides Long Hair in Art and Long Hair in the Comics.
Diane's Guest Book
David provides a guest book for comments about Diane's hair and the site. Of course I had to read all the entries. Does Diane read them? I don't know, but I do know a lot of people throughout the world admire her for her gorgeous hair.
David also provides an email address where you can write to Diane. One part of me wants to send her an email telling her how much I love her long hair. Another part of me wants to respect her privacy. I am not very good at writing fan letters. I tend to babble way too much. So I guess this article about her site can be my contribution to appreciation of Diane and her hair.
Summary
David Starr's Diane Witt - Longest Hair In The World site wins the Hair Boutique's Silver Hair Brush (our version of the best of the best) for Hair Boutique's Link of the Week. He has done a great job of providing the Net with photos of Diane Witt, Guiness Book Record winner for the world's longest hair.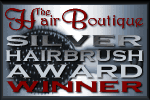 Social Media Network Information
Please follow me on Twitter at: http://Twitter.com/HairBoutique. I look forward to meeting new people from all walks of Twitter and learning from their Tweets.
Visit us at Hairboutique.com located at: http://www.HairBoutique.com, on Facebook, MySpace and YouTube. Please visit us at The HairBoutique Blog. Thank you for leaving your comments. They are very much appreciated. We apologize in advance but must remove any direct advertisements or solicitations.
If you want to talk more about this or other hair care articles on HairBoutique.com or anywhere else, please post a message on HairBoutique.com's Hair Talk Forums.