Last updated on November 20th, 2001 by Karen Shelton
Introduction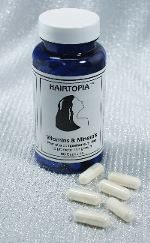 Since earliest primitive times people have connected the sheen of their animal's coats with good dietary practices and health. Changes in an animal's hair or fur almost always signaled nutritional deficiencies or disease.
Ditto with humans. Our hair is the external manifestation of how and what we eat. External hair beauty is a direct reflection of internal health.
Popping daily hair vitamins and minerals is a wonderful way to strengthen and enhance growing hair follicles. The right vitamins and minerals play a major role in keeping your hair healthy. Any nutritional deficiencies can lead to thinning hair or even total baldness. It is a well known fact that an under active thyroid can result in frizzy or brittle hair while an overactive thyroid turn hair greasy and limp.
The bottom line is that your hair ultimately reflects the overall condition of your body. If your body is healthy and well nourished, your hair will be your shining glory.
If you are having any health problems or suffering from any nutritional deficiencies, your hair may stop growing or show damage.
HairTopia was designed to be a program to address hair growth concerns, challenges and issues. HairTopia will enhance the growth of your hair and nails. This hair vitamin program will enhance your hair growth, make your hair healthier and provide all the vital elements for fast growing, stronger, and beautiful hair.
It's been proven many times that hair accurately reflects our lifestyle, good and bad habits, and nutritional choices (we are what we eat). Many outside factors can affect hair, but the best way to encourage positive hair health and growth is from the inside.
How does HairTopia work? An outline of the actual program is included in this article.
The Program & Formula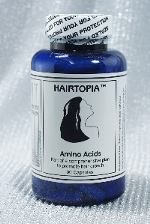 Hair vitamins can provide the missing link for healthy hair. HairTopia works from the inside out. It is not a hair care product system and it is not a shampoo or a special type of conditioner.
The HairTopia program is designed to perform better than any externally applied deep conditioning treatments.
The HairTopia™ vitamin program was designed for people who want the very best for their hair.
The HairTopia program is composed of the highest quality of vitamins, minerals, amino acids and herbal formulas that all work together to help create healthy hair.
The HairTopia program is perfect for damaged, permed or colored hair. The HairTopia hair vitamins helps to repair the damage that chemicals cause and can help build healthy, faster-growing hair.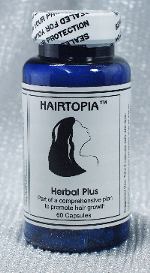 HairTopia consists of three unique formulas which include:
Vitamins & Nutrients
Amino Acids
Herbal Plus
HairTopia Ingredient List
The following is the actual formula for HairTopia
Vitamins & Minerals Ingredients (take 2 capsules taken daily with food)
Niacinamide, Folic Acid, Vitamin B-12, Biotin, Pantothenic Acid, Potassium Iodine, Zinc, Manganese, Choline Bitartrate, Inositol, PABA.
Amino Acids With MSM Ingredients (dosage 6-8 capsules daily)
L-Alanine, L-Arginine, L-Aspartic Acid, L-Cystine, L-Glutamic Acid, L-Glycine, L-Histidine, L-Isoleucine, L-Leucine, L-Lysine, L-Methionine, L-Phenylalanine, L-Proline, L-Serine, L-Threonine, L-Tyrosine, L-Tryptophan, L-Valine.
Herbal Plus ( 2 capsules taken daily with food)
Herbal Mix That Consists of a custom blend of herbs and vitamins based on a secret formulation. The ingredients include some of the following components:
Oat Straw, Green Tea, Comfrey, Alfalfa, Nettle Leaf, Sage, Kelp, Tumeric, Horsetail Extract, Fo-Ti Root, Rosemary Leaf, Burdock Root, Birch Bark, Rose Hips, Irish Moss, Dandellion Root, Yellow Dock Root, Elder Berry, Biotin, Calcium, Choline Bitartrate, Copper as well as a combo of additional vitamin ingredients which compliment the herbal formulations.
Vitamins & Minerals
To avoid confusion, there are two basic HairTopia plans. the introductory plan is the HAIRTOPIA™ Basic (Vitamins & Amino Acids) which includes one bottle of HairTopia vitamins and two bottles of HairTopia Amino Acids.
The second plan is the HAIRTOPIA™ Total (Vitamins, Amino Acids & Herbal) which includes the Basic HairTopia plan with a Herbal Boost for a quick jump start for hair health and strength.
Other Ingredient Notes:
HairTopia capsules are formulated to be as free as possible of the most common allergens such as fish, corn, soy, yeast, wheat, barley, egg and dairy products.
If you are pregnant or lactating, consult your health care practioner before using this product. Please keep out of the reach of children. Store in a cool, dry, place.
FREE OF: Sugar, Starch, Sodium, Corn, Wheat, Diary, Gluten, Egg, Fragrance.
Conclusion
I have been very impressed by the results of taking the HairTopia hair vitamins. Not only did I experience accelerated hair growth, but my hair looks healthier and feels stronger. I also noticed a major change in my skin and nails.
If you want to talk more about this or other hair care articles on HairBoutique.com or anywhere else, please post a message on HairBoutique.com's Hair Talk Forums.
a