January 20th, 2000 by Karen Shelton
Introduction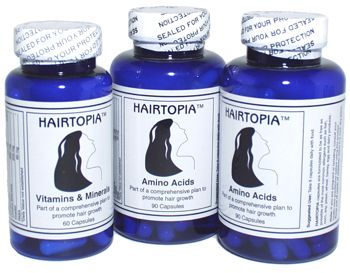 Well, I have to admit that in all the hair care product testing I've done, I have never tested hair growing vitamins! There are many reasons why, mostly because for most of my life I have worn my hair short and choppy. I love to roll out of bed, wash my hair and tousle it into a variety of wash-n-wear styles.
When I hear about the amazing HairTopia vitamins which were custom formulated and developed specifically for the folks at HairBoutique.com I had to give them a try to see what they could do for my hair.
Note: This article was written for HairBoutique.com about the HairTopia hair vitamins. If you find similar articles on the web that reference competitive products, please know that my article was specifically written about the Hairboutique.com HairTopia product and no other hair vitamins.
So here's what I can tell you about HairTopia from HairBoutique.com.
HairTopia Vitamins are specially formulated to promote accelerated hair growth.
HairTopia provides great, healthy, faster growing hair which comes from within the body rather than from external products.
HairTopia was designed for people wish to have healthier hair. Shampoos, conditioners and other topical hair tools can only go so far.
The HairTopia hair program was specifically developed to assist in the enhancement of your natural hair growth cycle, make your hair healthier and provide all the vital elements for fast growing, stronger, and beautiful hair.
It's been proven many times that hair accurately reflects our lifestyle, good and bad habits, and nutritional choices (as in we really and truly ARE what we eat).
Many outside factors can affect hair, but the best way to encourage positive hair health and growth is from the inside.
So, you may ask, how does the HairTopia hair vitamins actually work? An outline of the actual program follows below.
The HairTopia Program & Formula
Hair vitamins are the answer! Hairtopia is not a shampoo or a conditioner. However, the vitamin program works from the inside out and is the ultimate hair conditioning treatment. Taking Hairtopia vitamins do not provide miracle or overnight growth, but the results are superior. The HairTopia™ vitamin program was designed for those who take an interest in their hair and demand perfection.
The hair program consists of high quality vitamins, minerals, and amino acids all working in harmony together to produce perfect hair."
So what if you have damaged hair? Permed or colored hair? If so, then these hair vitamins will help repair the damage that chemicals do, and help build healthy, faster-growing hair.
Quoting from the product text: "HairTopia consists of two steps: Step One includes 11 vitamins, minerals, and nutrients necessary for proper hair growth (60 tablets per bottle). Step Two contains 4200mgs. of 18 amino acids. Amino acids are the 'building blocks' of protein (90 tablets per bottle) plus MSM.
Note: If we combined the two steps together (into one tablet) the tablets would be too large for the average person to swallow.
Step One & Step Two Ingredients Lists
The following is the actual formula for HairTopia:
Step One Ingredients (dosage 2 tables daily)
Niacinamide - 70 mg - Designed to minimize risk of flushing.
Folic Acid - 800 mcg
Vitamin B-12 - 6 mcg
Biotin - 200 mcg
Pantothenic Acid - 200 mg
Potassiumm Iodine - 4 mg
Zinc - 30mg
Manganese - 10 mg
Choline Bitartrate - 980 mg
Inositol - 200mg
Para Amino Benzoic Acid - 60 mg
Step Two Ingredients (dosage 4-6 tables daily)
L-Alanine -217 mg
L-Arginine -93 mg
L-Aspartic Acid 409 mg
L-Cystine - 362 mg
L-Glutamic Acid - 630 mg
L-Glycine - 65 mg
L-Histdine - 75 mg
L-Isoleucine - 193 mg
L-Leucine - 487 mg
L-Lysine - 415 mg
L-Methionine - 90 mg
L-Phenylalanine - 188 mg
L-Proline - 170 mg
L-Serine - 130 mg
L-Threonine - 179 mg
L-Tryptophan - 91 mg
L-Tyrosine - 127 mg
L-Valine - 148 mg
MSM - 30 mg
Herbal Plus Ingredients
Vitamin A - 2000IU
Vitamin B-12 - 20 mcg
Vitamin B5 - 20mg
Folic Acid - 200 mcg
Biotin - 100mcg
Niacinaminde - 20 mg
Calcium - 50 mg
Copper - 4mg
Iodine - 100 mcg
Zinc - 10 mg
L-Cysteina - 40 mg
choline Bitartrate - 40 mg
Inositol - 20 mg
Selenium - 40 mcg
Manganese - 10 mg (in a herbal base of Turmeric, Horsetail Extract, Fo-ti roots, Rosemary Leaf, Burdock Root, Birch Bark, Rose Hips, Irish Moss, Dandelion Root, Yellow Dock Root, Elder Berry, Oat Straw, Green Tea, Comfrey, Alfalfa, Nettle Leaf, Sage, Kelp)
If you are a new customer you will need to order at least the Basic Plan which includes 1 bottle of Step One and 2 bottles of Step Two. Usage of HairTopia Total will offer a faster rate of improved hair growth and hair repair.
You may order the desired quantities of each to suit your needs and budget. Discounts on quantity orders.
Note: Check out the Hair Boutique special introductory offer sale. This is a 30 day supply of the HairTopia Basic Plan hair health formulas which includes small, easy to digest, capsules for quick system absorption. MSM for enhance hair growth, no fillers, iron or niacin flushing and a 45 day money back guarantee*. For an extra boost there is also the Hairtopia Total Plan which includes the special herbal supplements.
Cost
The cost of the hair vitamins are broken down by HairTopia Basic (1 bottle of Step One, 2 bottles of Step Two) and Hairtopia Total (1 bottle of Step One, 2 bottles of Step Two and one bottle of Herbal).
Most hair experts note that for a hair growth system to really work to its maximum potential, hair vitamins and related supplements should be taken for at least 90 days. As a result, HairTopia is available in 30, 60 and 90 day Basic and Total plans which offers the convenience of having the entire plan available in advance and also provides a cost advantage to buying just the 30 day plans. It's also available by a subscription program where the vitamins are automatically mailed to you every month for your ultimate convenience.
For information on all the various HairTopia plans (Basic vs Total) go to the Marketplace HairTopia page for additional details. Also, you can read HairTopia Hair Vitamins: Feedback & Testimonials.
My Own Test Results
I took the HairTopia Total plan for a month along with my regular vitamin routine.
My hair generally grows fast; usually I need a trim every two weeks. I wanted to experiment with the hair vitamins, so I let the trims go for a month. Even though HairTopia claims that you will not see an appreciable difference in hair growth right away, mine took off like a weed.
In fact, I had to twice my normal amount of gel, hairspray and hair styling stick to keep my Bed Head hairdo from flopping due to overgrowth!
When I finally went in for a haircut, my hairdresser couldn't believe how much longer it was. I like my hair short, but just imagine if I were growing it out!
For those of you with long hair who want it longer, I can personally recommend the Hair Topia vitamins. Other Ingredients
Step One & Two - Brewer's Yeast, Calcium Sulfate, Silica, Magnesium Stearate, Microcrystalline Cellulose, Pharmaceutical glaze, Stearic Acid, Talc.
FREE OF: Sugar, Starch, Sodium, Corn, Wheat, Diary, Gluten, Egg, Fragrance.
Conclusion
I was very impressed by the results of using HairTopia. Not only did I experience accelerated hair growth, but my looks healthier and feels stronger.
I shared my results with Karen and Jeff and was not surprised to see them offering HairTopia available for sale in the Hair Boutique's Marketplace. It should be noted that both Karen and Jeff took the HairTopia vitamins themselves and both noticed changes in their hair.
Jane's Rating
On my own scale of 1-10, 10 being the best, I give Hairtopia vitamins a big 10. If you have comments or questions on this article you can email Jane.
*Some restrictions may apply.
If you want to talk more about this or other hair care articles on HairBoutique.com or anywhere else, please post a message on HairBoutique.com's Hair Talk Forums.