Last updated on December 22nd, 2007 by Karen Shelton
Introduction
The name sounds a little crazy, but when I try to explain hair scrunching it's easiest for me to tell people is it a lot like crumpling paper. The principles are the same.
Since I have naturally wavy hair with a bit of curl at the nape of my neck, it's much easier for me to scrunch my hair than for any of my friends devoid of any hair texture.
Scrunching, like every other hair styling technique, cycles in and out of fashion. The technique becomes more popular when the hot hairstyles and textures of the moment work well with scrunching.
Some people utilize scrunching regardless of current fashion trends due to how easy it is so scrunch for instant texture.
Depending on the hair type, length, texture and ultimate desired style, scrunching may be created in conjunction with a long finger diffuser attached to a blow dryer which encourages the development of natural waves, crinkles and related textures.
After hair is diffused to a certain level of dryness, the hands are employed to "scrunch" tresses or crumple the hair, like you would with paper. To achieve volume or fullness, sections of scrunched hair can be combined with hot roller sets, curling irons or other styling techniques.
There are many terms for scrunching depending on who you talk to but you may hear it referred to as hair crushing, crumpling, texturing with the hands or even "runching" which related to how fabric is scrunched on a dress or gown.
Regardless of what it is called, scrunching is designed to enhance existing texture to hair that has natural texture (waves, curls or a combination).
Although some types of straight hair with natural bend can benefit from scrunching, the process works best on hair that is naturally curly or wavy. Many people attempting to scrunch their hair without the benefit of natural texture are very disappointed with the results.
As I mentioned above, hair scrunching may be performed with or without other tools such as a finger diffuser and/or a blow dryer.
How To Scrunch Hair:
Tom Carson All rights reserved.
Recently my hair colorist Rose Zuniga scrunched my hair right after a highlight treatment. It was a perfect time to scrunch because my hair cuticles were blown out from the highlights.
The scrunching results were impressive. I watched her closely in order to pick up a few more tricks for future scrunching session in front of my mirror.
If you have texture which is compatible with scrunching take the following steps to crumple your way to natural waves:
Use your favorite shampoo and rinse out conditioner. If you wish to enhance your natural texture consider using a texture enhancing product mix like PhytoCurl which helps define curls or a styling spray which was specifically developed for use in scrunching, blow drying and creating waves. Note: For optimal scrunching avoid using shampoo or conditioners which soften hair or else scrunching will not hold and will quickly drop out.
Rinse all shampoo and hair conditioners completely from the hair.
Finish with a cool/cold water rinse which helps to seal in moisture, add shine and helps enhance the hair's ability to form curls and waves.
Carefully squeeze out any excess water with your fingers. Never rub wet tresses. Use a combination of techniques which include squeezing out any excess water and blotting strands with a towel.
Towel blot with a thick towel or one designed to speed dry your hair. It's best to wait to apply products to super wet strands since some of the product will drip off in the process.
Apply hair styling products of choice to the middle and ends of your strands. Avoid applying product near the roots which may weigh them down except in the case of adding volume sprays like Phytovolume Actif or similar.
Don't be afraid to layer product to get the best look. You may wish to mix a defrisant products along with your styling product to add texture and block frizz at the same time. It is possible to mix Phytodefrisant with your favorite mousse, glaze or paste.
Once your hair has been properly prepared with desired styling products (gel, mousse, styling cream or similar), use both of your hands working side to side around your head scrunching individual sections of hair.
You have the option to use a blow dryer or long finger diffuser to help set the scrunched sections. If you opt for using the long finger diffuser, be sure to use the low speed/cool setting on your blow dryer to avoid blowing out the newly formed texture. The key to successful long finger diffusing is letting your strands rest in the base of the diffuser bowl.
Scrunching hair really is similar to crumpling up a piece of paper. Practice picking up individual sections of hair, squeezing the strands between your fingers, and then crumpling the ends of the strand up toward your roots, causing it to literally crinkle.
Experiment with different sizes of hair to play with large or smaller crimped sections.
Scunching With A Finger Diffuser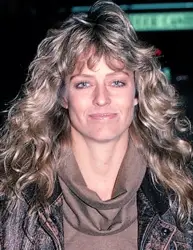 DC Media All rights reserved.
If you use a long finger diffuser for scrunching, direct the air flow from the diffuser/dryer up the strands toward the section of hair you are scrunching.
Do not attempt to use a regular blow dryer on scrunched strands since the air flow will be too strong to effectively create the crinkled look. In fact, if the air flow is too strong, it will "blow out" any successful scrunching.
If your hair is naturally curly rather than wavy but your hair is prone to frizzing when wet, scrunching may not be for you.
After you have scrunched, finish with any desired hairspray.
For added shine, apply a tiny bit of gloss or shine serum to the palms of your hands and glide across the top of your newly crumpled hairdo.
Scunching & Then Air Drying
If you prefer an alternative method, apply styling products, scrunch tresses completely and then let your strands "air dry" for a completely different effect.
A favorite option is to towel blot hair, apply styling product, scrunch and then use a bunch of condor, banana or regular duckbill type clips to hold the newly crunched hair in place while it air dries.
My own favorite technique for my naturally wavy/curly strands is to towel blot my hair, apply a liquid glaze and then finger scrunch my hair. Then I create a series of two or three damp buns that consist of my newly scrunched hair that I clip with condor or dolphin clips. I let my hair air dry and viola, waves galore.
DC Media All rights reserved.
General Scrunching Guidelines:
Experiment with styling products designed to be most compatible with your hair texture and type. In general it is best for all hair types to avoid styling products such as heavy gels, thick waxes or molding products that might make your strands sticky or give them that "too gelled" look after they dry. Note: Mousse, light sculpting creams and styling sprays tend to be lighter and offer more control and a softer overall hold for fine to medium textures. A good light hair glaze or hair paste works for thicker hair types and textures.
Use your fingers to scrunch individual sections to create a crumpled look. Depending on the look you are going for, you can scrunch lightly, or heavily around your head.
Although you have the option to crunch as many or few sections as you desire, it is usually best to experiment a few times to determine the ideal look for your hair length and type.
Experiment with different methods of grabbing the hair in your hands. Interlace strands between fingers to scrunch to create defined waves. Ball hair up to create bigger curls.
Hair scrunching takes time and patience. Think of scrunching as a type of Japanese art work for your hair. Be sure to allow yourself enough time to create the style you desire. When in doubt have your hairdresser teach you and have a friend help you. A two way mirror works wonders.
Be willing to cheat. If you scrunch your hair and it looks more like you just came in from the rain rather than a hip, happening, crunched look, dig out your curling iron to fine tune the curls and waves.
Keep in mind that crunching larger sections of hair will result in larger waves and curls. Smaller sections will result in tighter texture with more of an abundance of curls and waves.
Remember to take your time and experiment.
After a few times of scrunching you will know exactly the best products to use to create the results you desire and will be a scrunching pro.
Stick Straight Hair Scrunching Tips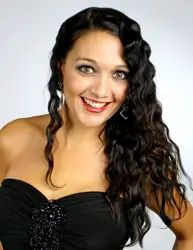 All rights reserved.
For hair to scrunch appropriately, it requires some natural bend. Stick straight hair will definitely require more imagination to get the scrunched look.
However, never fear, it is still possible to get an edgy crunched up look that will not instantly fall out. The key is to sleeping in either rag curlers, soft rollers or braids. This will help to set the look you wish to achieve.
Before you got to bed spritz your hair to dampen with a water bottle. Separate hair into 1-2 inch sections. Apply your favorite setting products. Keep in mind that gel may be too heavy for hair that is thin or fine. You might try a setting cream or light paste.
Roll your hair in old fashioned rag rollers, soft rag rollers like those available from Conair or similar or soft sponge rollers. If you don't like sleeping on rollers, you can braid each section into 3 strand braids. Tie off each section of the braid with a hair friendly elastic band.
After you have finished setting your hair in your desired style, sleep on your set. In the morning remove the curlers or braids and use your fingers to break up the curls and waves. Spray with a super hold hairspray and you will have beautiful, long lasting texture, as if you scrunched it with your fingers.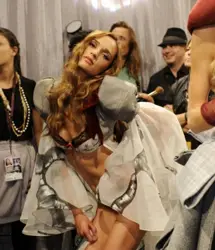 DC Media All rights reserved.
If you want to try the crunch style, but can't wait for the hair to set over night, you can sit under a hood dryer for 15-30 minutes to help the style set. Before you remove the rollers or braids, be sure that the hair is completely cool.
Spray well with a super holding hairspray. Remove the rag curlers or braids and then use fingers to arrange. Finish with a final spritz of super holding spray.
Summary
Just like any other hair technique, the key to success is being willing to take the time to learn the proper procedures and styling products to use.
Scrunching does require some practice. Roll our your favorite mirror and whip out a willingness to experiment.
Remember to have fun with whatever results you achieve. As the experts say, practice really does make perfect.
Social Media Network Information
Please follow me on Twitter at: http://Twitter.com/HairBoutique. I look forward to meeting new people
from all walks of Twitter and learning from their Tweets.
Visit us at Hairboutique.com located at: http://www.HairBoutique.com, on Facebook, MySpace and YouTube.
Thank you for visiting us at The HairBoutique Blog and for leaving your comments. They are very much appreciated. We apologize in advance but must remove any direct advertisements or solicitations.
- Revised Date: 07/24/11
If you want to talk more about this or other hair care articles on HairBoutique.com or anywhere else, please post a message on HairBoutique.com's Hair Talk Forums.