Last updated on June 14th, 2005 by Karen Shelton
Introduction
Back in April I received a phone call from my very dear friend, Celebrity Hairdresser Ken Paves, inviting me to jet on over to see him in Houston.
Ken had accompanied best female Latin pop star Paulina Rubio (a Gemini born June 17, 1973) to a huge Salina tribute to coif her luscious locks.
Unfortunately, jetting over to Houston from Dallas takes a bit of doing and I wasn't able to see Ken during that trip even though we were both in Texas at the same time.
Instead we stole a few cell phone minutes where he chattered away, 100 miles a minute, about his work on Paulina's naturally curly, long flowing, blonde tresses. Although I knew that in the past Ken had coiffed the "Border Girl" (La Chica Dorada) as she is called, I wanted to pick his hair wizard brain about her curls.
Ken Paves Is Her Mane Man
Ken affectionally calls her "Pau" and told me that he has known and work with her and her hair "forever". He laughed and told me that in 2004 he did the hair for both Jessica Simpson and Paulina for the Latin Grammy awards.
(Image of Paulina Rubio at the 5th Annual Latin Grammy Awards - Los Angeles, California, September 1, 2004 - Image from DailyCeleb.com, David Edwards - all rights reserved).
He recounted a funny story about how the show crew parked Jessica's trailer back to back with Paulina's so it would be easy for Kenney to easily jet between the two performers while he was working on their hair.
DailyCeleb.com All Rights Reserved.
I asked Ken if Paulina and Jessica, who are both "his girls" know each other. Not only are they acquainted, but Ken said that he introduced the two divas and they are very good friends. In fact, after Ken coiffed their strands, the two blonde beauties walked the Red Carpet together.
Ken explained that Paulina is "the naturally curly version of Jessica". Both chart toppers, according to Ken, have tons of hair that is fine in texture. Jessica has natural wave and Paulina has natural curls.
Not only does Paulina love how Ken does her hair, according to Ken, she absolutely "adored the aroma" of one of his past product lines. As a favor to his free-spirited famous client, Ken had the scent of his past product made into an essential oil just for Paulina to wear as her own personal perfume.
I asked Ken to give me details on how he works with her natural ringlets.
Ken confessed that he has "done just about everything you can imagine" to Paulina's tresses from straightening them and putting them into elaborate updos, to using a curling iron to add tight curl definition to her natural ringlets.
Over the years, Ken confessed that he had styled Paulina's natural ringlets in so many different ways, that he can't even begin to remember all of the elaborate dos.
Daughter Of Mexican Film Star
Paulina is the daughter of Mexican film star, Susan Dosamentes. As the story goes, Paulina spent a large part of her childhood hanging out on film sets and traveling with her mother.
(Image of Paulina Rubio at the party honoring Lara Shriftman and Elizabeth Harrison and their book, Fete Accompli! The Ultimate Guide To Creative Entertaining, August 28, 2004).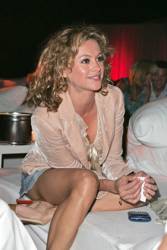 DailyCeleb.com All Rights Reserved.
When she was 10 years old Paulina joined Timbiriche, a children's musical group. After ten years, Paulina launched her solo career with her first album La Chica Dorado.
Besides being a beloved pop star, Paulina has also performed in Mexican telenovelas like Pobre Nina Rica and in film. Her album, Paulina, sold more than 3 million copies and was named Billboard's #1 Latin Album for 2001. Her first English CD, Border Girl, was released in 2002.
Steal Paulina's Style
Paulina, according to Ken "loves her curls" and enjoys wearing them shaped into glossy curls and ringlets. For the Grammy Awards, Ken deliberately coiffed her tresses to show off her natural texture.

Whether you have natural curls or not, follow these steps to recreate Paulina's Grammy style:

STEP 1

Start by washing your hair the night before a big event with a shine enhancing shampoo such as one of the popular products from Phyto.

Note: If your hair is damaged or excessively dry, consider diluting the shampoo and mixing to a foam. Drizzle the foam over wet strands.

STEP 2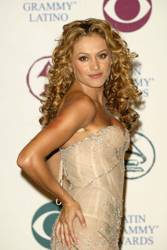 DailyCeleb.com All Rights Reserved.

Condition strands with either a leave-in conditioner or one for deep conditioning for dry or damaged hair.

STEP 3

Rinse well to remove all shampoo and conditioning residue and finish with a cool/cold water rinse.

STEP 4

Towel blot so that hair will be completely dry by morning. Detangle from the ends up to the roots. Separate hair into 2-3 inch sections.

If your hair is naturally curly, apply a straightening balm to each individual section to smooth curls and block any frizz. Comb the balm completely through the strands from roots to ends. Get a good night's sleep.

If your hair is straight or wavy, apply a styling mousse for dry damaged hair. Set hair in self adhesive or similar rollers. Sponge or rag rollers will also work. All the various curlers will add curls.

STEP 5

If hair is naturally curly, in the morning upon waking apply a dime sized amount of shine serum, cream of spray to the palms of your hands mixing well. Take the palms of the hands and distribute it through the strands, avoiding the root area.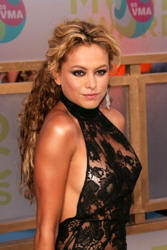 DailyCeleb.com All Rights Reserved.
If curlers were added the night before, remover curlers and add the shine serum as well.
Ken explained that this is essential for fragile natural curls like Paulina's. A good shine serum locks in moisture and adds a beautiful glossy finish.
STEP 6
Separate strands into 2-2 1/2" sections. Starting at the back of the head, near the nape of the neck, gently twist each strand in a clockwise direction while curling the twisted strand from the middle of the strand to the ends around a medium sized curling iron.
STEP 7
Continue to twist and curl strands from one side of the head to the other. To guarantee that the ringlets are tight and bouncy, after you release each new curl from the curling iron, pin against the scalp to cool.
STEP 8
Once you have finished curling the middle to end section of every strand, start again at the nape of the neck and curl all of the same sections from the roots to the middle of the strand. This will help to form a uniform ringlet from roots to ends.
STEP 9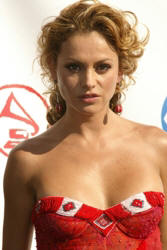 DailyCeleb.com All Rights Reserved.
Allow tresses to completely cool. Use fingers to arrange the newly formed curls. If desired, tousle lightly. Spritz with a firm hold repairing hair spray.
Summary
Paulina Rubio was honored on April 28, 2005 at the Billboard Latin Music Awards. The Mexican chantreuse was honored with Hot Latin Tracks Artist Of The Year, Latin Pop Album Of The Year (Female) for Pau-Laina and Latin Pop Airplay Track Of The Year (Female) for Te Quise Tanto. This blonde pop goddess has only just begun.
Social Media Network Information
Please follow me on Twitter at: http://Twitter.com/HairBoutique. I look forward to meeting new people
from all walks of Twitter and learning from their Tweets.
Visit us at Hairboutique.com located at: http://www.HairBoutique.com, on Facebook, MySpace and YouTube.
Thank you for visiting us at The HairBoutique Blog and for leaving your comments. They are very much appreciated. We apologize in advance but must remove any direct advertisements or solicitations.
Original Publication Date: 06/14/05 - Revised Date: 11/22/10
If you want to talk more about this or other hair care articles on HairBoutique.com or anywhere else, please post a message on HairBoutique.com's Hair Talk Forums.