January 3rd, 2012 by Karen Shelton
Introduction
The French twist is a very popular updo hair styling technique perfect for many hair events ranging from weddings, Proms and special evening events.
French twist hair styles are also very popular with celebrities of all ages who showcase them at movie premieres, charity events and awards shows.
Kristen Bell Hair Styles - French Twist
Kristin Bell has showcased an amazing array of spectacular updo hair styles over the years since she first burst onto the celebrity scene as Veronica Mars.
When she graces the Red Carpet the beautiful blonde often wears a variety of updo hair styles including tousled ballerina buns, chignons and French Twists.
Note: Visit Kristin Bell's Celebrity Hair Styles Gallery to see more images.
Kristin often combines the best features of a French Twist and other classic updos with a fresh new interpretation. Kudos to her inventive hairstylists.
One of the challenges of wearing a traditional twist hair style is making sure it's not too severe so that it detracts from the face. Another is making sure the crown section is not too large or overpowers the entire look. Kristin manages to avoid these known challenges and presents gorgeous sexy French twist renditions.
Kristin Bell's Hair Color
Her natural hair color is a cross between a dark blonde and a light brunette.
Kristin's color base could be described as toasted coconut and her beautiful white blonde highlights might be described as iced meringue.
Some of the lightest highlights are positioned around Kristin's face to make her stunning eyes pop. The rest of the highlights are interwoven throughout her crown and the mid-lengths.
Krisin Bell Hair Extensions
It's likely Kristin wears extensions since her natural hair tends to be fine and on the thin side.
Hair extensions, either fusion or clip-in are great options when creating a French Twist with lots of volume.
Clip-in hair extensions, either a cap style or individual pieces, works great to instantly build volume if you would rather not back comb your entire head, which is necessary with a traditional twist.
How To Copy Kristin's Modified French Twist
Kristin recently (2011 Unicef Ball in Beverly Hills) wore her hair in a French Twist modified on top with sections of hair rolled on either side of the twist.
It was hard to tell her hair was in a traditional French Twist since the hair was worn close to the head.
The two decorative hair twists on either side of the twist gave this traditional updo a fresh and unique look.
The twist was based off a center part in front with a few face-framing strands pulled out around the hairline.
Going With A French Twist
The type of hair texture you possess determines the type of tools and techniques you should utilize to style Kristin's sleek French Twist hairstyle.
It's possible your hair type, texture and/or strand condition may not be ideal for Kristin's hair color, length and sleek style.
You may also need to consider whether the hairstyle would be appropriate for your face shape and type.
Kristin Bell French Twist How To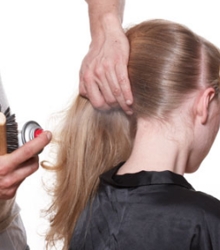 DC Media All Rights Reserved
Kristin Bell has highlighted and low lighted hair. This type of hair requires Tender Loving Care (TLC).
A French twist like Kristin is showcasing in this article can just as easily be created on day old or aged hair.
If you prefer to start with newly cleansed hair then follow the steps below:
1. Start with the very best hair care products and tools for turning chemically processed hair into a sleek French Twist.
2. Shampoo strands in lukewarm water with moisture enhancing shampoo and rinse out conditioners.
If your hair is naturally dry, chemically damaged, colored or naturally textured you may wish to experiment with alternative cleansing systems such as Diluted Shampoo (DS), Conditioner Only Wash (CoWash), Low Poo, No Poo or Water Only (WO).
3. After rinsing out shampoo completely, gently squeeze hair to remove excess moisture.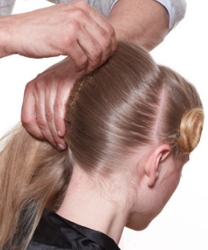 DC Media All Rights Reserved
4. Apply moisture enhancing conditioner to hair.
5. Detangle hair with a wide tooth comb or fingers. Work through horizontal sections from the ends up to the roots.
6. Once hair has been completely detangled finish with a cool or cold water rinse.
7. Towel blot to remove excess moisture.
8. Apply a styling cocktail which includes, but is not limited to frizz fighting products if your hair has a tendency to frizz. Work a hair styling cream through damp strands to create smoothness.
Use styling products with a cream or silicone base to give hair more grip and manageability. Avoid hair styling products like gel, wax or styling mud which hardens tresses.
9. Bend over at the roots and blow dry hair from the underside. Direct blow dryer air flow from the ends up to the roots to create maximum fullness. Once the underside is dry bend back over and continue drying the top.
DC Media All Rights Reserved
Blow dry the right side of the hair to the left side and the left side to the right.
Dry the back of the hair to the front. Reverse direction and dry from front to the back. Use either a paddle style brush for a sleek finish or a round brush for volume and curve.
Note: Changing the direction of blow-drying creates lots of lush volume directly at the roots.
11. If you wish to build in additional volume, set damp strands in pin curls or large barrel style rollers and sit under a hood style dryer or air dry.
12. Once hair is 100% dry, brush out hair so it's completely detangled.
13. Create desired part. Kristin is wearing a center part which extends from her hairline to her crown. If you look closely you will notice it's a messy part which creates natural softness.
14. Separate individual strands on either side and pin them out of the way. These individual strands will be used to create the final hair twists along the sides of the finished twist with a few strands allowed to float around the face like Kristin showcases. This also provides a softer take on the traditional twist hairstyle.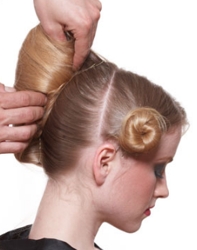 DC Media All Rights Reserved
15. Start at the crown and pull up individual 1-2" sections of hair. Back comb the base of the section using a brush and create what looks like a halo of hair from behind the ear up over the crown.
16. Continue to back comb down the back in vertical sections. Begin the backcombing at the root.
17. Blend out to the backcombed ends, using a brush. Separate out one side section in front of the backcombed halo from a side parting. Separate a top section of the hair on the other side.
18. Switch from a brush to a comb. Start with the base and back comb again for added structure and height.
You have the option to back comb as much as desired depending upon how high or well formed you want your ultimate twist to be.
19. Blend back combed hair out to the ends using the comb. Backcomb in this manner from the crown to just below the occipital bone, but not into the sides.
The sides of the hair will be worn smooth or slightly finger combed and directed back towards the finished twist.
20. Using a brush, gently smooth one side of the hair to slightly beyond center and spray with hairspray.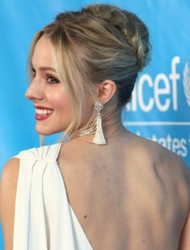 DC Media All Rights Reserved
21. Secure vertically with bobby pins the same color as the hair. Make sure the line of pins is slightly off-center and goes from approximately 2 two inches above the nape of the neck to the crown.
22. Now smooth the opposite side of the hair over the first side.
23. Twist and tuck the hair over the pins. Place bobby pins under the tuck to secure.
Note: If your hair doesn't hold bobby pins well then consider anchoring them by crossing the pins to form an X.
24. Take remaining side of the hair, unpin and brush back. Smooth over the newly twisted section which should ideally be centered on the back of the head.
25. Secure with bobby pins the same color as the hair under the newly tucked area. Make sure there are no bobby pins sticking out. Bobby pins should never be obvious or visible.
26. Release the two top sections of hair which will frame the finished twist.
Allow the sections to fall naturally and then lift each one individually on either side of the finished twist with your fingers. Gently twist. Pull them down along the side of the twist and pin to secure.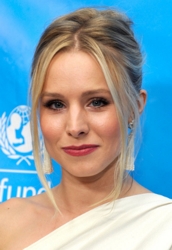 DC Media All Rights Reserved
27. Pull a few strands around the hairline and allow them to float around the face to soften.
28. Finish the style with firm holding hairspray. Check to make sure no hair pins or clips are showing.
29. Apply a spritz of shine building serum to the palms of your hands. Massage together and then swipe over the top of the finished look to help lock in moisture, add shine and block humidity.
Summary
Kristin Bell's modified French Twist with two twisted hair strands on either side can be adjusted in a variety of ways.
The French Twist can be positioned higher on the head or backcombed into a fuller shape. It can also be positioned more to one side rather than centered.
The twisted strands which frame the French twist are optional and can be left off the final style or can be created from larger sections of hair.
Even though she's wearing a traditional updo hairstyle which has has been popular for many years, her take on the go-to twist is soft, sexy and very fresh. Kudos to Kristin for her latest take on a classic updo hairstyle.
- Revised Publication Date: 01/03/2012
If you want to talk more about this or other hair care articles on HairBoutique.com or anywhere else, please post a message on HairBoutique.com's Hair Talk Forums.