September 21st, 2000 by Karen Shelton
Introduction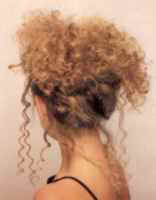 Ok, so why is this even a topic? (Glad you asked!) If you like dancing, whether it be ballroom, Latin, swing, country & western, rock n' roll, hip hop, line-dancing, ballet, etc., you'll look and feel better with a 'do that fits the dance.
Now obviously I am not advocating bringing along a change of hairdos for an evening of dancing! The idea is to be comfortable while you dance. Generally speaking, with more complicated dance styles that involve a lot of close work between you and your partner, it's better to have a more controlled 'do.
For example, when you're doing East Coast Swing with your partner and he dips you, you don't want to get one of your long spiral curls wrapped around one of his shirt buttons. Trust me--YOU may dip, but your hair won't, leaving him with a permanent reminder of probably your last dance together.
If you are doing competition dancing, hair style is even more important. Depending on the dance, you'll want a style that matches the spirit of what you're doing. Remember too that you want the judges to watch your dancing, not your hair.
Unless it is an integral part of the dance style, a lot of loose, flopping hair can distract the judges from what they should be watching: the dance!
When dancing is more improvisational, like rock and hip hop, anything goes. You can shake those elbow-length dreads with the best of them!
Dance Hair Style Ideas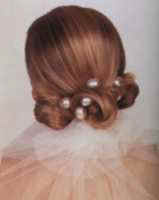 Look into some of the following styles for dancing (and don't forget to check Hair Boutique's Hair Gallery to see hundreds of styles!
Note: Be sure to check out the section options at the top left of the page including styles for Updos and Formal which have good ideas for updos that are "dance friendly".
Ballroom (including foxtrot, waltz, tango, cha-cha) - Smooth, sophisticated styles such as foxtrot chignons, knots, ponytails and French twists, waltz braids, bobs; various short styles.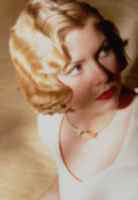 Swing - "Dated" looks such as a '40's rolled bob, fingerwaves, upsweep, pageboy
Country & Western - The sky's the limit! Even if you're having a bad hair day, plop on a cowboy hat!
Rock n' Roll Again - Anything goes. In fact, the wilder, the better! Get out your temporary hair color, glitter, hair extensions, hair jewels, and go wild!
If you want to talk more about this or other hair care articles on HairBoutique.com or anywhere else, please post a message on HairBoutique.com's Hair Talk Forums.