Last updated on December 12th, 2004 by Karen Shelton
Introduction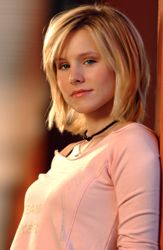 If you're a fan of the hot new UPN show - Veronica Mars, you know that the central theme of the show is woven around the mysterious death of Veronica's best friend - Lilly Kane.
In a series of swirling flashbacks you may have spotted the normally short coiffed Veronica, played by Kristen Bell, suddenly sporting a cascade of long golden tresses.
(Kristen Bell as Veronica & Percy Daggs III as Wallace star in Veronica Mars on UPN. Photo: Cliff Lipson/UPN 2004 CBS Broadcasting Inc.)
Every week Veronica shows off some sizzling current short hair styles ranging from the flirty soft choppy bob shown above to a wide range of cute mini ponies, pigtails and slicked back strands.
Not only do the quick and easy short styles perfectly suit her naturally fine, straight hair, they are absolutely adorable when coupled with her beautiful blue eyes, porcelain skin and slightly squared face shape.
So how do the producers morph the actress back and forth into time changing her hair length and style in such a dramatic way? I'll bet you're thinking hair extensions. Nope. Guess again.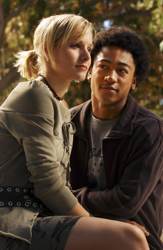 One of the Veronica Mar's hairdressers and master hair colorist knows from firsthand experience how Veronica Mars slips back and forth between being long and short tressed in a matter of minutes.
(Kristen Bell as Veronica & Percy Daggs III as Wallace star in Veronica Mars on UPN. Photo: Cliff Lipson/UPN 2004 CBS Broadcasting Inc.)
Not only did the hairdresser act as the chief hair designer and hairdresser when the original Veronica Mars pilot was shot last summer in San Diego.
She personally hand created, colored and highlighted the wig that was custom designed to match Kristen Bell's natural hair texture and current color.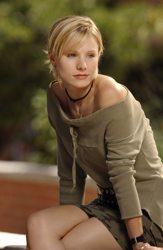 As the hairdresser explained "creating that long wig for Veronica's flashbacks was a painstaking process because it had to perfectly match Veronica's current hair color and style".
(Image of Kristen Bell as Veronica in Veronica Mars on UPN. Photo: Cliff Lipson/UPN . 2004 CBS Broadcasting Inc.)
The stylist explained that "ongoing filming issues with Veronica's flashback hair would become complicated, especially when beach related episodes would take several hours to shoot.
Especially when sea air, salt, sand and humidity would strip the wig of all previous styling attempts." At that point, the hairdresser would basically have to start over from scratch and recreate the appropriate style for the wig.
The hairdresser, who is also responsible for a lot of the fabulous hair styles worn by the actors in HBO's Carnivale series felt that will there were a lot of constant challenges to making sure that Kristen's hair was just right for her Veronica part, she enjoyed how much the experience helped her grow as a hair colorist and set hairdresser.
She also reported that in real life "Kristen is a real doll and more gorgeous in person than she appears in real life".
If you haven't been watching Kristen on Veronica Mars on UPN, be sure to tune in. Not only is a great television series, there is a lot of great hairstyling to be viewed at the same time.
Social Media Network Information
Please follow me on Twitter at: http://Twitter.com/HairBoutique. I look forward to meeting new people
from all walks of Twitter and learning from their Tweets. Visit us at Hairboutique.com located at: http://www.HairBoutique.com, on Facebook, MySpace and YouTube.
Thank you for visiting us at The HairBoutique Blog and for leaving your comments. They are very much appreciated. We apologize in advance but must remove any direct advertisements or solicitations.
- Revised Publication Date: 03/03/10
If you want to talk more about this or other hair care articles on HairBoutique.com or anywhere else, please post a message on HairBoutique.com's Hair Talk Forums.