March 1st, 2007 by Karen Shelton
Introduction
(BEVERLY HILLS, California) – Pure, rare, and always stunning – platinum has long been a sign of exquisite taste.
Now hairdressers can translate the luminous shine and icy shimmer to their client's hair color.
With the NEW Platinum Series from Paul Mitchell the color, colorists can create cool blondes that with pearl-like sheen that reflects light beautifully.
Miles away from the usual warm-toned "California blonde", this NEW blonding tool creates soft, cool hues without a brown base.
It's the optimal color series for the latest trend in sophisticated blondes
Key Benefits
Soft, blue-violet based color without a brown base.

An excellent toner for correcting orange and yellow orange off tones.

Ideal for use on natural levels of seven and higher.

Fully compatible & intermixable with the Paul Mitchell the color line and is an ideal partner for formulating with CB, A, NB and N Series color.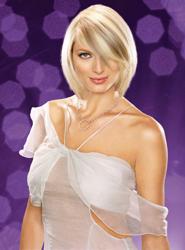 Courtesy of Paul Mitchell - All Rights Reserved.
According to Linda Yodice, Artistic Director for Paul Mitchell the color, "The NEW 7P and 9P from Paul Mitchell the color deliver soft, violet tones necessary to keep your blondes calm, cool and sophisticated. Think British versus California Blonde."
For Paul Mitchell Master Associate Stephanie Kocielski, the NEW Platinum Series colors from Paul Mitchell the color are just what she needs to create icy cool blondes. "I love the NEW Platinum Series!
It's a goof-proof way to create cool blondes and light browns. Tell warm or gold tones to take a hike if you don't want them.
Blend the NEW Ps with other tones from Paul Mitchell the color and you'll see why it's become my new favorite blonding tool."
Summary
For more information about Paul Mitchell Professional Hair Color, please contact your John Paul Mitchell Systems Distributor or log on to the Paul Mitchell Professional Web site located on the Web at: www.paulmitchell.com
Social Media Network Information
Please follow me on Twitter at: http://Twitter.com/HairBoutique. I look forward to meeting new people
from all walks of Twitter and learning from their Tweets. Visit us at Hairboutique.com located at: http://www.HairBoutique.com, on Facebook, MySpace and YouTube.
Thank you for visiting us at The HairBoutique Blog and for leaving your comments. They are very much appreciated. We apologize in advance but must remove any direct advertisements or solicitations.
- Revised Publication Date: 11/19/10
Send this page to a friend..
If you want to talk more about this or other hair care articles on HairBoutique.com or anywhere else, please post a message on HairBoutique.com's Hair Talk Forums.