June 22nd, 2006 by Karen Shelton
Introduction
Sandra "Sandy" Annette Bullock was born on July 26, 1964 in a Virginia suburb of Washington D.C. to a German opera singer. Although she has been acting since 1987 (Hangman) she didn't break out as an actress until her role driving the out-of-control bus in Speed with co-star Keanu Reeves in 1994.
Over the past two years Sandy has made a lot of changes in her life. Her most recent is the adoption of a spectacular new top-of-the-shoulders bob hairstyle.
Visit The Sandra Bullock Celebrity Hairstyle Pages
A former member of People's 50 Most Beautiful People (1996 & 1999), the naturalized Texan unveiled her super-seductive classic bob with a peek-a-boo side-swept "Veronica Lake" fringe.
Flaunting a sleek shimmering shorter style, Sandra captured the spotlight at the Premiere of The Lake House. Besides a major hairstyle change, Sandra married for the first time one year ago to Monster Garage man Jesse James.
She also literally took a turn back into time in order to co-star with Keanu Reeves.
According to media reports Sandra and Keanu have remained good friends since they worked together 12 years ago and wanted to re-create the chemistry of their first role together in Speed once the movie's producer suggested the idea to them.
The magic must have been completely preserved because The Lake House has garnered great reviews and is doing well at the box office. A love story, it showcases Sandra's excellent acting talents.
Back To Sandra's Bob
DailyCeleb.com All Rights Reserved.
When I look at Sandra's sizzling new bob I am amazed by the fact that the actress has naturally curly hair. Over the years it has been reported that the actress has undergone a variety of relaxing and chemical straightening treatments for her natural ringlets.
Sandra's classic bob was expertly angled so that it dips slightly forward into seductive curvy points in the front under her chin. This builds in beautiful movement and body.
It is very important to note that Sandra's stellar hairstyle starts with a precision cut that is designed to build in maximum fullness around the crown with a hint of very slight razoring around the ends to add just a touch of extra texture.
Depending on some hair texture and types, razoring may or may not be the best option. With Sandra's style the hint of razor feathering along the perimeter creates just the right edginess.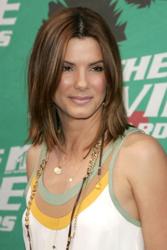 DailyCeleb.com All Rights Reserved.
Her new bob cut also allows Sandra to either part her hair down the middle and wear a shimmering veil of chocolate brown strands framing either side of her face or to wear a side part with a side-swept eye covering fringe.
When she wears the style with the peek-a-boo fringe she also has the option to tuck the opposite side behind one ear and pull the ends forward to frame her neck.
Whether worn with or without the side-swept strands, the style is perfect with her classic square shaped face and gorgeous features.
Auburn Highlights
If you look closely you will be able to see that Sandra's chocolate brown tresses have been very carefully highlighted with ribbons of rich auburn color placed strategically throughout her bob to add the illusion of fullness and depth.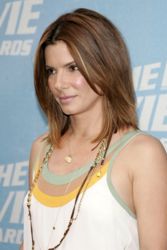 DailyCeleb.com All Rights Reserved
The auburn highlights placed against the soft chocolate base also helps to bring out a blinding shine.
Steal Sandra's Bob Style
Sandra's hairstyle can be customized to work with just about any face shape, hair type or texture. For naturally curly or wavy hair the strands must be either pre-straightened or blow dried straight.
This style is idea for hair that is medium in thickness.
Follow the steps below to recreate Sandra's style:
Start with a precision angled bob that is cut to hang forward into curved points and frame the neck.
1. Start by washing your hair in lukewarm water with a product designed to add back moisture and to treat colored or highlighted hair with tender loving care.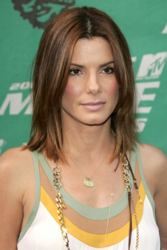 DailyCeleb.com All Rights Reserved
2. Rinse hair well and then apply a moisturizing rinse-out conditioner focusing the products on the areas of the hair that are most dry or damaged. If your hair is fine or thin you may wish to skip this option.
For extra conditioning substitute the rinse-out conditioner with a deep conditioner that is allowed to soak down into the hair's shaft.
4. Finish with a cool/cold rinse to lock in moisture and add additional shine.
5. Towel blot to remove excess moisture. Apply a conditioning detangling spray or leave-in conditioner and detangle strands with a wide tooth comb working from the ends to the roots. Create either a center or side part, depending on how you wish to style your hair.
Note: If your hair is prone to frizzing apply a defrisant product or mix with your other styling products. It has been reported in the past that Sandra Bullock was a big fan of Phytodefrisant for her naturally curly hair that tended to frizz.
6. For lots of fullness, lift and volume, apply a volume enhancing product to the roots. Distribute a straightening balm to the rest of the strands distributing from below the roots to the ends.
DailyCeleb.com All Rights Reserved.
7. Separate strands into 1" to 2 1/2" sections and blow dry with a boar's bristle round brush. Blow dry the top sections of hair using fingers to lift individual top strands and direct the air flow from ends to roots.
Use the brush to turn the ends under around the edges and slightly in towards the neck.
Note: If hair is naturally curly, do not use fingers to blow dry since this can add to frizz. Use a boar's bristle brush instead.
8. When hair is completely dry you may opt to touch up the strands with a straightening iron to achieve sleeker panels of hair.
You may prefer to use a curling iron (or hot rollers) to turn under the ends or add more volume and lift to the crown area.
9. Apply a shine serum, shine spray or hair cream to seal in moisture and add that shimmering shine similar to Sandra's. Hairspray is optional.
Summary
Twelve years after Sandra Bullock met Keanu Reeves on a speeding bus she is back meeting with her via a mailbox. A lot has changed for the gorgeous and beloved actress since she last acted with Keanu.
Sandra has a hot new hairstyle that befits her maturity as a seasoned actress and beauty. The International film star also has a gorgeous new husband, a sizzling career with mega paychecks and success as both a film producer and director. It couldn't happen to a better person.
Social Media Network Information
Please follow me on Twitter at: http://Twitter.com/HairBoutique. I look forward to meeting new people
from all walks of Twitter and learning from their Tweets. Visit us at Hairboutique.com located at: http://www.HairBoutique.com, on Facebook, MySpace and YouTube.
Thank you for visiting us at The HairBoutique Blog and for leaving your comments. They are very much appreciated. We apologize in advance but must remove any direct advertisements or solicitations.
- Revised Publication Date: 04/27/10
Send this page to a friend..
If you want to talk more about this or other hair care articles on HairBoutique.com or anywhere else, please post a message on HairBoutique.com's Hair Talk Forums.