Last updated on August 7th, 2008 by Karen Shelton
Introduction
I recently caught up for a phone chat with charming celebrity hair color wizard, George Papanikolas (pronounced papa-nikolas), whose career is literally sizzling.
In September of 2008, shortly after I interview George the first time his career blew up even bigger. George joined some of the most elite hair gurus and helped to open the fabulous Andy LeCompte Salon (call George for a hair color appointment at 310-273-4100).
A California native, born and raised in Los Angeles, the dark haired 32 year old Gemini has always had a self proclaimed "obsession with blondes". His lifelong love of flaxen tresses "indirectly, but ultimately", lured him into the wonderful world of hair color.
Although George grew up "creating hairstyles" for his sisters and always being "drawn to hair", he graduated from Burroughs High in Burbank, California in 1994.
From there he proceeded to the University of Southern California in Los Angeles, where he obtained a business degree in marketing in 1998 and was a member of Alpha Tau Omega fraternity.
After graduation George entered into the business and marketing world where he remained for approximately five years. All the while he was wearing his marketing cap, he continued to feel "a strong pull towards hair" which George acknowledged, has always been "his passion".
Deciding to follow his heart and his "love of hair" he abandoned the business world and enrolled in Culver City Beauty College to become a licensed cosmetologist. While in cosmo school he was drawn to working with color.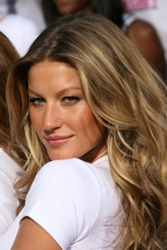 DailyCeleb.com All Rights Reserved.
After graduation his first job was at the famous West Hollywood John Frieda Salon where he specialized in hair color, specifically learning the French free handed sophisticated art of "balayage" (pronounced bell-aye-rjsh).
George trained with the famous celebrity hair colorist Negin Zand. Under Negin's watchful eye, the budding celebrity colorist developed a "signature hair color look inspired by the way a child's hair looks after a whole summer playing on the beach".
Utilizing his own balayage techniques, George blended a "rooty" look interwoven with high contrast colors.
In A Past Hair Color Life - The Chris McMillan Salon
As his signature hair color hit the Hollywood streets on gorgeous blonde heads, George's reputation skyrocketed. As a result, he was recruited to take on the heads of A-list clientele at the famed Beverly Hill's salon of Chris McMillan, famous for attending to the stunning locks of such beauties as Jennifer Aniston and Cameron Diaz, to name just a few.
George was specifically recruited to Chris McMillan because he brought a whole new fresh color technique to the esteemed celebrity hair establishment. Quite simply Chris loved seeing and hearing about the work George was doing and wanted him to bring his techniques to his eponymous salon.
With help from Chris, his boss and inspiration, George's color work has garnered magazine photo assignments helping to expand his budding portfolio. The buzz about George as the hottest new Hollywood hair colorist attracted new models being launched by L.A.'s hottest agencies including Ford and L.A. Models.
Note: George left Chris McMillian in September of 2009 and is now holding hair color court as the lead hair colorist as the chic Andy LeCompte Salon. Call George for a hair color appointment at 310-273-4100
Origins Of Balayage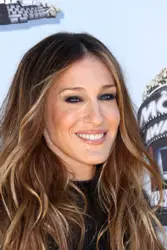 DailyCeleb.com All Rights Reserved.
During our very informative interview George and I discussed the origins of his core expertise, which is balayage, also sometimes referred to as hair painting. I asked George if he knew when the technique came to the United States from France.
George explained "there is more than one school of bayalage" and that how the technique is created is different depends on the geographic location of the hair colorist and what method they learned.
Some schools go with a chunkier or more striped look while others go with more random painted strands. Basically each school and artist follows their own vision.
The beauty of balayage, George noted, is "each finished head is unique", which is what clients crave. Afterall, a savvy hair color client wants their hair color to be different from everyone else. The age of the cookie cutter blondes are long dead and buried.
Even though it allows for very unique results, as George pointed out "the great thing is that balayage works for just about everyone". Because of the way the "roots are done with balayage", you don't get "the re-growth that you get with foil highlights". Balayage is "so seamless". You never "have a line and you never see re-growth".
DailyCeleb.com All Rights Reserved.
I asked George about clients with previous highlights - are they still viable candidates? "Yes", he replied, however, he is always careful when he "blends any new colors with the existing colors".
And what about the danger of previous highlights turning colors, I asked? "No", he said, he might have to "go over them twice", but this would not be a problem and would generally "do the trick".
George confessed "some hair clients are nervous about committing to full on color or full highlights". Balayage is commitment free and lets potential hair color subjects to "gradually slide into adding color".
Once they see how wonderful it looks, the ease of maintenance and "how it grows out without a line", they fall in love and don't want any other type of highlights.
Is it possible to duplicate the very same look with each baylage application? "No". George said "that's the beauty of the process". No finished highlighted look is ever the same".
The uniqueness of his hair painting process keeps things "interesting and exciting" both for the client and for George. After all, hair evolves over time and thus the colors should constantly be changing as well….which his special highlighting techniques supports.
George's Balayage Techniques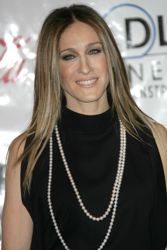 DailyCeleb.com All Rights Reserved.
Since the beginning of his hair color training George has always been drawn to the balayage technique which some hair colorists find difficult to do. For George it always felt "very natural" for him.
George adores the results he's able to achieve using balayage because he believes it looks "so natural" and "much more progressive" than other blonding techniques.
Yes, George agreed, "baylage does require a bit of natural talent". Indeed, when you're free hand painting directly onto hair, George noted you "truly are an artist", except painting onto a different type of canvas. With every new head George does, he has a special vision of what needs to be done.
Can any haircolorist do baylage? Yes, according to George, "with proper training" any hair colorist "can learn the technique and do it well".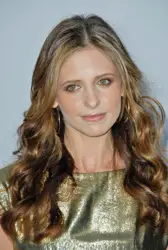 DailyCeleb.com All Rights Reserved.
Explaining more about his legendary balayage techniques George stressed "application is extremely important".
The color, since it is carefully hand painted on the hair, must be done "very fast" and George explained "you have to watch it closely" to get the "proper level of lift".
Unlike foils, where you just "slap the color on and let it process", the balayage techniques developed by George, are "extremely precise and involve "as much art as science" during the application. He finds that baylage "pushes him to use his natural artistic talents" to create hair color in completely new ways.
George specifically works the strands from the roots outward. It is important to always "slightly adjust the baylage so that the color remains fresh, different and never boring".
Where does George get his inspiration for his balayage work? His inspiration comes from the gorgeous highlighted tresses of supermodel "Giselle and actress Sarah Jessica Parker" of Sex And The City fame. When I asked what celebrity he would love to personally work with, he replied "Giselle of course".
Fade Into Blonde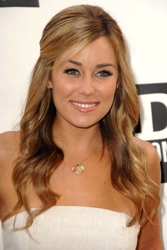 DailyCeleb.com All Rights Reserved.
So how does George's technique stack up with other baylage experts? His work is truly that of an inspired artist who's doing actual painting on hair. And it shows. It stands out because it is uncanny in how natural and unique it is.
His work has a "sunny beach signature" which instantly caught the attention of Southern California's most discerning blondes. George wants his clients to feel like "they spent a summer at the beach", not three hours sitting in the salon.
He loves to create the look "of a little girl's hair" who has just come in off a day frolicking at the beach. He personally loves the "rootier look". It looks "so much more beautiful and as if it was created naturally by the sun".
George is also noted for his amazing ability to create a look which l "fades" from the roots to the ends. To achieve his brilliant fade-to-blonde look, he starts out much lighter at the roots and goes brighter toward the ends in a soft fade, much like the sun would do naturally.
High fashion blondes adore the "rooty" high contrast designs which are inspired by the likes of Gisele and Sarah Jessica.
George also takes pride in his custom color adjustments. When doing baylage treatments he adjusts them depending on the seasons of the year. In the summertime he opts for a lighter, brighter look, but in the Fall and Winter he "tones it down to achieve richer results".
Other Signature Color Techniques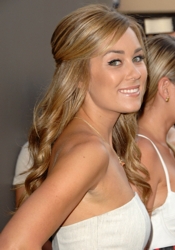 DailyCeleb.com All Rights Reserved.
Although balayage is truly his expertise, George utilizes his great skill and artistry to create amazing permanent color and demi-perm for his celeb clients. I asked George why he might use demi-perm on a client rather than permanent. George replied "a lot depends on the client" and what he is trying to accomplish for their overall color.
Besides the legions of faithful blondes he services, brunettes clamor for his progressive color designs characterized by rich color at the roots interwoven with caramel-toned tips. His copper-gold, vibrant redheads are the new standard for head-turning hues.
Although he is renowned for his artistry with hair paint, he is just as amazing with all colors of hair, which is a great plus for all of his clients who might decide to transition into other hues.
Minka Kelly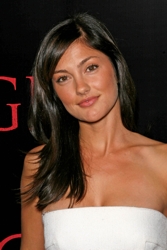 DailyCeleb.com All Rights Reserved.
In the Fall of 2007 George started coloring the tresses of the gorgeous Minka Kelly, who recently rocketed to fame in the TV series, Friday Night Lights. Although very discreet about his work with celebrities, who visit him at the elite salon, George was willing to dish a little bit about Minka's hair.
George told me the lovely actress is "a natural blonde" who has her hair darkened "quite a bit" for her role on the TV show.
Although a lover of blondes, George said Minka looks fantastic, "very exotic and beautiful" as a brunette. He noted her "eyes and skin tone" work well with "the darker hair color" which combines for a "very striking effect".
Because her hair is naturally lighter than her current darker hue, Minka stops by to see George on a regular basis to have her lighter roots touched up.
Whenever Minka is scheduled to appear on Red Carpet events she visits the salon a few days in advance to have her color "refreshed" and her roots "touched up".
I asked George if he gets recognition for his work on Minka as her colorist for Friday Night Lights or her hair when she makes celebrity related appearance.
No, he replied, ass a celebrity hair colorist, he really "doesn't have the opportunity to do red carpet looks" because he is more "behind the scenes". Yes, he does "refresh hair color a few days before a big Red Carpet event" but unless a celebrity's color "changes dramatically or draws unusual attention", his work goes largely unnoticed, in favor of the updos and other special Red Carpet hairstyles worn by the stars.
Using The Right Products For Colored Hair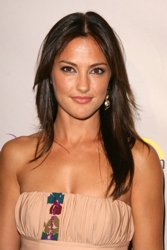 DailyCeleb.com All Rights Reserved.
Recently George was recruited to join Joico's (a division of Shiseido, Inc.,) team of elite hair color experts, representing the esteemed company and their amazing award winning hair products.
Since George believes it's "extremely important to use the right products on color treated hair" and he already uses the Joico VeroColor line on his clients, he was a perfect addition to the team.
George utilizes VeroColor because it "offers rich, long-lasting results, spectacular condition and shine", which obviously his hair color clients love. And who wouldn't?
After working so hard to create those luscious balayage highlights, George encourages his clients to utilize the Joico Color Endure line consisting of shampoo, conditioner and leave-in protection to help extend the overall life of the highlights and keep them looking "as great as possible".
As George explained "the key is finding products that maintain the hair's overall integrity". He looks for hair care products which "add moisture and texture without heaviness".
Which is why he is also a fan of "the Joico KPak Deep Penetrating treatments" because they do a great job of helping hair retain moisture and keeping newly created color looking fresh and shiny."
Joico's K-Pak Deep-Penetrating Reconstructor has won stylist choice awards (7 Year Winner Of Stylist Awards) for its ability to enhance and restore hair after color and related chemical treatments. George uses K-Pak after every highlighting service. He finds it definitely maintains hair's health and keeps hair supple and soft. He recommends his clients use K-Pak once a week after their color service.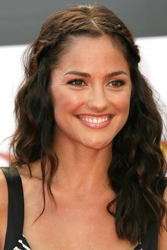 DailyCeleb.com All Rights Reserved.
Besides VeroColor, George is a fan of several of the Joico styling products. He uses "the Joico Paste for his own hair, because it allows him to effortlessly create a cool, modern texture "which is more pliable and has a softer, piecey feel".
When working to create lots of lush volume for a finished style, George may spritz on Joico's Body Luxe Root Lift. Or to add thickness he uses Joico's Body Luxe Design Form. He also utilizes the Fine Mist Aerosol Hairspray to lock in curls.
In keeping with notable new trends in the salon industry, George utilizes Joico's products to target specific hair issues. As far as servicing clients' needs go," says George. "Instead of one product for everyone, people are targeting specifics—scalp issues, frizzy hair, colored hair.
People don't want cookie-cutter hair, but they do want natural styles. And Joico offers those types of products, which George appreciates when working with his clients.
What The Future Holds
George has had amazing success creating his signature hair color and natural, tousled hairstyles. As a result, George Papanikolas, who is part of the esteemed stable of Exclusive Artist Management, has become a must-see for Hollywood starlets seeking his special color boost and sassy styles. His career will only continue to skyrocket.
So what's next for this talented colorist? Although he's worked on some "wonderfully challenging print shoots", the rising celeb hair colorist definitely wants "to do more of that in the future". George definitely loves that part of the business. He also wants to do more free lance work and would love the opportunity to work on films. His ultimate goal is to train other hair colorists in how to translate runway styles to the salon.
Luckily George is always willing to make room for new hair color clients who would like to experience his spectacular work.
Note: To book with this hot celebrity hairstylist call him directly at: 310-273-4100. Please tell him Karen Shelton at HairBoutique.com sent you and that I'm a huge fan.
Social Media Network Information
Please follow me on Twitter at: http://Twitter.com/HairBoutique. I look forward to meeting new people
from all walks of Twitter and learning from their Tweets. Visit us at Hairboutique.com located at: http://www.HairBoutique.com, on Facebook, MySpace and YouTube.
Thank you for visiting us at The HairBoutique Blog and for leaving your comments. They are very much appreciated. We apologize in advance but must remove any direct advertisements or solicitations.
Original Publication Date: 08/2008 - Revised Publication Date: 05/21/11
Send this page to a friend..
If you want to talk more about this or other hair care articles on HairBoutique.com or anywhere else, please post a message on HairBoutique.com's Hair Talk Forums.