January 17th, 2006 by Karen Shelton
Introduction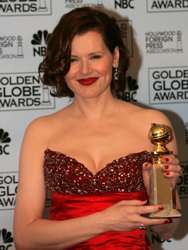 One of the best kept secrets in Hollywood is mega talented celebrity hairdresser Robert Hallowell.
(Image of "MarilynMonroe-esque" Geena Davis - NBC Entertainment Photo: Chris Haston - Hair by Robert Hallowell) Robert's work is constantly viewed on the Red Carpets, at the cinema and in millions of private homes around the world.
While Escada, Harry Winston and Jacob The Jeweler (JACOB & Co) are responsible for Golden Globe winner Geena's Davis' Lady In Red shimmer, Robert is the brilliant man behind her cascade of tousled rich Merlot hued do.
The President's Hairdresser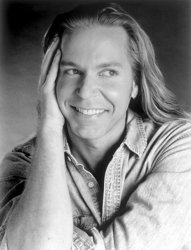 The celebrity hair gods smiled on me this year. Not only did Robert give me a blow by blow-dryer accounting of whipping up Geena's tresses for the recent People's Choice Awards, he gave me the advance hair scoop for the Golden Globes.
(Image of Robert Hallowell - Courtesy of Robert Hallowell - all rights reserved).
Robert, who is "The President's Hairdresser" for her award winning role on Commander In Chief (CIC) has been working with the ruby haired beauty for years, since her star turn in Angie (1994). From there Robert has worked behind the chair, the lights and at all hours of the day and night for Geena through several movie and TV roles.
Robert is Golden in his own right. As Geena's limo glided away from her home on People's Choice night, Robert dialed my Blackberry and gave me the all inclusive details of Geena's elegant half-up/half-down do. He also gifted me with a sneak preview of how he planned to do the talented thespian's tresses for The Golden Globes (GGs).
Although he wouldn't spill any secrets about Geena's pending GG gown or her jewels, he did rhapsodize about how he planned to coif her to honor her spectacular designer gown. Which he did say was custom designed and created just for her by Escada.
Yesterday (Golden Globe Day) he dialed me to tell me would doing Geena's hair at the studio on the CIC set. The reason? The professional quality lighting guaranteed Robert that he could turn out a flawless style that would sizzle.
Perfect Hair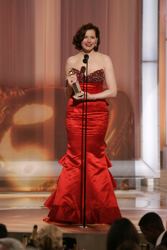 Robert told me that his goal was to coif Geena in a style that worked with what he envisioned was an update, modern image of Marilyn Monroe meets Grace Kelly.
(Image of Geena Davis - NBC Entertainment Photo: Chris Haston - Hair by Robert Hallowell)
The most important thing, for Robert, was to make sure that Geena's ultimate hairstyle worked in perfect harmony with the jaw-dropping elegant Escada and the double digit carats of Harry Winston and Jakob The Jeweler's ruby and diamond accessory creations.
Robert, who described Geena's ruby red multi-ruffled, jeweled gown as "a dress on top of a dress" decided "to go with a saucy soft veil of ravishing ringlet shaped curls" (Geena has naturally curly hair) that "nestled along the right side of "The President's" glowing face".
His goal was to add "the icing on the Golden Globe appearance cake" to Geena's total Lady-In-Red look while respecting the fact that "she is all about the gown, the jewels, the red fingertips and ruby red lips". Yes, indeed, Geena Davis was the image of true Hollywood Glamour.
Styling Secrets
Working in unison with her longtime make-up artist (Bonita Dehaven), who created stunning ruby red lips, Robert started by washing and conditioning Geena's strands with his shine booster Prawduct shampoo and shine booster conditioner.
Before blow drying Geena's hair with a round brush he sprayed her roots with his Prawduct - super volumizing tonic to build in lots of lift, volume and movement. He also used his popular 5 star Rawhold Gel to provide lots of edgy hold. Afterall, Robert wanted to make sure that Geena's hair stood up to the test of Red Carpet twirling and mega media posing.
After Geena's hair was completely dry, he painstakingly worked around her head of dark ruby strands with a medium sized barrel curling iron. He rolled individual 1 1/2" thick strands around the outside of the barrel (avoiding the clip which can cause creases) long enough to create a curl. He then pinned each newly formed curl in place against her scalp to allow it to "cool and set". When he finished carefully curling Geena's entire head of hair, he sprayed the pinned ringlets with Prawduct - rawhold hairspray.
After unpinning the strands, he used his fingers to gentle tousle and arrange the soft ringlets. He created a deep side part directing one side behind Geena's ear, to showcase her gorgeous ruby earrings. The other side was brushed into a sweeping cascade of face hugging curls.
He used a little of his dream cream mixed in the palms of his hands to finish over the top of his spectacular work of hair art to control any potential angel or fly-away strands. A master film, television, hair and makeup artist, Robert understands that the lights and cameras can pick-up the tiniest flaw in any hairstyle and magnify it. Being careful to discreetly anchor the behind-the-ear section with matte pins "that would not pick up the lights", Robert finished his Golden Globe Masterpiece with a light spritz of love that shine spray to give Geena a final glow.
And glow she did. When I saw her stroll down the Red Carpet my mouth literally dropped. Even though Robert had described her stellar gown, jewels and hairstyle to me on the phone after she left the studio for the awards, I was shocked by how spectacular she looked.
His Inspiration
Robert Hallowell, like the truly great Hollywood Hairdressers of all time, works with Geena Davis 24/7 when Commander In Chief is shooting onset.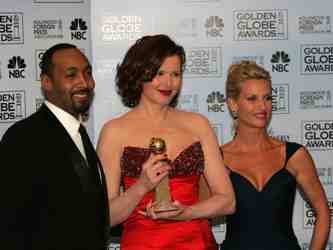 (Image of Geena Davis - NBC Entertainment Photo: Chris Haston - Hair by Robert Hallowell)
No one truly understands or appreciates what it takes in terms of time, energy, devotion, love and commitment to toil behind the chair of TV's one hour drama shows. Robert is not only one of the very best hairdressers in the TV biz, he is a veteran of many award winning shows ( 2 1/2 Men, Less Then Perfect) including doing the pilots for shows such as Mary Louise Parker's award winning Weeds.
Robert draws his inspiration for the spectacular hairstyles that Geena wears, both on and off camera, from his long relationship with the star.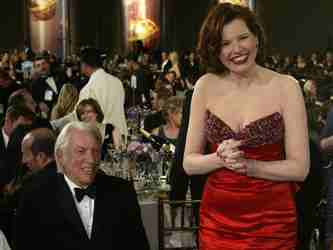 (Image of Geena Davis - NBC Entertainment Photo: Chris Haston - Hair by Robert Hallowell)
He clearly respects, loves and understands who she is, what she desires to project with each setting she is in and how the gorgeous star (can you believe she is almost 50?) feels most beautiful.
The trust, friendship, dedication and support that Robert and Geena share from many years of working together manifests in the hair styles that Robert creates for her. But don't take my word for it. Just check out Geena's hair that she wore for her 2006 Golden Globe win and you will see what I mean. Could she have looked any more gorgeous or splendid? It's hard to imagine how.
Congratulations to Geena for her Golden Globe and to Robert for Geena's award winning style.
If you want to talk more about this or other hair care articles on HairBoutique.com or anywhere else, please post a message on HairBoutique.com's Hair Talk Forums.