Last updated on December 1st, 2008 by Karen Shelton
Introduction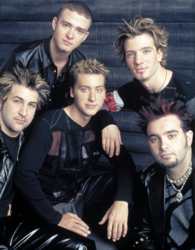 What do Brad Pitt, Ben Affleck, Robert Downey, Jr., Benjamin Bratt, Jakob Dylan, Lenny Kravitz, Dave Navarro, Richard Gere, Justin Timberlake, JC Chavez, the N'Sync band and the Red Hot Chili Pepper guys have in common?
They all share the incredibly gifted grooming talents of Frankie Payne, uber male celebrity hairdresser and visionary make-up artist.
(Image above of chart-topping pop band *NSYNC (bottom row, left to right, Joey Fatone, Lance Bass, Chris Kirkpatrick; top row, left to right, Justin Timberlake, JC Chasez) CBS Television Network. Photo: Jive Records 2001 Jive Records - all rights reserved).
I recently hooked up with the brilliantly talented Frankie through his talent agency, home of the cream of the crop for celebrity hairdressers and make-up artists.
Frankie & His Stellar Clientele
Although my original reason for catching up with Frankie was to discuss his past grooming work with Dave Navarro, of Jane's Addiction, after listening to the list of all his past and present celebrity clients, my head was almost spinning off.
Unlike some celebrity stylists that prefer to only work on women or men exclusively, Frankie explained that his client base is 50/50 male and female.
Besides all the celebrities male hotties, Frankie has also coiffed and groomed the female celebrity likes of LeeLee Sobieski, Salma Hayek, Christina Ricci, Eva Mendez (GQ Magazine), Cindy Crawford, Angie Everhart, Jennifer Love Hewitt, Julie Delpy, Natalie Cole, Natalie Imbruglia, Deborah Unger, Jeri Ryan, Vitamin C, Linda Evangelista, Tamia, Rachel Leigh Cook, Catherine Zeta Jones, Calista Flockhart, Monica Potter, Ming Na, Alexis Thorpe, Michelle Williams, Katie Holmes and Jennifer Beals.
As if all those big names are not enough to knock you out, Frankie Payne is also Rachel Griffith's personal hair dresser. Rachel, who stars in the HBO award winning Six Feet Under series, is often coiffed and made up for celebrity events by Frankie,
In fact, he told me that he had recently coiffed Rachel's tresses "in a fabulous Marlena Dietrich motif" for the recent Academy Awards Vanity Fair party". Frankie remarked that "he gave Rachel teased up big hair and black smoky eyes that channeled the great movie stars of the late 20s and the early 30s."
With all the information that the laid back Frankie was casually throwing my way, I felt a lot like a kid that had accidentally wandered behind stage at a major rock concert. So much to see and hear before being discovered and evicted by the ever present stage guards. Arghhh.
I decided since I had hit celebrity hair pay dirt that I needed to try and focus on Frankie and his spectacular career and then relate to some of his favorite celeb clients as we unraveled this unbelievable career successes.
Getting Started
Frankie comes from an excellent hairdressing lineage. He started out studying hair in Los Angeles approximately 20 years ago when he was just 18 and "right out of high school". Ultimately he dropped out before finishing his cosmetology training.
After rambling about for awhile he eventually made his way to Chicago, where he re-enrolled and ultimately finished hairdressing school. From The Windy City he made his way to the world of fashion hairdressing and as luck would have it, found himself under the guidance of world famous fashion hairdresser, Orlando Pita. Orlando is renowned as hairdressing royalty for his spectacular work on fashion runways around the world.
In fact, Orlando is so famous for his catwalk hair designs that he appeared as himself in an episode of HBO's Sex And The City when Sarah Jessica Parker's Carrie appeared on in a New York fashion show. The camera caught the world famous Orlando giving Carrie his trademark runway hair.
Frankie followed Pita to the European runways where he was instantly thrust into the frenzied pace of creating high fashion styles on some of the world's top modeling names. Frankie confessed that he was so fascinated by the entire scene that besides doing hair, he also started photographing the shows from a behind the scenes perspective. He credits his time with Pita in Europe as teaching him about doing celebrity hair and makeup.
After spending an incredible time with Pita, Frankie returned home to the United States and Los Angeles. He submitted his portfolio of high fashion work during his European fashion days to the top agency in Los Angeles. They not only loved his talent, but signed him instantly to the agency. Almost immediately he started working with many celebrities in a variety of mediums including high fashion editorial work.
Eventually the original agency he signed with was sold to another firm, but he continues to work with that agency to this day.
Although Frankie was laid back, friendly and very forthcoming about the professional grooming work he has accomplished, it was hard to believe that he is a celebrity in his own right. It was obvious to me that he has that special passion and endless creativity that he directs to his work with his many clients, whether famous or not.
Frankie & Dave Navarro
After Frankie explained his amazing 20 year personal journey with his stellar career, I ask him about the grooming projects that he has done with Dave. Ironically, although Frankie has worked with Dave Navarro for some spectacular editorial assignments like magazine shoots, he told me that he has not worked with Dave recently.
He did mention that he had enjoyed working with Dave in the past and that for one of the projects he had created some incredible spikes in Dave's hair for a Rolling Stone project. Frankie reported that thanks to Dave's much longer strands at the time, he was able to get them into a mega spiked style that was spectacular for the photo shoot. The spikes were created using a combination of John Frieda styling products and a stiff holding hairspray.
Frankie also explained "Dave has naturally wavy hair that he prefers to wear blown and ironed straight". I told Frankie that I had heard that Dave is very particular about his overall grooming and his hair. He agreed that "Dave is very particular about his hair and his overall look and wants to look his best".
For anyone watching Dave and Carmen Electra on MTV's Till Death Do We Part, they would instantly relate to that Dave Navarro hair and grooming trivia. Not only did Carmen laughingly and lovingly mention that Dave looks in the mirror more than her during the reading of the marriage vows, you can also watch Dave fretting about his wedding attire and hair during the shows finale wedding episode.
Frankie's Home Salon
After several minutes of chatting with the soft spoken but very professional Frankie, I discovered that even through he often travels wit some of his celebrity clients like Justin, JC and 'N Sync for various fashion or editorial shoots, he still sees non-celebrity clients one day a week "when he is in town" at the famous Prive Salon in LA, home of Laurent Dufourg (Laurent D, 7373 Beverly Blvd, Los Angeles, California, 323-931-9992).
Prive seems to be a perfect place for Frankie. After all, Prive's Laurent D is also very famous for working with many celebrity heads including Teri Hatcher, Uma Thurman, Gwyneth Paltrow, Elizabeth Shue, Selma Hayek, Sharon Stone, Lauren Holly, Ashley Judd, Denise Richards and Uma Thurman to name just a few of his noteworthy clientele.
Frankie's Hair Notes
I asked Frankie what products he preferred to use on his clients. He explained that he uses different products for creating different looks and depending on the type of hair that he is styling, whether it be for his male or female clients.
While he likes the John Frieda products, he also uses the Prive line along with Laurent D's line, known as Laurent D. He also mentioned that he likes the prestige hair products like those from Phyto, Rene Furterer and Kiehl.
Many of Frankie's male client currently prefer a straighter, softer style for their strands, even if their natural hair texture is wavy or curly. As a result, Frankie said that finds himself using a flat iron on a very regular basis.
Summary
Although Frankie has worked with some of the biggest names in the male and female superstar gene pools and appeared on daytime's The View, he is not really a household word.
Well, at least not yet. It's my gut instinct that it is only a matter of time, as increasingly more focus is paid to men's hair and grooming concerns that Frankie becomes better known for his stellar work in the film and fashion industry.
If you want to talk more about this or other hair care articles on HairBoutique.com or anywhere else, please post a message on HairBoutique.com's Hair Talk Forums.