June 10th, 2006 by Karen Shelton
Introduction
When you see people with great style you probably notice that the essence of a fabulous look is hard core self-expression. While it is important to let your inner creativity blossom when you select your fashion, it is always helpful to have a basic framework of dos and don'ts to help you get by.
Fashion accessories are very often the style glue that can make or break a personal style.
Listed below are some basic style rules to consider when creating your own style and utilizing accessories:
1. Shoes, boots or any footwear can make or break your final style. Regardless of how gorgeous a gown or suit, if the shoes don't work with it, a lot can be lost in translation. As an example, flip flops would likely destroy a Chanel suit but the right boot could elevate you to fashion diva status.
2. White and Black, when created in the correct materials and styles are the great fashion equalizers.
3. A fantastic coat, long or short can perfectly finish any outfit.
4. Sandals can be paired with fashion tights and worn at any time of the year and boots can be work with just about any fashion style from floaty and filmy to jeans.
5.
6.
Just like Hugh Laurie, Robert Sean Leonard's Dr. Wilson character is coiffed in a traditional businessman's or professional style haircut. In fact, all of the male characters on the show wear hairstyles that are appropriate for a hospital setting and a professional doctor's look.
It has been explained to me by some of my friends who are the head hairdressers on many of the various network shows that the producers and directors have very clear ideas of what the various characters should wear and how their hair should look.
A well-known union hairdresser who has worked on many different shows noted that the producers generally drive the ultimate hair designs of the characters and the actual execution of the styles are left to the team of show hairdressers.
Like Hugh, wears his hair in a traditional businessman's haircut which means that it is most likely cut with a scissors and layered in a graduated style with the layers longest at the top of the head and tapering to a square shape at the back of the head.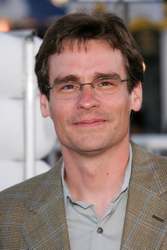 DailyCeleb.com All Rights Reserved
Robert's layers are most likely crafted by pulling the strands out from the head with the fingers and then layering with a scissors. Because the characters have to maintain a uniform look throughout the season, unless the producers have some other ideas, their hair must be painstakingly cut and style to look exactly the same from episode to episode.
Robert's hair is cut to create lift and fullness along the top and crown of the head to balance the face and play off Robert Sean's strong square facial lines which give Dr. Wilson a clean cut appearance. The haircut that he dons on House creates the image of a very professional, yet compassionate doctor who has that smoldering handsome and charming doctor thing going on.
Robert Sean Leonard has a classic male face shape, which is square. The actor's hair, which is a medium brown hue, appears to be medium thick and has a bit of bend to give it some nice texture with a little bit of wave which is most obvious along the front of the hairline above the forehead. His finished style is finished
Steal This Look - Step By Step
To achieve Dr. Wilson's classic male hairstyle I consulted with a famous celebrity hairdresser who gave me his opinion of how Robert Leonard's style might be create.
The celebrity hairdresser pointed out the importance of starting out with the right haircut. Either print out photos of Robert or similar cuts that achieve the same look.
Work with your favorite hairdresser or barber to craft a haircut that works with your face shape, hair type, texture and current condition.
This style might not work as well for some hair textures as others. Be willing to modify the look to work for your own hair and features.
1. Shampoo hair with a product designed for your hair type, texture and current condition.
2. Use a rinse-out conditioner if your hair is dry or damaged. Hair that is fine, thinning or straight should consider a leave-in conditioner as optional.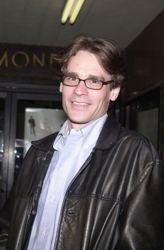 DailyCeleb.com All Rights Reserved
3. Finish with a cool/cold clear rinse.
4. Towel blot hair and detangle. Apply Dream Cream or a similar product to the palms of your hands. Distribute through your hair with your fingers making sure that all the strands are covered and tousle strands as you apply the Dream Cream.
5. Air-dry for a natural tousled look.
If you prefer more volume, apply a volume enhancing product to the roots and blow dry the roots, tousling the hair with your fingers as you dry. Finish with an optional spritz of hairspray.
More Finished Look
For an more finished look apply a gel or mousse and blow dry hair completely. For more lift at the forehead apply a volume enhancing product right at the roots. Finish with hairspray.
Summary
To view more of Robert Sean Leonard's images visit our gallery.
Send this page to a friend..
If you want to talk more about this or other hair care articles on HairBoutique.com or anywhere else, please post a message on HairBoutique.com's Hair Talk Forums.