January 17th, 2006 by Karen Shelton
Introduction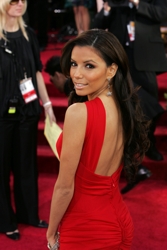 Recently I had the sublime sensation of chatting with Ken Paves, nonstop, for preciously 32 minutes (a mini-record for uninterrupted Ken Paves time) on my Blackberry.
(Image of Eva Longoria - NBC Entertainment Photo: Chris Haston - Hair by Ken Paves).
Yes, I would rather risk potential cell related brain damage than miss out on Kenney's visionary verbage about one of his celebrated "girls". In this particular instance, L'Oreal spokes model Eva Longoria.
When I caught up with him via phone, Ken was ramping to whip up a colossal Golden Globes coiffure creation designed to crown Eva's celebrated head.
The Coiffing Of A Goddess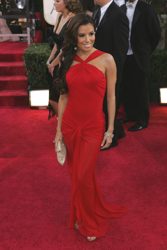 The minute I spied Eva on the Golden Globe's Red Carpet it was clear that Ken had completely outdone himself. How is that possible? This man has more talent in one of his little hair crafting fingers than a horde of hairstylists. But outdo himself, yes he did. In spades.
(Image of Eva Longoria - NBC Entertainment Photo: Chris Haston - Hair by Ken Paves).
Confirming after the event that "he molded the star's tresses" around "her mood of the moment", the image she "wanted to project on the Red Carpet" and of course "her gown", he wove a sexy, sassy long and lush style that hinted at an updated version of 60s supermodel Ali MacGraw with a little of Barbara Carrerra swirled into the mix.
Ken, who is the ultimate Celebrity Strand Master explained "the idea was to channel a bit of old Hollywood Glamour (height at crown with side part) with one part Grecian elegance (hair worn all to one side) and a modern feeling that resulted in a a side parted loose, casual texture. Ultimately what emerged was a shimmering veil of tresses punched up with a slightly tousled wavy edge with a whisper of curls.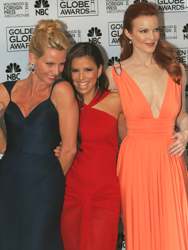 Reminding me that "the gown helped to drive the hairstyle he created" Ken of course also focused on harmonizing Eva's look with her stunning slinky Bob Mackie crisscross haltered deep cherry red satin gown.
(Image of L-R: Nicolette Sheridan, Eva Longoria, Marcia Cross - NBC Entertainment Photo: Chris Haston - Eva's Hair by Ken Paves).
Since the glorious gown was specifically designed to showcase the beauty's bodacious plunging back, Ken's ravishing hairdo consisting of a sweeping vision of luscious long locks captured instant attention and focused it on Eva's rear assets.
Adding perfectly matched wefts of silky soft human hair that cascaded seductively to the top of Eva's curvaceous waist, the sleek cascade of shimmering mocha tresses drew all eyes to her beautifully defined back.
Attention To Detail
If you thought that Eva's sweep of texturized lush locks were a snap to create - think again. Ken Paves is deadly serious about his work and the ultimate results.
Although Ken works faster than the speed of sound, applying Eva's previously colored Put on Pieces strands, which were colored the night before the Golden Globes (by his assistant Diana) required a marathon of hand piecing.
Styling Secrets
Besides adding breathtaking extended strands to Eva's normally beautiful tresses, how did Ken produce her Golden Globes style?
Ken explained that after washing Eva's hair with his Ken Paves Healthy Hair Daily Shampoo (available at HairBoutique.com) he first added a few drops of his Ken Paves Healthy Hair - Boost Up Color Drops - Black to his Ken Paves Healthy Hair - Daily Conditioner to amp up Eva's hair color.
He rinsed her hair well and finished with a cool/cold rinse. He towel blotted her strands and then "air dried her strands with Ken Paves Healthy Hair - Curl Balm (available at HairBoutique.com). When her hair was 100% dry he flat ironed it working from side to side.
Then the sultan of style added the Put on Pieces. He "curled the newly extended hair mid-shaft down with a large iron".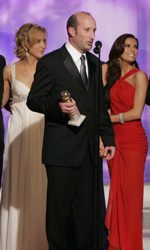 After the extensions were precisely in place and curled to his perfectionist satisfaction, Ken "added Ken Paves Healthy Hair - Shine Serum to the palms of his hands and then carefully glided his hands over the top of the finished style.
He completed his masterpiece by "pinning one side back" using tiny matte colored bobby pins that matched Eva's hair hue.
(Image L-R: Felicity Huffman, Desperate Housewives Cast, Eva Longoria - NBC Entertainment Photo: Chris Haston - Eva's Hair by Ken Paves).
Then like a frenzied hummingbird Ken used his fingers to carefully smooth, ruffle and fluff until there was not a single solitary strand even thinking about being out of place.
One tiny spritz of Ken Paves Healthy Hair - Shaping Finishing Spray and the Red Carpet goddess was ready for her limo-chariot and ultimate stroll.
Summary
Eva Longoria was the 2006 bona fide Golden Globes Goddess. She was a vision of pure perfection from the roots of her cocoa hued tresses to her couture slippers.
Never fear if you missed Eva's appearance at the Globes. Thanks to having the god of hair in her pre-Globes boudoir, her stunning image will prevail in the media for many years to come her "best dressed" hair and appearance.
If you want to talk more about this or other hair care articles on HairBoutique.com or anywhere else, please post a message on HairBoutique.com's Hair Talk Forums.