January 12th, 2009 by Karen Shelton
Introduction
The recent ALMA Awards honoring outstanding Latino artistic achievements in the worlds of film, television and music demonstrated that Eva Longoria is more than A Desperate Housewife.
She is incredibly multi-talented and showed the world that she has evolved into a full blown movie star. The ALMAs showcased her impressive performing, hosting and producing skills.
The awards also revealed the absolute hairstyling wizardry of celebrity hairdresser Ken Paves as he transformed the gorgeous Eva Longoria from a demure Deco Doll to a sleek sexy world class Movie Star with eight additional hair and fashion "personas" in between. Even more shocking, (but not surprising to those of us in the Ken Paves know), was the fact that the show was a live performance. Which means, in plain English, that Ken had "mere minutes, even seconds", in which to build a stunning series of ten totally different hair styles.
Ken confirmed "there was a grand total of six to ten minutes allocated for hair, make-up and fashion changes". Which meant Eva's mane man had to perform his hair designing creations with his well-known genius precision, while in unison with the make-up artists, stylists and anyone else helping to instantly transform the star through her many eye popping ALMA fashion changes.
I've had the great good fortune to watch this hair wizard instantly transform several heads of hair into inspired creations right before my eyes. Needless to say, I was not surprised that this famous sultan of style could pull off such spectacular hairstyle designs in record time.
Quick Change Hairstyles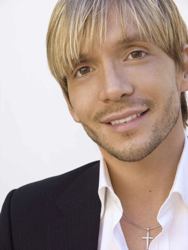 Courtesy Ken Paves All rights reserved.
How did he do it? The brilliant master of quick change hair artistry confirmed "he performed ten major hair changes on Eva with careful planning, years of coiffing a serial array of stars for the same award events, lots of Red Bull and nerves of steel".
This mere mortal, who is truly a virtuoso in the celebrity hairdressing world, carefully laid out each and every one of Eva's hairstyle designs in advance.
His goal? "To perfectly show case the gorgeous talented star and work within the framework of her designer fashions".
Eva's ALMA fashions ranged from a spectacular Carolina Herrera gown to the breathtaking Alvin Valley white satin mini with black feathers and the uber sexy strapless gown by Esteban Cortazar.
Weaving in elements of Eva's personality with the designer gown, the makeup and the star's different hosting and performance roles, Ken created a virtual "hair script" brilliantly weaving the different hairpieces into each scene.
Once Ken had designed all the hair looks for The ALMA show, he set out customizing all the different hair pieces crafted from the finest 100% human hair used to create each look. He painstakingly cut, colored, washed, dried, curls and styled each and every lush hairpiece in advance so that they would be picture perfect for the show.
The celebrity hairdresser utilized all of his best selling Paves Professional products including Paves Professional - FLAWless Convertible-Proof Firm Hold Repairing Hair Spray and Paves Professional - FLAWless In The Spotlight Greaseless Essential Oil Shine Serum for all of the designs.
Note: The entire Paves Professional line of award winning products is available at HairBoutique.com.
Catching up with Ken he graciously agreed to outline each of the different hair designs created for Eva including sharing his own personal inspiration for why and how he crafted each look.
Arrival On Red Carpet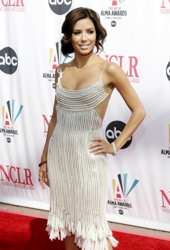 ABC/TIM OGIER All rights reserved.
Ken is a champion of Red Carpet tresses. He has coiffed a dizzying array of stars for their strolls, twirls and poses down thousands of miles of carpets around the world. He understand that the Red Carpet is the beginning of the journey and that first impressions are everything for a star. Guaranteeing a great Grand Entrance for his "girls" by providing them with stellar strands is just one of Ken's many talents.
Thus when it came to the ALMA Awards, Ken wanted to help Eva set the perfect stage for her eye popping, mouth dropping, one-woman show. In essence, Eva was showing the world for the first time her many talents in the producing, performing and hosting arena.
Ken explained that in honor of Eva's big night, he wanted "a very soft, sleek and demure look". Her stunning hand beaded (with pearls), silver hued Red Carpet gown, by Angel Sanchez, "was very Deco with a 20s feel" and Ken wanted to "honor the gorgeous gown and the even more gorgeous women wearing it" with a glamorous Old Hollywood wavy strand look. Ken created the very first style of the evening on Eva's "dry, pre-washed hair" and crafted "a stunning deep deep side part".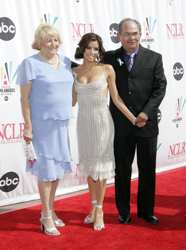 ABC/TIM OGIER All rights reserved.
After properly preparing her natural hair Ken "attached a 100% human hair custom colored piece that created specifically for Eva". He explained " he curled the hairpiece the night before the show, using a medium-barrel curling iron".
Ken attached "the softly curled hairpiece to Eva's hair seamlessly merging her natural strands with the add-on tresses". Using his fingertips "he applied just a few drops of Paves Professional Paves Professional - Shine Serum", raking it "completely through Eva's tresses to create sleekness and shimmer".
He carefully "pulled the pieces up in the back into a beautifully finished twisted style" and left long dangling cascades of gentle "waves around the perimeter of the awe-inspiring style". To hold the style with built-in shimmer, Ken finished "with Paves Professional - FLAWless Convertible-Proof Firm Hold Repairing Hair Spray".
Ken explained that he wanted to start the evening off with sophistication swirled with softness since he knew "her opening number for the ALMA show featured the brunette beauty in a diamante-trimmed ruby red dress (see below) leading a troupe of dazzling dancers" including the likes of Carmen Electra and Paulina Rubio, to name just a few.
Opening Performance - Sizzling Red Gown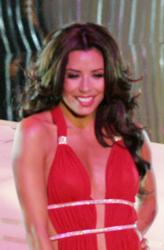 ABC/TIM OGIER All rights reserved.
Eva's red diamante studded dress for her opening performance inspired Ken "to create a bombshell hairstyle reminiscent of Julia Roberts in Pretty Woman" when she wore the sexy red diamond studded gown to the opera.
Ken's goal for the second hairstyle of the show was to great "lots of full volume and texture" that captured the mood of the performance and worked in perfectly harmony with the gown.
Altering Eva's Red Carpet deep side part to a center part with lots of root volume and lift, he attached a second, longer and much fuller custom cut, colored and crafted hairpiece.
Ken had previously wet set, pin curled and air-dried Eva's hair piece utilizing Paves Professional Mousse which builds in lots of movement and beautiful body. Ken explained "air drying provides the very best results for lots of fullness and body".
After the hairpiece was 100% dry, Ken removed the pin curls and back combed the piece for maximum fullness and height. He then painstakingly used "a middle barrel curling iron to create the sexy tousled texture along the edges of the hair piece". He finished with "a Mason Pearson brush, his famous finger styling and the addition of a few drops of Paves Professional Paves Professional - Shine Serum" to achieve the perfectly tousled look.
After he secured the pre-set piece on Eva's head, he carefully "finger arranged the waves and curls" locking in the lush body and movement with his famous Firm Hold Repairing Hair Spray. Ken commented that "her hair looked absolutely aMAZing.
From Sexy Bombshell To Elegant Oscar De La Renta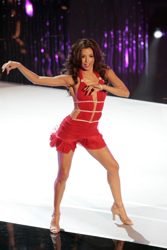 ABC/TIM OGIER All rights reserved.
Completely shifting the mood from red hot and sizzling, back to sophisticated and chic, Eva donned a breathtakingly beautiful floor-length yellow Oscar de la Renta gown with a stunning accent bow for her third ALMA appearance.
The stunning strapless gown inspired Ken to coif the beautiful star in her third hairstyle of the evening which consisted of a cascading hairstyle that featured long, lush, loose curls that whispered pure romance.
Ken reported that Eva looked like a "princess" going to a royal ball in her yellow gown.
"To create the golden look", Ken quickly created a perfectly crafted "center part on Eva's hair and then loosely pulled back the side pieces before attaching the almost-to-the-waist long hair piece that he had washed, dried and painstakingly curled the night before".
To set the beautifully full strands, he confirmed he "used Paves Professional Mousse, Shine Serum and Firm Hold Hair Spray." The hair master used his magical fingers "to arrange the long ringlets" so that they perfectly and softly cascaded down one side of Eva's beautiful face.
A Vision Of Elizabeth Taylor From The Sixties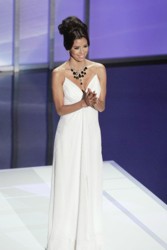 ABC/TIM OGIER All rights reserved.
When Eva graced the stage for the fourth time, her gown was an elegant eye-popping Carolina Herrera empire line gown in a shimmering white hue that offset her cobalt black strands honey skin and eye tones.
Eva was completely transformed from a fairy princess to a true Hollywood movie star.
Ken's inspiration for her fourth hair style "was a sophisticated updo that was pure Elizabeth Taylor as the queen of Hollywood from the 1960s".
Ken commented that he wanted to offset the gown with a regal hairstyle.
Working with a custom colored, set and styled add-on ponytail that he created "before the show", Ken arranged "a center part starting from the front of the hairline and running back towards Eva's crown".
He sleekly pulled Eva's tresses "back from her face on either side towards the back of her head where he created a ponytail at Eva's occipital bone". He attached "an add-on ponytail" and skillfully "brushed Eva's natural hair up and over the top" Ken quickly and precisely "folded all the strands into the gorgeous updo".
Ken confirmed he "used Paves Professional Mousse on the newly washed ponytail" and let it air dry before curling it to create loose barrel style curls. He also use a liberal amount of his "Shine Serum and Firm Hold Hair Spray" on the add-on ponytail and to "finish the style so that it had stellar shimmer and lots of shine".
Long Saucy Ringlets, A Sassy Bob To Low Chignon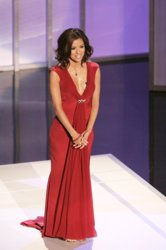 ABC/TIM OGIER All rights reserved.
Eva's fifth hairstyle of the evening was designed to work with her soft golden mocha strapless gown by Esteban Cortezar. Ken arranged Eva's hair in a stunning design featuring long saucy ringlets.
Her sixth hairstyle was designed to harmonize with a long slinky plunging neckline red dress by Gustavo Cavile.
Ken reported that this was a delicious "deco" style red dress that inspired him to create "a shoulder skimming bob style to harmonize with the silhouette of the beautiful statues that were presented at the show".
Ken washed, dried and set the custom designed and colored hairpiece with his famous Paves Professional products. He used a medium barrel curling iron to create the beautiful bouffant style fullness around Eva's face. Ken created "a hint of very soft curls around the perimeter".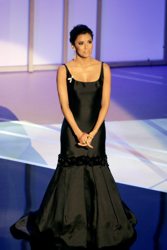 ABC/TIM OGIER All rights reserved.
Eva's seventh hairstyle was a dramatic black fishtail dress by Ellie Saab which inspired Ken to twist Eva's hair back into a tight low chignon.
He "teased Eva's hair for some very light lift at the roots and along the hairline" and liberally used Paves Professional Firm Hold Hair Spray.
Ken carefully "coaxed the sides of her tresses back from off her face and merged them with the rest of her hair in the back which he then pulled into a low pony". He twisted the low pony instantly into a sexy low chignon.
Finishing the hairstyle with a liberal spritz of his Pave Professional Firm Hold Hair Spray, the look, which Ken referred to this look as the "Inaugural Look" was ravishing.
Long Luscious Curled Ponytail
The star's eighth hairstyle was designed around a striking strapless fishtail style gown by Caroline Herrarea embellished with pink, black and silvery white stripes.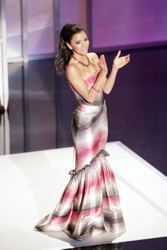 ABC/TIM OGIER All rights reserved.
Ken "brushed Eva's tresses completely off her face into a very sleek, tight ponytail, set slightly down from the back of her crown".
Once he had carefully crafted the ponytail, he "attached an add-on pony right on top of the first pony that rested higher up on her crown". Ken explained "he wanted lots and lots of lush fullness" which is why he "extended her own pony with an add-on piece".
Just like all the other hair styles that Ken created for the show, he pre-set and pre-curled the add-on ponytail to guarantee absolute perfection utilizing "a curling iron to carefully create beautiful curls" that flirtatiously cascaded down Eva's back.
Ken confirmed he "was very pleased" with "all the great texture" that the combination of the two ponies created and how the hairstyle seemed to perfectly complement Eva's fabulous gown.
The Final Performance - Sleek & Sassy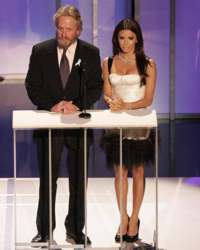 ABC/TIM OGIER All rights reserved.
For her final appearance of the evening, Eva wore a short halter-neck white satin dress by Alvin Valley with luscious black ostrich feather trim.
Her ninth hair style of the evening featured her tresses parted down the middle and worn "silky straight with lots of shine".
Ken confessed "he created this look very quickly - less than five minutes". He "used a flat iron on Eva's natural hair, added shine serum and clipped on some pre-straightened hair pieces for instant glamour".
Her final gown of the evening inspired Ken to create a sleek and sassy hairstyle that did not detract in any way from the sexy gown.
Ken also explained "when he planned for her last hairstyle of the show, he was considering what she would wear to the after party". Since Ken knew "Eva's last gown of the evening was a regal purple Alvin Valley satiny gown" with shocking pink lining, he wanted to extend her silky straight look right into after-show events.
Because Ken "created the Deco Old Hollywood look for her Red Carpet entrance "he felt it "only appropriate" to "finish off the evening with "a tantalizing look for her triumphant exit."
The After Party Look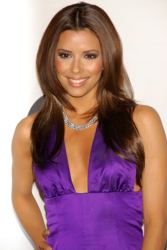 ABC/TIM OGIER All rights reserved.
The look that Ken created for the After Party, which was the tenth and last hairstyle of the evening "was straight and sleek like the previous hairstyle, but differed from the closing number by the fact that it had tons more movement, texture and shine".
Indeed, if you look at the closing hairstyle and the After Party hairstyle you will notice a significant different in the fullness and body of the strands.
Ken wanted the heavenly style "to last all night long" so he cranked up the shimmer by adding even more of his famous Shine Serum and Firm Hold Hair Spray".
Ken outdid himself whipping up a sleek, glasslike, shiny straight style that worked in perfect harmony with Eva's alluring purple gown, woven in the true color of Hollywood royalty.
Eva proved that she is true Hollywood royalty with her mesmerizing victory of hosting, performing and producing for this special event.
Summary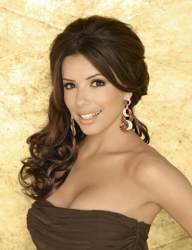 ABC/TIM OGIER All rights reserved.
Throughout the evening due to Ken's magic hairstyling, Eva had her hair coiffed into ten different styles which included an opening Old Hollywood Deco softly pinned hairstyle, a sexy big hair design, long lush curls, Elizabeth Tayler style updo, a saucy shoulder length bob, a low chignon twist, high full ponytail with curls and two closing styles that were variations of straight, shiny and sleek.
As Ken pointed out, America was treated to a front row seat in their living rooms as Eva Longoria evolved right before their eyes into a true movie star.
Ken confessed "he was blown away by Eva's incredible beauty and her ability to carry off each of the looks with style and grace".
Meanwhile, many of us (like me) in the hair world were awestruck at the swirling array of spectacular hair designs that this talented man invested his heart and soul to create for Eva, whom he is honored to work with.
Kudos to the beautiful star and her mane man for a fabulous show that will be remembered for years to come.
If you want to talk more about this or other hair care articles on HairBoutique.com or anywhere else, please post a message on HairBoutique.com's Hair Talk Forums.