Last updated on March 3rd, 2003 by Karen Shelton
Introduction
This dressy hairstyle is an elegant updo that combines a sleek front with chic curls and loops that are carefully sculpted and pinned close to the head to give a sleek but elegant look.
This updo can be modified with an asymmetrical part or other type of part. This unusual do was created on beautiful Model Corrine by stylist Barbara Lhotan for HairBoutique.com and our media partner - Multi Media International.
This style is more complicated than other updos and would require the assistance of a professional stylist or a friend that has hairstyling talents. It would be difficult for most people to create this style completely by themselves because of the complicated hair twists that are crafted at the back of the head. A stylist or friend can help with the placement of the curls and loops.
If you wish to create this style by yourself, ask a stylist or friend to work with you so that you can practice crafting the style yourself.
This style generally works best on hair that is shoulder length or longer with medium thickness. It can work on hair that is fine or thin with the addition of hair pieces or extensions.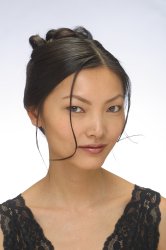 Hair that is extra long can adopt to the style by adjusting the size of the back curls. Longer hair can also opt to leave a section of hair length as a type of "tail" and modify the look so that it is a half up/half down style with long lengths flowing down the back.
Let your stylist guide you about the appropriateness of the style for your hair type and texture.
Although this design can work on any hair texture, straight hair or hair that has been temporarily pre-straightened is ideal.
Wavy hair may or may need to be straightened depending on whether you want to keep the ends wavy or straight.
Please note that super fine or thin hair may not hold the curls and loops as easily as coarse hair textures.
If you wish to try this look on fine hair, be prepared for hair slippage with gel, strong holding spray and extra bobby pins.
Step By Step Instructions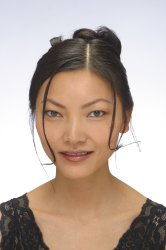 This style works best on hair that is not freshly washed. When possible allow your hair to "age" at least 24 hours from your last shampoo. The natural hair oils will help the knots and parts hold tighter and last longer.
Barbara Lhotan did comment that this look can be created on freshly washed and dried hair. However, it is important to dress newly washed hair with the appropriate styling aides to counterbalance extra soft or slippery strands. Let your stylist determine what type of hair they prefer to work with.
1. Begin by using a soft boar's head brush or similar natural bristle brush on your hair. Make sure that all knots and tangles are completely removed. (All photos are the express copyright of HairBoutique.com & Multi Media International).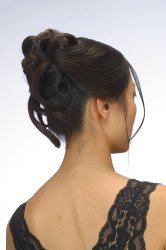 Although this elegant style was designed with an off-center part, if you prefer, experiment with a different type of part for a slightly different look. The current fashion trend is for deep side parts which may or may not work for this particular style. However, the look can be modified to accommodate a center or other type of part. This style can be worn with or without bangs according to preference.
2. Working with individual sections that are about 1-2" in thickness, smooth all of the hair with a hot flat iron. Allow hair to cool completely before proceeding.
3. Using the tail of a rattail comb create an off-center part that extends from the hairline to the crown area of the head.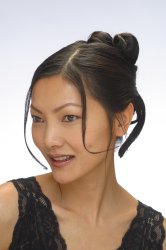 4. Starting behind the left ear, use the comb to create a vertical part along the crown to the right ear. Clip the hair to keep separate from the front hair. In essence you are separating the front of the hair and the back into two separate sections.
5. Take the back section of hair behind the vertical part. You will have 4 equal sections of hair that extend from the apex of the head to the nape of the neck.
6. Create 4 equal ponytails. Secure with Blax, cords or hair bungees or other "hair friendly" elastics the same color as your hair.
Note: Apply a light gel or setting lotion to each section for hair that is fine, slippery or does not hold styles well. This will help to anchor the hair better.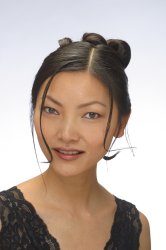 7. Starting with the top ponytail (Ponytail #1) create a soft roll with your fingers. Pin the final rolled ponytail at the base at your scalp creating a large loop that nestles at the back of the part and the top of the crown. Use a tiny hairpin that is 1/4 to 1/2 inches in the same color of your hair if you need a secondary anchor.
Note: Experiment with more or less ponytails and rolls to get a slightly different look. Remember to focus on creating the rolls the same size so that the updo has a balanced look.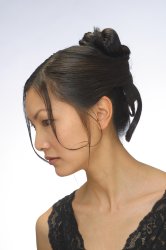 8. Take Ponytail #2 and pull it up to the left and feed the ponytail through the loop from Ponytail #1. You will be pulling #2 through the #1 Loop from left to right. Then wrap the remainder of Ponytail #2 around the base of Ponytail #1. Leave a few ends out. Pin well.
9. Take Ponytail #3 and create a loop that nestles against the base of Ponytail #1. Pin the loop securely in place.
10. Take the 4th Ponytail and feed it through Ponytail #3 from the right. Wrap the remainder of Ponytail #4 around the base of Ponytail #3. Secure with pins being sure to leave some "tail" loose.
11. Unclip the front section of hair. Divide it into 2 sections. Leave a few tendrils to flow free around the face.
12. Take the hair on the right section of the front and softly drape it up over the ear and back to the looped sculpture. Pin it to the base of the 2nd Ponytail leaving a few inches of "tail" loose. Repeat the process on the left front section. Drape and pin.
13. Take all the remaining "hair tails" and softly twist and loop them and pin around the looped tails to "finish" the look. Pin into place with tiny hairpins.
If you desire, leave a few tendrils flowing freely around the hair sculpture or at the nape of the neck. Use a curling iron to add a slight curl to the tendrils.
Apply a medium to heavy holding spray to the finished style. Add a light sprinkling of glitter gel for added dazzle or jazz up the sides or back with hair jewels. Feel free to use tiny bobby pins to help anchor any loose hair.
Experiment with adding more or less sections of hair for different looks. For a different look try braiding the tails of each knotted section or making knots with pre-braided locks. (Photos courtesy of HairBoutique.com & Barbara Lhotan. Photography by Eric Von Lockhart).
The possibilities are endless if you take the time to play with different variations of this classic knotted style. This finished style if perfect for any special party, Prom, Wedding or other dressy hair event. Enjoy!
Credits
Hairstyles by Barbara Lhotan Make-up by Catherine Raffaele Hair accessory jewelry provided by HairBoutique.com Photography by Eric von Lockhart Copyright 2002-2003 All rights reserved HairBoutique.com & MultiMedia International.
Barbara Lhotan is known as the "Personal Trainer" for stylists wishing to be experts with long hair. She is the Director of Education for Renaissance Salon in Smithtown, New York and a Senior National Educator for John Paul Mitchell Systems.
Barbara works on all types of hair from short to long and creates spectacular updos and styles for any event. She is also talented with hair extensions and color. Contact Barbara for a consultation at: (631-724-2386)
Eric von Lockhart was born in New York City but spent his early years traveling to exotic locales as a military brat. Sensing from an early age that "some form of art was his destiny", Eric embraced his early gypsy life. He viewed his constant travels as priceless opportunities to observe life through many angles, ultimately training him to do the same with his beloved cameras. Eric has been perfecting his craft "all his life" which explains why he is one of the most sought after fashion photographers in America.
Over the years Eric's unique eye, lightening wizardy and brilliant photographic images have been in hot demand appearing in an extensive list of fashion and beauty magazines including Vogue, Women's Wear Daily, Elle, Essence, Salon News, Modern Salon, Hype Hair, Inspire, Passion, Blacktress, Hair World, 101 Celebrity Hairstyles, Short Cuts, and HairBoutique.com.
If you want to talk more about this or other hair care articles on HairBoutique.com or anywhere else, please post a message on HairBoutique.com's Hair Talk Forums.