Last updated on August 4th, 2002 by Karen Shelton
Introduction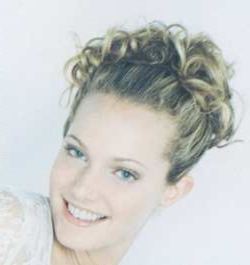 Whether you're getting married, competing in a beauty pageant, going to a Prom, Homecoming or have a very special night out on the town, sometimes a quick updo recipe is helpful to have in your back pocket.
While I strongly advise brides to invest in spending time with a professional stylist since their photos will last a lifetime, I do understand that sometimes the budget is too tight for professional hair care.
If you can afford it, I really recommend you go for it. If not, then if you try this style, be sure to practice it several times before your big day. The same is true if you are using this style for a pageant, Homecoming, Prom or other big event.
This style is best for hair that is medium in length (chin length or longer) and is straight and medium to thick. If you have naturally curly or wavy hair and are willing to first temporarily straighten your hair with a balm like Phytodefrisant, The Flat Factor or a similar product you can also easily create this style. If you have fine hair you might be able to create the updo by using a pin-on ponytail or add-on hair strands.
1. On hair that is a day old (unwashed) or on clean hair that has been aged with natural oils, apply a good styling mousse. Use a paddle brush on your hair until it lays smoothly behind your ears and around your crown.
Note: If your hair is fine, thin or tends to be flat, use a medium sized curling iron before you complete step 2 to give your hair more fullness and body. Take small sections of hair and create loose curls all over your head working from the bottom of the scalp to the top.
2. Gather hair into a loose ponytail at the top of your crown. Allow some hair on either side of your face to form soft ringlets to give the bun a softer and fuller look.
3. Clasp the ponytail with a "hair friendly" elastic band that is the same color as your hair.
4. Starting with the strands on the very outside of the ponytail, take small sections about 1/2 inch thick. Experiment to get the right size based on your hair.
5. Use hair or bobby pins that are the same color as your hair and take the first section of hair and pull it up towards the sky. Halfway between the base of the ponytail and the top of the length create a tiny loop and pin the hair loop at the base of the scalp. Use an open hair pin to anchor the loop down into the scalp. The loop should leave a few inches of loose "tail" hair that is not pinned down. Take the remaining "tail" hair and twist the hair once or twice. Form a open loop and pin it with a bobby pin.
6. Repeat all around the outer shape of the ponytail in a clockwise direction. Form the base loop, leave the "tail hair" and then pin a loose open loop around the scalp and near the crown. Experiment with making the loops the same size and thickness or alternate the loops.
7. After you have pinned down the outside perimeter you should still have part of the original ponytail still in place. Continue to loop and pin to give the bun a good dimension and shape.
8. Use a curling iron to add soft ringlets to the hair around the face.
9. Spray the bun with a good styling spray to keep it in place. If you are going to wear hair jewelry always spray your hair BEFORE applying the hair jewelry.

10. Add hair jewelry like tiny glittery hair jewels or place one larger flower into the bun to instantly dress it up. Match the hair jewels to your dress for a gorgeous accessory option.
You're all set to make a grand entrance to any party or special event.
Summary
With a little practice and some experimentation you can easily create an easy and quick updo for your Prom, wedding or other dressy hair event.
If you want to talk more about this or other hair care articles on HairBoutique.com or anywhere else, please post a message on HairBoutique.com's Hair Talk Forums.