Last updated on June 18th, 2006 by Karen Shelton
Introduction
Pin curls are one of the basic sets that hairdressers learn and can be used to create a range of curls on all hair lengths from short to super long.
In order to successfully create pin curls you must have enough hair length and volume to be able to wrap the hair at least one revolution into the shape of a classic pin curl. You will also need enough hair to hold the salon clips securely in place.
Pin curls can be done randomly without any set pattern but the results will be random as well.
For a very finished set it is important to layout a carefully constructed pattern, use uniform sections of hair in each pin curl and wraps the curls in multi-directions.
This article provides the quick and dirty steps for creating easy pin curls that are randomly applied to damp strands.
Pin Curl Popularity
Pin curl sets first became popular during the 1920s, 30s and regained popular in the 40s during the World War eras. Although pin curls are still used on a very regular basis by Celebrity Hairdresser like Ken Paves and Robert Hallowell, they are not used as often by contemporary stylists or consumers. This is because hot rollers and curling irons provide instant results.
Even short strands, depending on short they are, can benefit from some curling irons and hot rollers.
In some cases if the hair is too short to wrap in one revolution to create a pin curl it might be possible to get better results with a small barrel curling iron or small hair rollers.
However, when short hair is long enough, a pin curl set should be tried because it can offer such a unique and beautiful finished style.
The difference between pin curl sets and hot roller or curling iron sets is that the pin curls can be worn overnight for a deeper curl and longer lasting set. Also, pin curls can be created with simple salon clips.
Step By Step Instructions - Creating Pin Curls On Short Strands
Follow the steps below for a quick pin curl set:
1. Shampoo hair with lukewarm water. Use products designed for your hair type, current condition and texture.
If your hair is chemically damaged or processed, utilize shampoo products that address special needs. If your hair is damaged consider using a diluted shampoo formulation of a conditioner only wash. 2. Use rinse-out conditioner designed for your hair type, texture and condition. Finish with a cool/cold water rinse.
Remember that conditioners will soften hair. If you prefer a firmer set, skip the conditioners if appropriate for your hair.
3. Towel blot well to remove excess moisture. A good pin curl set requires hair that is damp but not too wet. 4. Apply a cocktail of leave-in conditioner (if desired) or defrisant combined with strong holding mousse, gel or cream - depending on your desired look and hair type.
Remember that a gel will hold tighter than a mousse but that fine hair would work better with a mousse and medium to thick strands might work best with a gel. For a compromise mix gel with a light styling cream.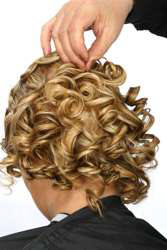 5. Use a comb with a long tail to help separate hair into neat sections. 6. Separate strands into 1/4 to 1" uniform sections in the areas of your head where you want the pin curls. Keep in mind that the larger the sections the softer the curl. The smaller - the tighter. 7. Take individual strands and wrap strands tightly around your finger. It is important to have the proper tension when wrapping. Curls wrapped too loose will not produce the best curls. Secure with a smooth silver colored salon clip positioned in a diagonal fashion across the entire width of the newly created pin curl. Note: Do NOT use traditional bobby pins to secure pin curls which will cause creases in the finished pin curl. 8. Continue to create pin curls until finished. Spritz finished pin curl set with water so that all of the curls dry to a uniform finish. If desired, spritz with a setting spray after misting with water for a firmer hold. Sit under a hood dryer or use a diffuser on slow, low heat to help speed up the drying time. Ideally, let hair completely air dry or sleep overnight on your set. When a pin curl set is allowed to air dry or is kept in the hair overnight, the curls are deeper, tighter and will last longer. After you remove pin curls but before you style them, mist with a good hairspray. Let spray dry and then use fingers to tousle and arrange new curls.
Finish by applying a drop or two of shine serum in the palms of your hands and then brushing over the top of your newly tousled style. For extra hold, spray with a firm holding hair spray.
Summary
Pin curl sets are the basic hair curling set that has been around for many generations. Whether utilized for all over your head or just for certain select sections, pin curls can create a unique and very sassy look.
While pin curl sets might not work for all short hair, if you can wrap a pin curl at least one revolution you can create a pin curl set with luscious curls.
Send this page to a friend..
If you want to talk more about this or other hair care articles on HairBoutique.com or anywhere else, please post a message on HairBoutique.com's Hair Talk Forums.