August 20th, 2008 by Karen Shelton
Introduction
Christina Aguilera is dominating the news these days for her first starring role in Burlesque, her star on Hollywood and her divorce.
Christina was recently on Ellen discussing all of the topics in the news while showing off her long cascading white blonde hair with even lighter highlights.
The superstar personified a true platinum blonde goddess with white blonde tresses. Christina's long strands cascaded off a center part with a slight puff at the crown and a hint of loose beachy style waves throughout the perimeter. Her hair was tucked behind one ear with part of her strands flowing down over her stark white shirt dress.
Christina Channels Marilyn's White Blonde Tresses
It should be no surprise that Christina, known as Xtina to her friends, loves white blonde on blonde tresses. Afterall, one of her idols is Marilyn Monroe who was famous for her platinum tresses.
Ellen asked the songstress why she took on such a giant part in Burlesque when originally Christina had hoped to take on a much smaller role in an independent film for her acting debut.
Christina said "that was exactly what I was thinking, kinda get my feet wet, get in there, take a smaller role in something in a more independent film and just kinda like dabble in there and be the newcomer and not take a musical at all. Then here I am (in Burlesque) it didn't quite turn out that way starring in a movie with Cher and taking on such an ordeal as a musical, wearing so many different hats."
The star told Ellen the Burlesque movie was "a lot of work. Probably the hardest I've ever worked in my whole life."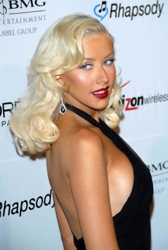 DC Media All Rights Reserved
Even though Xtina has been working for a very long time, almost her whole life, Burlesque was a lot more dancing then she's ever done. She told Ellen "not only had I not worked that hard in my whole life but I've never actually, I've never danced before I did this film. Because vocals have always come first and foremost but for this, no comfort, it was all about competing with these amazing, incredible, dancers. It was rough, it was rough, but I did it, I did it. I buckled down and I did it."
Regarding her star on The Hollywood Walk Of Fame she said "I was so excited" She explained she got her star on the morning of the same night as her first movie premiere (for Burlesque). Christina said "the star and the premiere were pretty incredible and overwhelming." She remembered "shaking and being overwhelmed with exhaustion and thinking 'this is a lot.' Two in one day was intense."
When asked about her ongoing divorce she said "first and foremost my focus is on my son Max. More power to single moms and those out there doing it. I was raised by a single mom. At the end of the day he's the love of my life and I adore him, he's such a character and so happy and that's what's most important."
She said "I'm a smart girl and I make choices for specific reasons, I look forward to the next chapter."
Christina gets five Christmas trees for her entire house. While her bedroom tree is an Asian theme because of her love for anything Japanese the tree in her theater room has ornaments dedicated to Marilyn and movie stars. Of course she has three other trees including one in the foyer.
The Bleaching Process And How It Works On Hair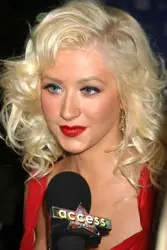 DC Media All Rights Reserved
Ultimately to transition hair from medium blonde or darker, all of the natural pigment must be stripped completely from the hair. After all the original color is removed the white platinum color is added back into the hair.
To achieve depth and dimension white highlights are painted strategically around the hairline and throughout the interior of the hair. This creates the white on white color.
Taking hair which is not naturally blonde to the same platinum level as Christina's tresses may very well likely result in the destruction of the protein bonds in the hair. This compromises the hair's structural support and means long term damage or even the possibility of hair breaking off at the roots.
Melanin - Pheomelanin Versus Eumelanin
Melanin in the hair comes in two forms – pheomelanin (creates yellow and red tones) and eumelanin (creates the brown to black tones).
As these pigments are chemically altered, the more predominant pigments become more pronounced as the complementary pigments are dispersed. Which is why the lightest safely-attainable shade of hair color is pale yellow.
If the base hair is damaged, naturally coarse or dry or has previous chemicals on the tresses, the hair can become extremely damaged by the amount of bleach required to take hair to Christina's white on white hues.
How To Achieve Christina's White Blonde Hair Color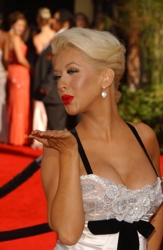 DC Media All Rights Reserved
It's very important for home hair colorists to be aware of the fact that Christina Aguila's white on white blonde hair is a complex hair coloring process.
Why? Unless your natural hair color is blonde, it's hard to lighten hair to the same hue as Christina's without using a powerful bleach. Even with the proper bleach, if the natural base color is darker then a light brunette, the hair may take on a yellow, orange or red cast.
An experienced hair color expert should always be consulted before trying to adopt white on white platinum hues.
If your hair is already colored, has been chemically treated within the past year or so or has a tendency to be damaged, a professional hair colorist may not even be able to take your hair to a white on white level.
Steps For Going White On White Blonde
White blonde hair, also known as platinum, can be a very challenging hair color to create. It's the lightest hair color which can be created chemically. It's definitely a drastic hair color change, especially on hair which is naturally medium to dark brunette or black.
Although sometimes white blonde hues can be created without bleach, this is more often the exception than the rule.
Listed below are some tips on how to achieve Christina's white blonde on blonde hair color.
1. Consult A Professional Hair Colorist Expert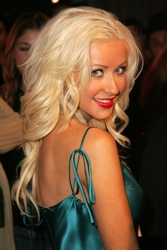 DC Media All Rights Reserved
Even if your hair is naturally light, removing all the pigment with bleach so it can be transformed into a white blonde can be challenging.
Even when blonding is performed by an experienced hair colorist the end result may still be damaged tresses. The damage may range from minor to major.
Only a professional hair colorist can objectively evaluate all of your current hair variables to determine the risk of taking your hair to a white shade.
An honest hair color professional will also advise you whether you should proceed or not. When in doubt get alternative opinions.
If your natural hair color is dark brown to black it may require extensive bleaching, toning and processing to achieve a true white blonde color and may not be possible without risk of major damage.
Once you've achieved the white blonde of your dreams your professional hair colorist you may be able to perform some of your own root maintenance at home.
2. Slow Blonding Wins The Race
In many cases, going platinum requires multiple salon visits, especially if you are starting with darker hair. It is always less damaging to lighten hair gradually rather than all in one step.
Be willing to work with your hair colorist and go slow in your blonding process to minimize damage. While it's possible to speed up the blonding process by having your colorist mix bleach with 40 volume (highest volume) it can also leave the hair extremely damaged. This is especially true if the hair is already damaged from other chemical processing, ongoing heat styling or similar damage.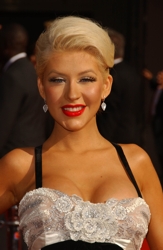 DC Media All Rights Reserved
It should also be noted while 40 volume developer lightens the hair the fastest, it also leave the most yellow pigment in the hair which prevents the true white blonde hues to shine through.
Be willing to have your colorist use a hydrogen peroxide developer which is 10, 20 or 30 volume. The lower the developer level the more yellow that is removed.
3. Condition Before Toning
An experienced hair color expert will usually apply a conditioner to newly bleached hair before apply a toner to neutralize any still remaining yellow hues left in the hair. Toners also restore the hair back to a healthy pH level to prevent breakage.
When a toner is directly applied to bleach hair without a conditioner first being applied, it may take on a blue, purple or gray hue. This is because toners utilize to create white blonde shades use a violet base to counter the yellow tones of newly bleached hair.
4. Condition Constantly And Consistently
Bleached hair can be very rough, dry and difficult to detangle. In generally bleached hair can be hard to manage and style. The only way to make bleached hair more manageable is to soften it with moisturizing conditioners on a constant basis.
Some hairdressers suggest that hair be conditioned rinse-out, leave-in and deep conditioners. You may also find success utilizing leave-in oils, especially applied to the ends or the driest parts.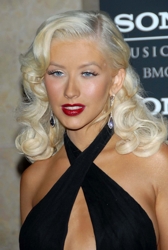 Haap Media, Inc., All Rights Reserved
Leave-in conditioning sprays or oils which can be utilized as a way to mist the hair throughout the day to keep bleached strands soft and manageable.
Summary
If you wish to achieve a white on white blonde hair color like Christina Aguilera it's important to work with a professional hair colorist, be realistic about the potential risks and be prepared to go slow.
Going white blonde like Christina is a drastic move and can be very rewarding but it comes with a variety of risks. Be informed before you proceed.
Social Media Network Information
Please follow me on Twitter at: http://Twitter.com/HairBoutique. I look forward to meeting new people
from all walks of Twitter and learning from their Tweets.
Visit us at Hairboutique.com located at: http://www.HairBoutique.com, on Facebook, MySpace and YouTube.
Thank you for visiting us at The HairBoutique Blog and for leaving your comments. They are very much appreciated. We apologize in advance but must remove any direct advertisements or solicitations.
Original Publication Date: 08/20/08 - Revised Date: 04/20/11
If you want to talk more about this or other hair care articles on HairBoutique.com or anywhere else, please post a message on HairBoutique.com's Hair Talk Forums.