November 27th, 2008 by Karen Shelton
Introduction
Twilight is one of the most anticipated films of the season. Based on the bestselling book by the same name, written by author Stephenie Meyer, Twilight chronicles a modern-day love story between a vampire, Edward, and a teenage girl, Bella.
In the story Bella has a best friend named Angela who is played by the delightful Christian Serratos. Christian has seen her career explode overnight as a result of the film.
Who Is Christian Serratos?
Christian Bernardi Serratos (Sir-aah-tos) was born September 21, 1990 in Pasadena in Southern California. The 5'7 Virgo is of Mexican, Italian and Irish heritage and was born to perform.
Although born a Virgo, Christian's sun is in the very late degrees of Virgo (28) with her moon in secretive and sensual Scorpio. She has her Jupiter in Leo (sign of acting) moving by progression to her Sun which means she will have the opportunity to have a very successful career in acting.
Her life gua (Feng Shui) is 8 which is also a strong number for achieving personal goals.
It's no surprise with her astrological chart that Christian knew from the time she was barely a toddler that she want to be in the business of acting.
The compulsive performer entertained her family every night by re-enacting her favorite television shows. Besides her love of acting she threw her energies into dance and ballet.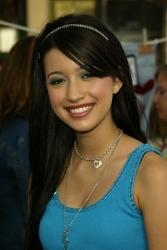 DailyCeleb.com All rights reserved - 2006.
Her passion for dancing overflowed into ice-skating and as she developed her ice skills she competed in a variety of ice-skating competitions.
As a result of her love of both ice skating and dancing she studied multiple dance styles which included ballet, jazz, hip hop.
Her love of moving her body also lead to her studying Tai Kwon Do and Hapkido.
Her first official entry into the world of professional performing was as a Ford model at the tender age of seven.
She worked her way through some beloved TV series with guest starring roles on "7th Heaven", Hannah Montana" and "Zoey 101".
Along the way she met young stars like Miley Cyrus and Jamie Lynn Spears.
In 2004 she had a role as Jillian Marshall on Mrs. Marshall. In 2005 she snagged a guest appearance on Zoey 101 as Girl #1. In 2006 she appeared as a receptionist in 7th Heaven.
She also played Alexa in Hannah Montana. She also appeared in "Cow Belles".
Her first long time role was "Suzie Crabgrass" on Nickelodeon's Ned's Declassified School Survival Guide. She played Suzie on 44 episodes from 2004 until 2007.
Christian's Hair And Style Transformation
2004
Christian appeared at the 2004 premiere of "Raise Your Voice". Although she was not quite fourteen years old she appeared poised and relaxed while wearing her black opal hued thick shiny hair pulled back into a sleek pony.
A side swept fringe draped her forehead highlighting her face, which is mostly oval with a slightly pointed chin, and her big brown eyes. Her hot pink top made her skin glow. She looked soft and sassy posing for the cameras.
2005 - May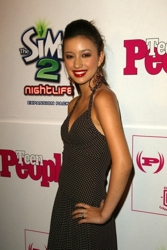 DailyCeleb.com All rights reserved - 2006.
A few months before her fifteenth birthday a glam Christian appeared at the May premiere of "The Sisterhood Of The Traveling Pants". The movie was hot but so was Christian in a beautiful teal blue sleeveless scooped neckline.
Christian was wearing her lush tresses much longer than the previous year. Her rich dark chocolate strands cascaded down around her shoulders into a veil of stick straight, shiny satin locks. The budding young actress again wore a sleek peek-a-boo side-swept fringe.
A skinny crystal encrusted headband created a beautiful line of demarcation between the front and back of Christian's hairstyle.
Christian's face and eyes were expertly made-up and she wore a shade of cherry red on her lips.
She accessories her outfit with two silver necklaces, one a silver heart and other a silver thunder bolt.
2005 - August
Christian turn up the heat a few notches when she appeared at the 2005 Teen People's Young Hollywood Celebration.
She ditched the side-swept fringe and wore her hairstyle built upon a small off-the-forehead "bump" which beautifully balanced her face shape and drew attention to her smoky eyes and ruby red lips.
Christian's hair appeared slightly lighter in hue than the previous black opal shades. The actress who appears to like polka dots wore a very cute halter style dress in milk chocolate with small dots.
To verify my theory that Christian loves dot patterns, she is wearing a dress on her MySpace page which shows off
2006 - July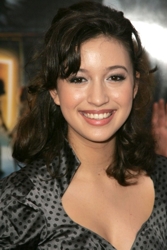 DailyCeleb.com All rights reserved - 2006.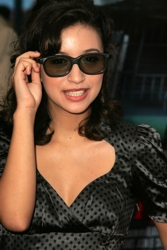 DailyCeleb.com All rights reserved - 2006.
In July of 2006 the beautiful brunette showed off her playful side with yet another polka dot fashion along with a completely different hairstyle.
Her dark brunette tresses appeared to have been highlighted to provide dimension. Her hair was worn slightly below her shoulders with lots of waves and curls.
Her hair was pulled from the right over the top of her head and merged in with the rest of her hair on the left to provide a lot of volume along the crown.
In an MTV interview Christian Serratos said she initially wanted the role of Jessica. She did the auditions and got called in a few times for Jessica.
After reading the Twilight books she fell totally in love with Angela. When she had the opportunity to audition for Angela she took advantage. She told MTV "I put my hair up in a ponytail and - I wear glasses 24/7 - I took them off when interviewing with Jessica but put them back on when auditioning for Angela.
Hardcore Peta Supporter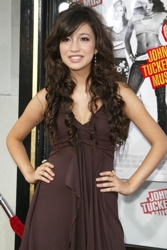 DailyCeleb.com All rights reserved - 2006.
Christian is a huge supporter of animal rights.
The beautiful brunette recently did an exclusive videotaped interview with peta2 (see the interview at peta2.com), the world's largest youth animal rights organization to discuss her love of animals.
In her interview she discussed her adorable dog Gorilla, who she calls "my little Gorilla bear". The adorable black dog was shown with Christian as she talked seriously about the importance of defending the rights of animals.
During her Peta interview she wore white jeans and a deep rose hued fitted knit top. Christian gave her thoughts on fur and said "It's frivolous".
She noted "you can get fake fur, which, if that's what you want--if you want that fur look--it looks just the same. It's really unnecessary to skin an animal when you can get something that looks just the same without hurting anything."
On animal testing she said "you can get so many products … shampoos and make-up and lotions … [A]lways looking on the bottle [to find what hasn't been tested on animals] is really, really important."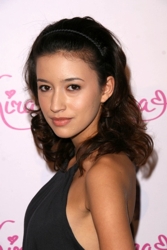 DailyCeleb.com All rights reserved - 2006.
On classroom dissection the Twilight star said "it's kind of unbelievable, I mean, forcing somebody to slice something open is hard to wrap your mind around," says Christian, whose character on Nickelodeon's Ned's Declassified School Survival Guide refused to dissect a frog.
Clips of Ned's Declassified School Survival Guide were shown of her defending animals.
She said "watching Nickelodeon, you can see that there is an alternative.
So I just think it's funny that actual schools can't see that when a kids' show did. Sign a petition. Do something. Have all your friends get involved and do something!"
Twilight Memories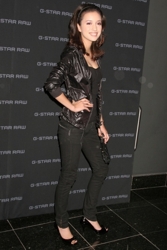 DailyCeleb.com All rights reserved - 2006.
When interviewed by PopStar.com about working with Robert Pattinson who plays Edward, Christian said "he is fantastic; he is great actor and is very sweet person.
It was a lot of fun". She also was unwilling to pick a team when it came to the two guys in love with her friend Bella Swan from the film.
Her favorite scene in the movie was "the dress scene." Why? Because "she got to try on dresses for the prom and they were just such funky out there dresses". Plus she liked that"we were inside instead out of the cold".
When asked about any memorable moments from shooting Twilight Christian explained about one scene on the beach with Justin who had to chase her "and he was covered in seaweed".
It was "disgusting and it was touching me and it was gross and it was making all the sand stick to me. But it was so much fun" being chased by Justin.
If she had the chance to have a special vampire power like those in Twilight the special power she would select would be Edward's power to read people's minds because she is "a curious person that has to know everything.".
Steal The Messy Updo Style - HowTo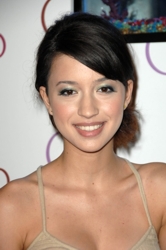 DailyCeleb.com All rights reserved - 2006.
Although less complicated than an ornate bun, the messy bun does entail some form of precision but is designed to give the impression of a "just out of bed" messiness.
The sassy messy updo is perfect for adding a wide range of hair accessories ranging from skinny crystal encrusted headbands to a flirtier array of sparking beads, rhinestones or even a sassy crystal encrusted tiara or tiara comb.
The type of messy bun you opt for should match the type of outfit you are wearing.
If you are wearing a more formal dress a messy bun is still a wonderful choice but may me more finished than when wearing a messy bun for a more casusal event.
Note: Visit The Nicole Richie Gallery.
Step By Step Instructions - Messy Updo Hairstyle
Listed below are the detailed steps you should follow to recreate this spectacular Sassy Messy Updo Prom Style:
Shampoo hair with product designed for your specific type, texture and current condition of hair. One to try? Ken Paves Healthy Hair Shampoo Keep in mind that hair that is allowed to "age" a few hours may be less slippery to work with than hair that is freshly washed.
Finish shampoo treatment with a rinse-out conditioning product designed for your hair type, texture and condition. One to try? Ken Paves Healthy Hair Conditioner
Complete the final rinse with cool/cold water rinse to close cuticles.
Towel blot hair to remove excess water.
Apply detangling or leave-in/detangler and working from the ends to the roots, carefully detangle strands. Create desired parting (front, side, high or low).
When hair is completely detangled, apply a styling cocktail that includes a mixture of leave-in conditioner and/or styling cream or mousse. If your hair is naturally curly or wavy, you may wish to apply a straightening balm or defrisant.

Note: If your hair requires extra hold you may wish to apply a styling glaze and/or gel in addition to a leave-in product.

Use a blow dryer set on medium heat and a large flat paddle brush.

Separate hair into 2-4 inch sections with one hand as you direct the heat "down the shaft" from the "roots to the ends" with the blow dryer.

Continue to work completely around your head from side to side working with individual sections until the entire head has been completely dried and straightened.
Apply dab of styling cream or pomade before creating the desired part that extends from the hairline to approximately 2 inches back towards the crown.
After creating the desired part, create a horizontal part that extends across the back of the head behind each ear.
Separate the newly horizontally parted hair into front and back sections.
Use your fingers to gather the back section of hair into a loose ponytail with the base situated right below the top of the crown.
Select one strand from the tail of the pony and wrap the strand around the base of the ponytail to cover the Bungee, Blax or similar elastic band. Use bobby pins to pin the base hair into place.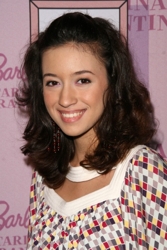 DailyCeleb.com All rights reserved - 2006.
Summary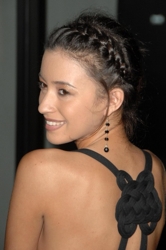 DailyCeleb.com All rights reserved - 2006.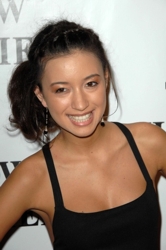 DailyCeleb.com All rights reserved - 2006.
This style looks stunning with either a strapless gown to show off your shoulders or a full or half halter top gown, as shown above.
The messy updo can be worn tighter or looser and can be carefully pinned or pinned with a messier attitude. Just use your own imagination. This style is perfect for all special Holiday, Prom and Party Hair events.
This basic messy updo can be easily modified by adding a front braid, by pulling the base of the updo to the side, making the base higher or lower. Experiment with a number of different options to create the same basic messy do but always changing it up a bit for each different event or fashion.
Christian Serratos Los Angeles Premiere of 'Twilight' 11-17-08
If you want to talk more about this or other hair care articles on HairBoutique.com or anywhere else, please post a message on HairBoutique.com's Hair Talk Forums.