Last updated on October 26th, 2005 by Karen Shelton
Introduction
Ashlee may not have stolen anyone's boyfriend, as she sings on her latest hit "Boyfriend", but she is guilty of having superstar celebrity hair. Which means in celebrity-hair-speak - ever changing.
Since 2004 Ashlee has morphed through a series of hairstyles ranging from her short shaggy blonde style worn on her extended acting stint on WB's 7th Heaven to long dark chocolate locks for her first CD's preview.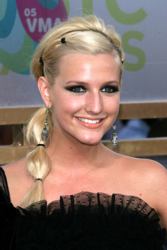 DailyCeleb.com All Rights Reserved
Her transition from light to dark tresses was documented on Hairboutique.com along with a visitor poll that asked whether people loved her more as a blonde or a brunette.
Afterall, everyone has their own opinion of how they like Ashlee's haircolor.
Of the 1,379 people that voted in the 2004 poll about Ashlee's hair color (which she had just colored to chocolate brown), 677 or 49.09% indicated that they preferred Ashlee in her former 7th Heaven blonde shade.
A total of 272 pollsters or 19.72% preferred her newly created brunette hue while 138 or 10.01% thought that she was gorgeous in either blonde or brunette shades.
A total of 21.17% or 292 respondents simply don't care whether she was blonde, brunette or redhead.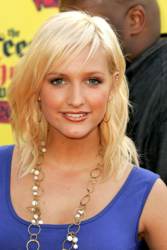 DailyCeleb.com All Rights Reserved
The majority or 49.09% of the respondents to the poll liked Ashlee best as a blonde. Why?
Maybe because they originally identified with her as blonde Cecilia on 7th Heaven, or maybe they just believed that she looked more beautiful in her lighter hues.
Celebrity Hairdresser & Colorist
Regardless whether her hair is blonde, brunette or redhead, Ashlee's tresses always look fantastic. Why? She has constant access to Hollywood's very best and famous celebrity hairdresser.
Hair Guru Ken Paves has been working with Ashlee for years and considers her "one of his girls" which is how he refers to his very close family of female clients.
Ken has a very special gift for really understanding the core essence of his hair clients and Ashlee is no different. Throughout her career he has created some stellar styles that work best for her "naturally blonde, thick, naturally wavy hair".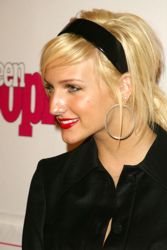 DailyCeleb.com All Rights Reserved
Ken intimately understands the image that Ashlee wishes to project and he honors that with the spectacular cuts and styles that he creates for her. As a result, Ashlee's strands are always spectacular.
When it comes to her color, Ashlee has New York celebrity hair colorist Rita Hazan on her speed dial. It was Rita who talked Ashlee through her home hair color trip from light to dark.
It was also Rita who took Ashlee through a very challenging and extended lifting session in New York bringing Ash to her current white blonde hue. Rita told the media that "Ashlee loves, loves, loves her platinum look".
Platinum Blonde Inspiration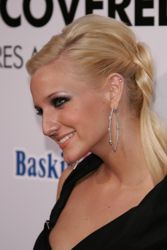 DailyCeleb.com All Rights Reserved
So what's behind Ashlee's latest 2005 platinum look? Ash was quoted in the media as saying "I was just feeling something new and here it is!. I had black hair and I kept on getting blonde roots, and so I'm like I'm just going to go back to my natural color."
The star said "it's nice to dye your hair and have a little bit of change, but I like my blonde hair. It's been a process actually because stripping the black out of my hair...it's been orange and pink and whatever". But I just said "I'm gonna do it".
Ashlee has long been a self-professed Deborah Harry (of Blondie) fan. She told YM magainze in 2004 that she loved Harry's "badass style". Ashlee pointed out that "she's sexy and she doesn't even have to try to be badass". Her current platinum hue would definitely work if she was channeling Debbie and that whole girl power trip.
The white blonde tresses would also work with her self-professed admiration of other famous blondes such as Marilyn Monroe, Gwen Stefani and Stevie Nicks.
Don't Try This At Home
Ashlee made a great point when she talked about what it took to strip the black hue out of her naturally blonde strands. It took many hours and more than one try to get Ashlee to her current sizzling white blonde. And yes, her hair, according to Rita, was a few colors before the final results were achieved.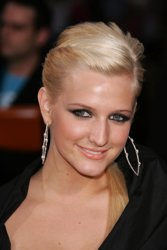 DailyCeleb.com All Rights Reserved
It is important for anyone wishing to even consider going platinum blonde like Ashlee to note that this is not an easy process to achieve. Even more importantly it should never be tried at home.
If you truly wish to copy Ashlee's color, visit an expert hair colorist to determine if you hair can withstand the strong bleach or other chemicals that are necessary to completely strip all color from hair to create the platinum look.
Consider also that hair this blonde requires a tremendous amount of maintenance to keep roots at bay. Hair that is not at optimal health or a naturally light shade, would not be a good candidate for Ashlee's shade.
Summary
Ashlee Simpson now has a second chart-topper with "I Am Me" which blew past new sets from superstars like Stevie Wonder, Rod Stewart, Martina McBride and Depeche Mode.
Not only has Ashlee shown the world that she faces her demons and is not a one-hit wonder, she has captured the attention of the fashion press as a definite trendsetter for her every changing hair and edgy personal style. As I said in my first article in 2003, Ashlee Simpson's star will continue to rise. Mark my words.
If you want to talk more about this or other hair care articles on HairBoutique.com or anywhere else, please post a message on HairBoutique.com's Hair Talk Forums.