November 12th, 2003 by Karen Shelton
Introduction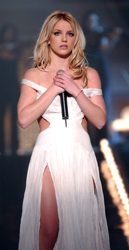 Think about it. How often do you see the top celebrities having a bad hair day? Every once in awhile wily paparazzi might sneak up on an unsuspecting star and snap them looking less than perfectly tressed, but in general, they look beautifully coiffed in all situations. (Photo of Britney Spears to side from Britney Spears In The Zone 2003 - photographed by Virginia Sherwood - ABC - all rights reserved)
And yes, it's true that most celebrities like Jessica Simpson, Carmen Electra, Lucy Liu, Pamela Anderson and Britney Spears can avoid bad hair days because they have a whole team of colorists and stylists to help them look gorgeously chic.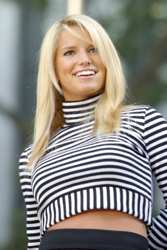 Although you may not have celebrity hair stylist Ken Paves on your speed dial like Jessica, Carmen and Pam, you can still borrow all their great hair secrets and tricks to achieve your own great hair days. (Image of Jessica Simpson - from August 2003 - Good Morning America, ABC - All rights reserved).

Here's how to have celebrity style great hair days:

1. Invest in the best hair pros you can find. Most of the biggest stars like Jessica and Carmen have separate experts that handle their color and their styles. While many of the top colorists and stylists work together in a team concept, like celebrity stylist Ken Paves and colorist Rita Hazan, some of the stars work with experts on different coasts.

Although there are always exceptions, it is commonly known that color experts are not necessarily great at styling and stylists may not be the best color gurus. If you can afford it, find an expert that only handles your color and one for your styles. If you prefer to do your own color at home, be sure to invest in the very best products. Consider having a colorist apply the first hues to design a look for you. Then do the maintenance at home with recommended products.

2. Know what works for you. Ever notice how J.Lo's hair color and style, while they seem to change often, have a common thread? That's because Jennifer, with the help of her long time colorist, Rita Hazan, and her stylist Oribe know what range of hues and styles flatter her the most.

Follow JLo's lead and discover the styles and hues that work best with your face shape and natural coloring. Once you have a great style and color, stick with it.

3. Know what doesn't work. When Jessica Simpson was first breaking out with her first CD, she went very short and according to Ken Paves was "bleached to within once inch of her life". It was not a great look for the gorgeous star and everyone from Jessica to her fans seemed to agree. Once Paves and Hazan, got their hands on the lovely songbird, they slowly transformed her tresses with the right hues and longer hairstyles into a golden haired goddess that currently rules Reality TV and Red Carpets around the world.

Follow Jessica's example and steer clear of hairstyles and colors that don't look great on you. For example, if you possess a prominent chin, avoid the super short pixie looks. If you want to go blonde, make sure that the hue works well with your skin tone and eye color.

4. Maintenance Is Everything. Although dark roots actually became a fashion trend proudly worn by Sarah Jessica Parker on Sex And The City, in reality, you will rarely see the stars strolling down any runways with dark roots, split ends or a hairstyle that needs a tune-up. Stars are meticulous about maintaining their style and color, once they have it the way they want it. Ken Paves and Rita Hazan can often be spotted at airports on their way to maintain the color and styles of their famous clients. Ken Paves has been known to perform an emergency trim for his clients getting ready to appear at some media event.

You'd never see Carmen Electra with an overgrown cut so why should you go out with a style that needs upkeep? Keep your hair style and color in top condition by keeping up with your regular hair appointments. If you do your color at home, be religious about applying touch-ups.

5. Invest In Great Products Designed For Your Hair. Depending on their hair type, texture and condition, Ken Paves uses a combination of Phyto, Rene Furterer and Kerastase products on his celebrated heads. Rita Hazan also uses great color lines from such manufacturers as Clairol Professional and Matrix.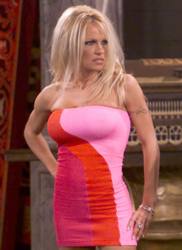 Even more importantly, Ken and Rita report that their star clients usually adopt their product recommendations at home to maintain stellar locks. (Image of Pam Anderson from Just Shoot Me)
Although Pam Anderson is known to color her own blonde strands at home, she religiously uses the very best deep conditioners and related hair care products to keep her newly colored locks healthy, shiny and well-conditioned.
Do like Pam and acquire the best hair care products within your budget.
6. Wear great hair accessories. Even the simplest hairstyle becomes magnificent when you're wearing chic hair accessories. Jessica Simpson's bridal hairstyle was designed to be long, soft and sweetly sensual to please her groom. Her simple but elegant locks were instantly transformed to stellar heights with the addition of two elegant bejeweled hair clips carefully added to the back of her style.
A gorgeous crystal encrusted headband, hair clip, barrette or hairpins can instantly dress up any style and turn heads. Follow the example of the celebs like Jessica and Drew Barrymore who use hair accessories to add instant glamour and style.
6. Don't be a hair fashion victim. Yes, even the brightest stars sometimes fall prey to very trendy but horrible hairstyles. Britney Spears was the first to admit that following the trend towards brunette locks was a mistake of "brain fart" sized proportions that she immediately altered. The best tressed stars depend on more classic hairstyles that they gently modify with some limited trendy elements.
Jennifer Aniston and Carmen Electra are two stars that stay close to classic hair looks that perfect for them. While they might slightly alter the length of their strands or go a tad lighter or darker, in general they resist wild hair fads. And so should you.
7. When in doubt, don't go messy. Although messy bedhead looks may be fashionable, there is a secret art to looking skillfully tousled. Meg Ryan has a team of celebrity stylist to help her achieve her signature finished but causal moptop mess.
Have you ever noticed that the eternally dreadheaded Whoopie Goldberg even wears her locks in more formal styles for her turn at various Hollywood galas?
Looking inappropriately messy can be terribly unchic. If you're unsure of what type of hairstyle is appropriate for an event always err on the side of a finished style. Hair, like shoes, can actually be too casual and ultimately be out of place.
Summary
Steal some of the hair secrets of the various celebrities mentioned above and you can always be terrifically tressed for any hair event, including an unplanned abuse by a random camera.
If you want to talk more about this or other hair care articles on HairBoutique.com or anywhere else, please post a message on HairBoutique.com's Hair Talk Forums.