Last updated on March 4th, 2004 by Karen Shelton
Introduction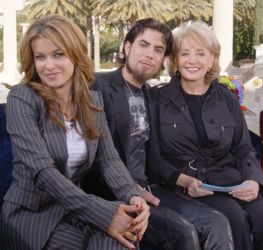 There is one rule of thumb when it comes to Carmen Electra's hairstyle of the hour.
(Image of left to right - Carmen Electra, Dave Navarro & Barbara Walters - The View - ABC 2004 - all rights reserved).
That rule is that Carmen's hair is probably never quite what it seems. The reason is that the gorgeous Carmen has the absolute best Tinseltown celebrity hairstylist as her hair muse.
Hairdresser Ken Paves is truly a magician when it comes to creating hair illusions. He can instantly transform any of his celebrity clients like Carmen into an amazing array of hairstyles and lengths in a matter of moments. Literally.
Ken is a master of disguise, using full and half wigs, hair extensions, faux bangs and his skilled hands to create a series of spectacular strand illusions.
If you bought into all the latest buzz about Carmen cutting her long sultry locks into a dramatic new bubble style bob for her recent Starsky & Hutch premiere appearance or into a short flippy bob for her Oscar party appearances, then you fell into the illusive web that Ken successfully created for Carmen.
Hopefully you didn't place any bets on Carmen's chop because if you did, get out your checkbook. The beautiful Carmen did not cut her tresses. In fact, her strands are approximately the same length they were at her recent MTV televised wedding a few months ago.
Short Styles On The Red Carpets
The Carmen hair chop rumors started to swell when the breathtakingly beautiful Carmen did a turn at the Starsky & Hutch premiere on February 26th with a short sassy bouffant style with attitude to match. Although the hairdo was brashly perfect for her role in the 70s redo film, it was a definite departure from her normally long, choppy, shaggy style.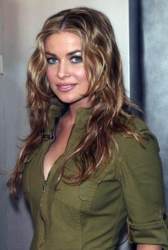 A few days later on February 29th Carmen appeared at the 12th Annual Elton John Oscar Party with a short, sleek and flippy choppy style. From a distance it really appeared that Carmen had been shorn of her luscious trademark locks.
Shortly after Carmen appeared at those two celebrity events, I was hit by a wave of frantic fan emails seeking the inside scoop on Carmen's new "cut". After all, Carmen is famous for her long sensuous strands. The possibility that Carmen had morphed into the world of the short tressed was huge fodder for the rumor mills.
From the very beginning of the rumors I was extremely skeptical that Carmen had cut her lovely long locks. I suspected that Kenny had used a wig or possibly a unique hair roll to simulate a hot new style. I knew deep down in my heart that if Kenny had performed a drastic hair operation on Carmen, he would have given me the scoop with all the glorious details.
Not being willing to leave such a historic hair event to chance, I started working the phones to uncover the actual scoop.
The hardest part of getting a celebrity tress report from Ken is not the actual scoop, but managing to track him down and keep him on the phone long enough to blurt out my rambling list of questions.
(Image of left to right - Carmen Electra, - Back To The Beach - Baywatch Special - ABC 2003 - all rights reserved).
After several messages to Ken's private cell, I decided he probably had lost his phone again, which was confirmed by his fantastic personal assistant when I tracked her to California. I discovered that the cell phone challenged Ken was in New York on a whirlwind hair tour with Jessica Simpson for Letterman, Good Morning America and Regis & Kelly. Although Kenny's assistant is a doll, even she was having a hard time tracking him.
I called Rita Hazan, Carmen's colorist, at Adir Salon in New York. She confirmed that Ken was somewhere loose in The City with Jess. She also told me that Carmen had been wearing a combination of wigs and a carefully crafted pinned style at the two red carpet events in question. Rita was absolutely sure that Carmen had not cut her hair.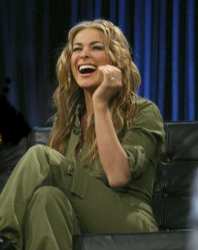 From Ken's personal assistant I dialed Ken's New York press agent, who is an absolute angel. She was dealing with her own Paves crisis trying to locate Ken for an overdue magazine article on celebrity bridal hair but didn't have any news on Carmen's latest look. My next dial stop was with Alec who handles Ken's sizzling new hair care line.
Although Alec didn't know about Carmen's hair, we did have a fabulous conversation about relaxers and the impact on certain types of hair.
My last phone call ended in a message to Karan Mitchell, Carmen's makeup artist. The lovely and uber talented Karan was MIA. I figured she was probably with Ken in the wilds of Talk Show Land in NYC.
After multiple messages to Ken's home, his always helpful and very patient assistant promised me a phone call from the grand hair wizard the minute he stepped off the plane from New York.
The True Carmen Strand Scoop
My many acts of voice mail stacking were finally rewarded when I received a call from Ken in the process of dragging his totally exhausted physical remains home from the East Coast hair wars.
"So", I pounced on an sleepy Ken, "did you cut Carmen's hair for Starsky & Hutch"? "What?" he replied in mock disbelief. "Of course not, it was my famous half wig trick". "You know", he reminded me, "exactly like that thing I do with Jessica's (Jessica Simpson) hair where I mix and match one part wig with one part natural hair to achieve a completely different look".
"But what look were you channeling?" I pressed. At that moment as I was moving in for the killer hair scoop, his cell phone misbehaved sending a blast of crackles and sizzles. "I"ll call you later, he promised. "Noooooo" I begged. I just knew that calling me later could mean hours, days or even weeks. So, I pressed on through the dysfunctional cell signals.
"I was channelling a late 70s hip, happening chick with the big bubble bouffant style and the sultry outfit" he explained. Not one to ever follow the crowd, Ken told me he was "unwilling to just settle for a 70s Farrah winged style". After giving Carmen's role and her own individual style much thought, he went for that late 70s look with the help of a partial wig and a portion of Carmen's hair backcombed over the top.
Elton John AIDS Oscar Party Do
Although Ken was tied up with Oprah, Kim Cattrall and ultimately Lara Flynn Boyle on Oscar night, he knew all about Carmen's short flippy style at the Elton John Oscar party. In fact, although Ken was unavailable to coif Carmen's party hair, he had a planning session with her to select an appropriate style for her gown. Wanting to go with a very sensual 20s look, Ken and Carmen planned a hairstyle that consisted of some loose flippy fingerwave curls on the sides and tight hair rolls in the back, that channelled a short old Hollywood look.
The real scoop in this hair saga is the fact that after her hair was washed and blown straight by a visiting stylist, Carmen actually created the hairdo on her own hair for Elton's party. Did I say that Carmen did her own tresses? Yes indeed.
In fact, on the Till Death Do Us Part episode where Carmen and Dave are upstairs changing out of their wedding clothing, the cameras captured Ken's hands brushing, rolling and pinning Carmen's hair into a faux short flippy bob very much like the style she wore on Oscar night. The MTV short style was accented by a very flashy Art Deco style crystal hair accessory pinned to one side.
The identical same style was recreated a few weeks after the MTV Wedding episode for a cover shoot of Carmen for Ocean Shore Drive. The night of the Ocean Drive photo shoot I actually was talking to Kenny on his cell and he was describing how he was pinning Mrs. Navarro's hair into this classic old glamour short coiffure. He advised me that it would give Carmen a completely new soft flirty bob look without touching her beloved long locks. And he was totally right.
Summary
Don't be surprised if the next time the papparazzi catch the gorgeous Carmen out and about that she is back to her current long shaggy chopped style....or maybe, you might see her in long dreadlocks, a single braid or a full beehive do.
When the stars are lucky enough to have Ken Paves as their mane man, they can achieve a flurry of fantastic hairdos by activating Kenny's number on their speed dial.
If you want to talk more about this or other hair care articles on HairBoutique.com or anywhere else, please post a message on HairBoutique.com's Hair Talk Forums.