July 12th, 2003 by Karen Shelton
Introduction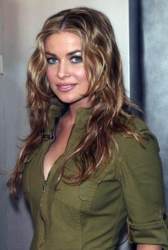 After days of playing insane phone tag with celebrity hairstylist Ken Paves, I finally tracked him to his home in LA where he had just completed a whirlwind week flying cross country to create his signature hair masterpieces for songbird Celine Dion and actresses Carmen Electra and Jessica Simpson. (Image of Carmen Electra in March of 2003 on Last Call With Carson Daily -- NBC Late Night -- Photo: Michael Simon / Startraks - All rights reserved).
Nursing a persistent raspy cough related to his ongoing insane schedule and lack of sleep Ken excitedly shared the details of his very recent trip to New York with Celine Dion. He also excitedly spilled the beans on his creation of a very hot new style for long time client Carmen Electra that morphed her coif from "sex kitten to sensuous bad girl with attitude."
Ironically Celine and Carmen were both in New York to appear at different times on Live With Regis and Kelly. Ken reported that Carmen, who is a long time cherished friend, as well as a favorite celebrity client, had been recently ribbing him that he was "just too busy" to get together with her to "give her a new look". Ken laughed and told me that Carmen teased him by saying "enough is enough, it is time for you to come see me and give me a hot new style."
Midnight Hair Madness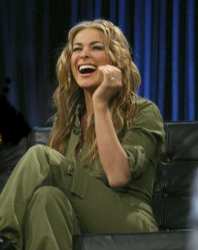 Once Ken arrived in New York and juggled his schedule he was able to honor Carmen's request by heading over to the "really amazing" Trump Towers, where Carmen was staying, arriving at midnight to give her a spectacular new cut and style. Did I say midnight? Yes, that is precisely what I said. I can almost picture Ken sprinting through the lobby with his bag of trusted hair tools. (Image of Carmen Electra in March of 2003 on Last Call With Carson Daily -- NBC Late Night -- Photo: Michael Simon / Startraks - All rights reserved).
Although celebrity hairstylists have the fantastic opportunity to work with some incredible celeb personalities, what most people don't know is that their a celebrity hairstylist's day never ends. A successful celeb hair wizard like Ken Paves is basically on call 24 hours a day.
Does Ken ever complain or even mumble a single negative comment about his schedule or life? Never! In the year that I have gotten to know this wildly talented, fun loving, brilliant hairdresser so well, I have never heard anything but gratitude for the many opportunities that his clients offer him to do hair, which is his life's true love and passion.
Once Ken managed to get together with Carmen in the wee hours of the morning he set to work with his magical scissors and lovingly transformed her "below the middle of the back" long strands into a sensual masterpiece of graduated chunky layers strategically arranged to draw attention to her gorgeous eyes and beautiful face.
He reported that he "created a soft face framing layered fringe that can be worn softly swept to one side of her face".
Flexibility Is Ken's Motto
The new style allows Carmen to have lots of flexibility with how she wears her hair for a variety of different appearances and events. She can wear it with or without the bangs. Flexibility is a major requirement for Ken's styles since he wants his clients to enjoy their styles and feel comfortable playing with their own hair, if they desire. Since Carmen Electra is considered by many to be one of Hollywood's most versatile stars, it seems only fitting that she have a look that can work with her many different roles.
In Ken's book, self confidence equals true beauty. Therefore, if a celebrity wants to wear their hair a certain way that makes them feel great, so be it. (Image of Carmen Electra from Baywatch Hawaiian Wedding: a world premiere movie event, 2003 FOX - all rights reserved).
So is Carmen going to continue to wear her hair longer? Yes, according to Ken, "she will keep most of the length". She wanted to "change her current look" around to get a new dimension and feel.
Longer Locks W/ Caramel Hues
Ken pointed out that since "long hair is back with a vengeance" and many women want their long locks back" he only trimmed about 4 inches off the bottom of Carmen's medium to fine strands, which are now completely extension free. Ken said that Carmen has a lot of hair but that it is basically straight. Like most of his celebrity clients, Carmen uses a combination of Kerastase and Phyto hair care products to keep her gorgeous hair in great condition. (Image of Carmen Electra from Baywatch Hawaiian Wedding: a world premiere movie event, 2003 FOX - all rights reserved).
Carmen's dark chocolate brown hair color recently captured by Wire Image at the premiere of Charlie's Angels 2, was specifically created for her role as Owen Wilson's girlfriend in the big-screen adaptation of the classic 1970s Starsky (Wilson) and Hutch police action film. While visiting New York Carmen also stopped by to see her celebrity colorist, Rita Hazan at the Adir salon, and was lightened back to a softer and much lighter caramel hue.
Unveiling The New Style
Carmen unveiled her spectacular new hairstyle later that morning (Thursday, July 10th) on the Regis and Kelly Live show. Everyone absolutely loved her new style, including Nancy O'Dell who was watching the show back in LA. Determined to get a similar style for her own blonde locks, Nancy's people searched for the name of the stylist that created Carmen's new look. They finally located Ken's people and a deal was struck. It was agreed that Ken would do Nancy's hair at 9:30 on Sunday morning. Nancy will unveil her new Ken Paves look for several scheduled appearances during the week of July 14th.
If you missed the gorgeous Carmen on Regis and Kelly, you can see her hot new style on ABC Family's Dance Fever show which premieres Sunday, July 13th from 7-9 pm. Carmen will be one of the judges on the revamped reality dance show.
Besides Dance Fever and Starsky and Hutch, Carmen will be seen in Miramax's comedy "My Boss' Daughter" with Tara Reid, Ashton Kutcher and Molly Shannon on August 22nd. Carmen will also be the host with Kadeem Hardison for "Livin Large" on The Heritage Networks.
If you want to talk more about this or other hair care articles on HairBoutique.com or anywhere else, please post a message on HairBoutique.com's Hair Talk Forums.