March 1st, 2007 by Karen Shelton
Introduction
The dead member of ABC's Desperate Housewives is Brenda Lee Strong who only does heavy acting with her voice. The beautiful actress and former Miss Arizona 1980 in the 1981 Miss America pageant has a dream gig as the narrator of the popular show.
Born in Brightwood, Oregon Brenda is the soothing and sultry voice of the dearly departed Mary Alice Young.
Brenda shares a birthday (born March 25, 1960) with Desperate Housewives co-star Marcia Cross and with Sex And The City star Sarah Jessica Parker who recently gave birth to twins. Brenda and Marcia both starred in Everwood and were in different episodes of Ally McBeal.
Ironically, Brenda had a similar role in TV's Everwood where she played a family mother whose death in the beginning of the series starts the show in motion.
On an appearance of Ellen co-star Marcia confessed to the talk show queen that she had wanted the role given to Brenda. Set insiders have reported that Mary Alice Young was set to be played by actress Sheryl Lee who was replaced by Brenda.
Is your head spinning yet? Adding to the tangled connections of the Housewives includes the history Felicity Huffman and Brenda shared on the short lived, but popular Sports Night. In the series, Strong was sleeping with Felicity's fianc (Ted McGinley) as well as with Huffman's co-worked (Peter Krause).
Image Does Count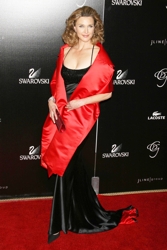 DailyCeleb.com - All Rights Reserved
Over the past five seasons of American Idol there has been a lot of controversy about the hair of the various contestants. Watching the show from beginning to end will often identify how the tresses and hairstyles of the finalists have changed dramatically through the season.
In an interview the resident American Idol hairdresser pointed out that image is everything in the world of singing stars. Yes, talent plays a part but to really be successful you have to have the whole package which includes hairstyle, hair color, hair length, type and texture.
In the non-Idol world, performers ranging from Ashlee Simpson to Mariah Carey are constantly changing their hair length, color and styles. It signals a part of their evolution as performance artists.
One question that popped up on various chats was whether or not the lovely Brenda had hair enhancements. Of course these days it is impossible to say for sure, but regardless, her strands looked healthy, shiny and perfectly coiffed, especially at the end of the contest.
Step By Step Instructions
DailyCeleb.com - All Rights Reserved
To copy the luscious long curls and waves that Brenda Strong is wearing in this article, perform the following steps:
1. Begin by washing hair with shampoo designed for your type, texture and current condition of hair.
If your hair tends to be dry, select a super moisturizing shampoo formula like Robert Hallowell's Shine Booster Shampoo which celebrity hairdresser Robert actually uses on many of his celebrity clients.
Other formulas you might try include Phytojoba or one designed for colored hair like Phytocitrus. For ultra dry or super fragile strands, use the dry hair formulas and dilute the shampoo for extra gentleness.
Note: If your hair is long or prone to damage, consider either washing hair with conditioner only, or diluting the shampoo formula to save wear and tear on your strands.
2. For hair that is dry, damaged or chemically treated, follow the shampoo with a rinse-out conditioning treatment.
Apply your favorite rinse-out conditioning product. Robert Hallowell's Prawduct - shine booster conditioner is an excellent rinse out conditioner for all hair types.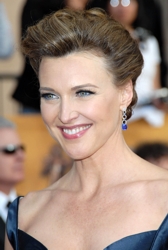 DailyCeleb.com - All Rights Reserved
3. Be sure to match the product to your hair type, texture and condition. Work the conditioner into the driest parts of your hair. Leave on for up to five minutes. Rinse well. Finish with a cool to cold water rinse.
4. Towel blot hair (do not rub) and gently squeeze excess moisture.
5. Detangle hair with fingers or a smooth detangling comb and create desired front part.
6. Apply a cocktail of leave-in conditioner and anti-frizz products. For soft hold, apply a mousse. For extra hold apply a gel or gel/mousse product. Distribute well from roots to the ends.
7. Let hair air dry until 80-90% dry. If you wish, sit under a hood dryer or use a blow dryer on low speed, cool air to remove excess moisture.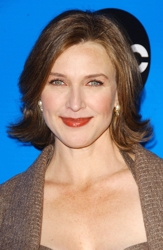 DailyCeleb.com - All Rights Reserved
8. Work from one side of the head to the other. Use a wide tooth comb or hair pick and separate hair into 1-2 inch sections.
9. Starting at the end of the hair section, roll the hair around the strip of your prepared rag curlers. With rag curlers you can make the hair sections as large or small as you wish as long as your strip of rag is long enough to completely encase your hair.
10. Roll the section of hair up from the ends to your scalp. The tighter you roll the rag curler, the tighter the resulting curl. You can either secure the rag curlers with bobby pins or you can tie them at the ends to hold them in place against the scalp.
11. When your entire head has been put in rollers, either go to bed for the evening, or sit under a hood dryer on medium heat to get the curls to "set".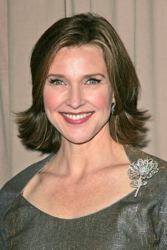 DailyCeleb.com - All Rights Reserved
12. When removing the rollers, unwind one section at a time. After all the curls have been unwound, spray your entire head with a soft hold hairspray.
Ones to try: Rene Furterer Instant Hold Finishing Spray, Robert Hallowell's Rawhold Hairspray. 13. Use fingers or wide tooth hair pick to gently arrange the curls that cascade freely down towards the top of the shoulder.
14. For extra shimmer, apply a drop or two of a shine serum like Phyto's PhyoLisse, Rene Furterer's Spray Gloss or Robert Hallowell's Love That Shine Drops to the palms of your hands. Rub the serum into the palms and then lightly glide over the top of the style to add instant shimmer and shine.
15. Spray well with hairspray like Phytolaque or Jessica Simpson's favorite Phytolaque Soie made with real silk to give an extra glossy look to the style.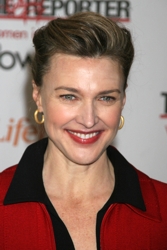 DailyCeleb.com - All Rights Reserved
16. Attach any desired hair accessory to the finished style. Because this is such a unkempt style, if accessories are added, they should be small to avoid detracting from the style's ultimate design.
Note: Remember to always attach accessories last after all styling products have been applied to avoid damaging delicate accessories.
17. Feel beautiful. A beautiful woman is just as much about self-confidence as the way that she wears her hair.
Summary
The variations on this lovely slightly tousled long hairstyle are endless. Instead of wearing curls and waves loose, you have the option to sweep the sides up and softly capture them at the back of the crown. Or you can wear one side in front and the other pulled back behind one ear.
Brenda's style can also be worn stick straight by utilizing a flat iron or by using a paddle brush and straightening gels to get a straight look.
fun with this style and experiment with randomly pinning up alternate strands in the back allowing others to hang precariously to give that free Brenda Strong American Idol look.
If you want to talk more about this or other hair care articles on HairBoutique.com or anywhere else, please post a message on HairBoutique.com's Hair Talk Forums.