Last updated on November 19th, 2001 by Karen Shelton
Introduction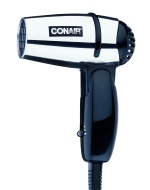 When HairBoutique.com first added the Conair line of hair care accessories some years back, I cracked out my plastic and ordered several items that I could personally test. Besides the Conair Mini Metal Pro I bought a full sized blow dryer, 2 different curling irons, the chrome hot shaver and the heated towel rack.
Note: Conair discontinued the Mini Metal Pro but they offer an amazing array of excellent hair dryers for every type of hair & every blow drying need).
I decided to leave the Mini Metal Pro in the restroom at my office for emergencies and for other HairBoutique.com and T&S employees to use if they had the need.
I am not a regular user of heated hair tools (blow dryers, hot curlers, etc.,). There are many reasons. The main reason is because I worry about the wear and tear to my very long hair. I have been patiently growing my hair since 1988. I have learned that to take the best care of my hair I need to steer clear of as many disruptive treatments as possible.
Another reason for my hot tool abstinence is my intense business schedule. Besides running HairBoutique.com 24/7, I am also in charge of a fast paced software company that develops intelligent voice products. Luckily both companies share the same building which saves me lots of commute time but doesn't really give me much time to spend on my hair every day.
Every morning I shampoo and condition my hair, towel blot it, detangle it and then wrap it into a ballerina bun that I hold in place with my trusty hair sticks. I blow dry and finger pick my bangs for 2 minutes and then I am out the door.
I let my hair air dry wrapped in its bun until noon. I remove the hair sticks and use my fingers to "comb" my hair into natural waves. It is an easy, no fuss, no muss, method that saves my hair and my schedule.
The only time my "drowned rat look" doesn't work is when I am required to attend business meetings. Then I have to adopt other methods of drying my hair.
How I Tested Conair Mini Metal Pro
I had the first opportunity to test my Mini Metal Pro under emergency conditions. I arrived for work with my wet hair dressed in my business casual attire. I was met by an employee who freaked when he saw me. Not only had I blanked out about a business meeting that morning, I had also forgotten that the press was coming by to take photos of our latest HairBoutique.com products.
Luckily I keep a business suit at the office. Grabbing the suit I went flying into the restroom to do my quick change routine. I spied my Mini Metal Pro as I was throwing my suit on and realized that it was the perfect time to put it to the test.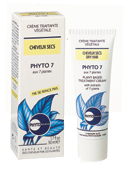 Grabbing the Phyto7 leave-in conditioner that I carry in my purse, I put a blob into the palm of my hands and smoothed it over my still wet hair. I applied a little of my favorite Phytodefrisant on the lengths and grabbed my paddle brush.
Time was of the essence, so I undid my bun and bent over to get the bottom of my hair dried first.
I switched on the dryer at the highest/hottest setting and was amazed at the heat it generated. In a matter of five minutes my roots and underside of my hair was completely dry and smooth. I flipped my hair over. In just three more minutes the rest of my hair was completely dry.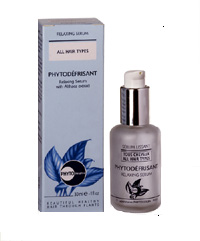 It was amazing that in just eight minutes I dried my entire head of thick, wavy and below the waist wet hair. It was soft, shiny, straight and very dry. I finished with a tiny dab of Phytotherathrie Defrisant Serum to keep my hair smooth and shiny.
As I went running back down the hall towards my office the same freaked out employee stood with his mouth gapping open. He was shocked at my total transformation in just ten minutes. By the time the business visitors arrived I was poised and ready for the meeting with smooth, sleek, shiny hair.
Some Notes On Blow Dryer Use
When used properly, blow dryers can be a blessing for many people. Although I am more cautious in my use habits, I am the exception to the rule. Hair dryers are wonderful for adding styling punch, and for helping to straighten unruly cowlicks, waves and curls. If you use a hair dryer on a regular or daily basis, remember to always use either a leave-in conditioner or styling product that protects your hair from blow dryer heat waves. It is important to remember to avoid holding the hair dryer too close to your hair. Finally, rotate the dryer so that no one section of hair is overexposed to heat.
For sleek looks, direct the air flow from the roots to the ends. For rough and textured looks, reverse the air flow.
Blow Dryer Features
The Conair Mini Metal Pro has a professional length cord that is 6 feet long. This makes the dryer easy to use when moving back and forth.
I really appreciated the long professional length cord when I was bending and stretching with my head upside down. The cord did not get in my way or tug or yank me back to the wall.
This is a great feature because it is important to keep a blow dryer circulating so as to not overheat any one section of hair.
The handle easily folds in order to fit into the black faux leather zippered traveling case. The dryer has 2 Speeds/Heats with a full 800 Watts of power and a Removable Filter. The dryer also has a limited one year warranty from Conair when you send in the warranty card.
NOTE: Use caution—do not use the dryer while bathing or in the shower. Never operate the dryer if it has a damaged cord or plug.
Packaging
The dryer is very contemporary with a black handle and body. It has a shiny silver chrome metal housing with black accent stripes. The removable air filter is a great option and will add many years of life to the dryer.
The Mini Metal Pro comes packaged in a purple and black cardboard box with a cellophane window to allow an instant peek at the dryer. It comes complete with the zippered travel case and an instruction booklet. The Conair dryer is an ideal gift because you can easily wrap up the box and have a thoughtful surprise waiting to be opened.
Other Options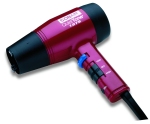 I was very impressed with how fast the 800 watts of heat allowed me to dry my hair. One thing that I did notice was that the dryer is not quiet like some of the new Conair Quiet Tone models. Yes, it is fast, it is convenient, but the Mini Metal Pro would not allow for easy conversation during use. I am not complaining. I actually
like the time alone to think and focus but some people may prefer a dryer that offer more quiet. Conair has been the leader in the field of toning down the noise factor of blow dryers. If a quiet tone is a consideration for you, the Mini Metal Pro may not be your best bet. If you don't care about standard dryer noise then the Mini Metal Pro is a good choice.
Conclusion
Although I am not the best candidate for daily use of a blow-dryer, I do use one for my bangs and quick change emergencies. The Conair Mini Metal Pro is wonderful because it is very small, folds up for easy travel and is very handy. Even better, it has a full 800 watts of power for quick blow drying ease.
For people who need to use a blow dryer for travel, this model is ideal. It is very small, lightweight and easy to fold and pack.
Karen's Rating
On my own scale of 1-10, 10 being the best, I give Conair Mini Metal Pro a 9.
Social Media Network Information
Please follow me on Twitter at: http://Twitter.com/HairBoutique.
I look forward to meeting new people
from all walks of Twitter and learning from their Tweets. Visit us at Hairboutique.com located at: http://www.HairBoutique.com, on Facebook, MySpace and YouTube.
Thank you for visiting us at The HairBoutique Blog and for leaving your comments. They are very much appreciated. We apologize in advance but must remove any direct advertisements or solicitations.
- Revised Publication Date: 05/03/10
If you want to talk more about this or other hair care articles on HairBoutique.com or anywhere else, please post a message on HairBoutique.com's Hair Talk Forums.