Last updated on March 7th, 2004 by Karen Shelton
Introduction
Spring and Summer is the most likely time of the year when dark haired folks will lust for that towhead blonde look that is the ultimate symbol of sun and fun at the beach.
Never mind that achieving that bleached blonde look can be life threatening to your strands. If your vision of sultry pale or white blonde calls, many people will throw caution to the winds and head for the bleach, only to wrangle with the actions or their chemical applications later.
Although hair can be somewhat forgiving, this is not always the case when chemicals like bleach are applied to the tresses.
Anyone with medium to dark brown hair must pass through a bleach cycle in order to achieve a beached blonde effect. Unless every precaution is taken, there is a strong likelihood that bleaching may result in some level of damage to the cuticle. Depending on a variety of factors, the potential damage can range from slight to severe.
Bleached hair that is slightly damaged will feel dry or rough to the touch and may require extra applications of deep and leave-in conditioning products.
Severe damage to the cuticle, which is designed to protect the cortex where natural color resides, may result from over bleaching. The hair may be left spongy and porous with a tendency to retain moisture on following shampoo cycles and becoming difficult to dry out. The cuticle may be left feeling extremely rough or in some cases the delicate cuticle fishlike scales may be permanently damaged or burned off. In worst case scenarios hair breakage may occur from the root area.
Damage to the hair during bleaching is decreased if contact time with the actual bleach chemicals are reduced. Therefore heat is often applied to speed the chemical reaction. The heat may be moist heat applied by use of a steamer or dry heat through the use of infra-red lamps.
How To Prevent Bleach Damage
If you would are determined to go the bleached blonde route, consider the following options to minimize long term damage to your strands:
1. When in doubt go to a professional hair colorist. They are experts and can advise you if your hair is not a good candidate for severe chemical coloring. If your hair does pass the test for bleaching, they can make sure that the process is not correctly to minimize any long term side effects.
Hair color experts will often use color processors (circular lamps that rotate), moist heat or infra-red lamps to speed up the bleaching process and minimize the potential bleach damage. Some hairdressers will use hood style blow dryers.
This is another advantage to having your hair bleached in the salon. At least for the very first time. Most consumers do not have the same type of salon equipment available at home.
If you wish to eventually bleach your hair at home you can watch and learn from a first time bleaching treatment at the salon eventually applying some of the tricks you learn from the colorist, to your at home bleaching treatments.
2. If you must bleach your hair at home, buy a product manufactured by a known company that offers consumer help. Check the bleach kit before you buy to make sure there is a toll free consumer help number you can call if you get into any trouble.
3. Do your homework to determine if you will be adding a color or toner on top of the bleached hair. Although bleach can be applied without a follow-up toner, most bleach kits recommend a second step application of color or a toner. This is known as two step processing.
4. Always do a patch test before you apply the bleach to your entire head to make sure that you will not have a reaction to the chemicals. Follow instructions on the bleach kit for doing a small patch test.
5. Read all the instructions completely at least once before undertaking the process. Follow the instructions to the letter of the law to prevent problems. If the kits recommends that you shampoo out the bleach at 20 minutes, don't wait 40. Less is always more with bleach.
The bleach must be gently shampooed out of the hair as soon as the desired stage of bleaching has been reached.
6. Some bleach kits come with a special rinse step that might include an anti-oxidant or reducing agent such as ascorbic acid to stop the bleaching action. Be sure to apply all special rinses or related sealants.
7. Avoid overlapping bleach to previously bleached hair. Repeated bleaching may leave very weak, brittle strands which have virtually no shine or moisture.
8. Avoid applying bleach to hair that has previously been colored, bleached or chemically treated. There could be a reaction that could cause major hair damage. When in doubt check with your stylist or color expert.
It is also important to avoid applying bleach or other chemicals to a scalp that has open sores, abrasions or any type of breakouts.
How To Recover From Bleach Damage
ABC All rights reserved.
If you are unfortunate enough to experience damage from a bleaching process there are steps you can take to repair your hair. Depending on the severity of the damage, your hair may or may not completely recover.
Regardless, expect the repair cycle to take some time. After all, hair can not be instantly repaired after a serious chemical treatment.
Consider taking the following steps:
1. Limit the number of times you shampoo your hair per week. If you can stretch the amount of time in-between shampoos this gives hair time to rest and for the natural hair oils to accumulate.
2. Use the most moisturizing shampoo formulas that you can afford. When possible, experiment with formulas specifically designed for hair that is chemically treated and/or damaged. Some products are designed to work together to condition colored hair.
3. Dilute the shampoo 1 part to 3 parts warm water. Even shampoo that is designed to add moisture or work with chemically damaged hair may be too much for your hair to handle in the initial stages of recovery. Experiment with a diluted formula first. If your hair reacts well to the dilution, work towards using a non-diluted formula.
4. Wash hair ONLY in lukewarm water. Hot water will dry out the cuticle and enhance any existing damage.
5. Rinse hair many times until all shampoo has been completely removed.
6. Apply a deep conditioner designed for chemically treated or damaged hair. Depending on the amount of damage you may wish to deep condition more than once a week.
7. Leave the deep conditioner on the hair for a minimum of 30 minutes. Add heat from a hood dryer to help the moisture penetrate deep into the cortex.
8. Always perform the final rinse with cool to cold water. This seals newly added moisture back into the cuticle.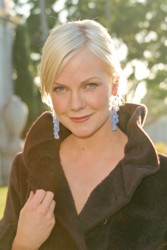 ABC/RON TOM All rights reserved.
9. Use a heavy leave-in conditioner like the world's best selling Phyto 9 conditioner with macademia nut oils. This product has saved my dry strands many times from breakage.
10. Avoid using hot styling tools which will exacerbate the dryness of any chemically damaged hair. Allow hair to air dry. To add curls or waves use, pin curls, rag or soft sponge rollers. Avoid heat like the plague.
11. Take essential fatty acids (EFAs) and add olive oil or other oils to your diet. This will help replace lost moisture from the inside of the body.
12. Take hair vitamins designed to strengthen hair. These will help the hair to repair itself from the root area as the strands grow.
13. Use only a smooth, wide toothed combs. Comb and brush damaged hair only as needed. Use only a boar's head brush of the highest quality you can afford. Never brush spongy or damaged hair when wet.
14. If the damage does not improve after a few weeks, visit a hair care professional for salon conditioning treatments. Have damaged ends removed.
15. Avoid applying any additional chemicals to severely damaged hair. The result could be disastrous.
16. Drink lots of water, get plenty of rest and treat your hair with extra special kindness.
Summary
With perseverance, patience and lots of love, most damaged strands will eventually recover. Once you get your hair back to a healthy level, think twice before applying any other potentially damaging chemical treatments.
Or if you must, go to a professional that can minimize potential damage.
Social Media Network Information
Please follow me on Twitter at: http://Twitter.com/HairBoutique. I look forward to meeting new people from all walks of Twitter and learning from their Tweets.
Visit us at Hairboutique.com located at: http://www.HairBoutique.com, on Facebook, MySpace and YouTube.
Thank you for visiting us at The HairBoutique Blog and for leaving your comments. They are very much appreciated. We apologize in advance but must remove any direct advertisements or solicitations.
f you want to talk more about this or other hair care articles on HairBoutique.com or anywhere else, please post a message on HairBoutique.com's Hair Talk Forums.