May 25th, 2011 by Karen Shelton
Introduction
Blake Lively creates lots of buzz about her long luscious Rapunzelesque hair. She always rocks amazing color, texture and shine.
The actress who plays Serena van der Woodsen on Gossip Girl recently created major media interest when her gorgeous trademark blonde tresses were dyed red by longtime LA colorist, Rona O'Connor.
Related: Check out Blake's hairstyles in her Celebrity Hairstyle Gallery
You may have heard of O'Connor from her work with another famous Hollywood redhead, Debra Messing.
Going From Blonde To Red
The Gossip Girl went red for a role in the movie "Hick" where she plays a grifter. The movie is due out in 2012.
Although many love Blake's copper hue which looks very natural and beautiful, O'Connor confessed to InStyle she will be taking Blake back to blonde when her work on the film is finished.
O'Connor promised "I would never have taken her red if I didn't think we could go back to blonde without damage."
Fire Opal Red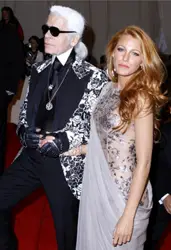 DC Media All Rights Reserved
To create the shade which Blake and O'Connor named Fire Opal after one of Blake's favorite stones, O'Connor stripped away build-up with a pre-color treatment, then started with a red wash.
She layered a blend of highlights—gold, gold apricot, and fired copper—to complete the transformation.
Long Face Framing Layers Give Beautiful Bounce
Blake has long layers throughout her tresses which help to create movement, texture and amp up her waves. Sometimes the actress wears a long side-swept fringe.
Face framing layers give her waves lot of bounce. To make her cheekbones pop her bangs are cut to fall longer and blend into the side.
A long layered cut is the key to keeping long tresses from laying flat and dragging down the face.
Although it's hard to know for sure, most hair experts who've worked with Blake say that her hair is 100% all natural. Whether her hair is ever enhanced with clip-ins or fusion extensions only her hairdresser will ever know.
How To Steps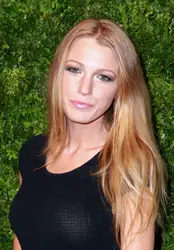 DC Media All Rights Reserved
Blake is known for her long lush hair which is built upon a foundation of full and fluffy roots. Volume is the key to creating Blake's signature hairstyle.
To achieve Blake's long lush look follow the steps below:
1. Start by cleansing hair in lukewarm water with desired methodology ranging from full strength shampoo to Diluted Shampoo (DS), Conditioner Only (CO) Wash, Water Only (WO), Low Poo, No Poo or a combination.
Note: If your hair tends to fall flat or is naturally fine, thin or limp you may wish to apply products which are designed to enhance hair volume. Opt for a volume building shampoo, conditioner, volumizing spray and mousse.
2. Rinse and apply a moisturizing conditioner from the top of the ears to the tips of the hair.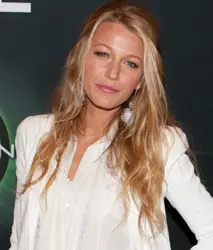 Fox/TV All Rights Reserved
3. With conditioner applied to the hair use fingers or a wide-tooth comb to detangle from the ends up to the roots.
4. Finish with a cool to cold water rinse.
5. Towel blot with hair friendly towel (without nubs).
6. Apply leave-in styling conditioner to damp hair consisting of, but not limited to leave-in conditioner, defrisant (Phytodefrisant or similar) mousse, styling curl cream and mousse.
7. Part your hair slightly to the right. (It is about an inch away from a center part.)
8. Separate hair into 6 equal horizontal sections. Dry hair using a long finger diffuser to enhance and define natural texture.
Optionally you can use a round boars bristle brush and a blow dryer to blow dry each section.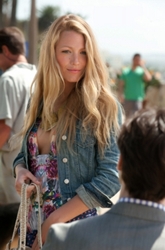 The CW All Rights Reserved
When you blow dry be sure to lift your hair and direct the air flow from the blow dryer from the ends up to the roots.
10. Separate hair into 6-8 sections and roll from the ears to the ends with a 1 1/2 - 2" barrel (medium barrel) curling iron. After each section has been curled roll around fingers and pin to the scalp in an invisible roller for hair to set.
Note: Whether you decide to utilize rollers, or a curling iron, often depends on the quality of your current cut and shape of your natural curls.
In some cases, if you have a great cut which enhances your own personal curl pattern, you won't need to utilize a curling iron to fine tune the shape of your ringlets.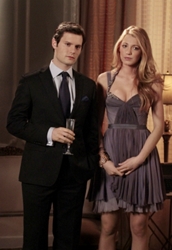 The CW All Rights Reserved
11. Once hair has cooled and completely set then unpin the invisible rollers. Bend over at the waist and shake the curls and waves loose. Run your fingers through individual sections to loosen up the waves.
12. Apply some shine serum to the ends or give your style tons of shine by misting your entire head (except your roots) with shine spray.
Additional Styling Tips
Is your hair all one length or layered? This can make a huge difference on whether curls you apply will hold or not which determines which curling methodology you select.
The more layers your hair has, especially if it is short or medium in length as well as the amount of natural bend, the more curls you can create and the longer they will hold.
There are always a variety of options for creating Blake's hairstyle which include: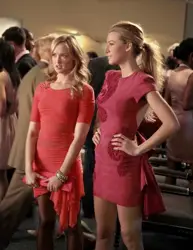 The CW All Rights Reserved
1. Air drying - If your hair has natural texture such as curls and/or waves you can cleanse, towel blot and encourage texture by applying styling cream and/or mouse and then allowing hair to air dry while wrapped up in a wet bun.
2. Diffuse drying - Natural hair texture also responds well to diffuse drying with long or short finger diffusers.
3. Wet sets - For a more traditional hairstyle like Blake's you can cleanse hair, towel blot and set hair in large foam or rag style rollers. Once hair is set you can either allow it to air dry or sit under a hood dryer.
4. Clip in texture - If you adore waves and curls, but have stick straight hair that doesn't naturally wave, you may wish to consider HairUWear's fabulous line of Put On Pieces that can instantly allow you to create any look that you desire with any type of texture.
The CW All Rights Reserved
Summary
If you truly wish to copy Blake's hairstyle make sure your hair is at optimal health by keeping ends trimmed and religiously perform deep conditioning treatments to keep hair shiny.
Social Media Network Information
Please follow me on Twitter at: http://Twitter.com/HairBoutique. I look forward to meeting new people
from all walks of Twitter and learning from their Tweets.
Visit us at Hairboutique.com located at: http://www.HairBoutique.com, on Facebook, MySpace and YouTube.
Thank you for visiting us at The HairBoutique Blog and for leaving your comments. They are very much appreciated. We apologize in advance but must remove any direct advertisements or solicitations.
- Revised Date: 10/04/11
If you want to talk more about this or other hair care articles on HairBoutique.com or anywhere else, please post a message on HairBoutique.com's Hair Talk Forums.