December 5th, 2001 by Karen Shelton
Introduction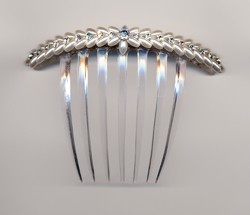 Hair adornments have been around since Adam Tucked a flower behind Eve's ear. Diamonds became hot in 1437 when a woman wore a necklace and matching hair jewels to capture the eye of King Charles Vii of France. Not only did she bedazzle the king, a new fashion trend was born. Hair jewelry, made with real and faux diamonds, has remained popular throughout the ages into current times.
An important key to the successful selection of hair gems is knowing what is the right babble for your hair type. Finding the best piece for your hair can make all the difference between hair that is stunning and hair that is downright blah. Whether you go for romantic curls or a shorter sleeker shattered do, you can add instant resplendence with the correct hair jewels and accessories.
Functional vs Fun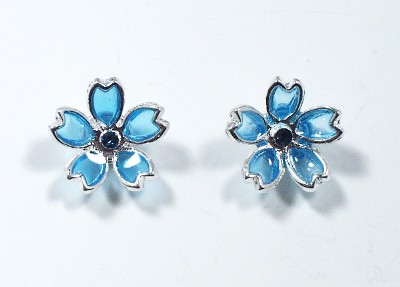 Some hair accessories are designed to stem the tide of unruly locks while adding dash and dazzle. Other hair accessories are designed to be either functional or fun, but not necessarily both. Hair magnets, snaps and wired gems along with beaded hair strings, tiny hair clips, and add-on hair strands are designed to be accent pieces only. Barrettes, ponytail holders, headbands, tiara hair combs, large hair pins, hairsticks and large claw clips can offer the advantages of a hair anchor that is also disguised as jewelry.
Maximize Your Shimmer
The hottest hair gems are designed to reflect light and generate strategic radiance.
Ranging in variety from tiny alligator and accent claw clips, floating gems and hair snaps to jeweled combs and clip-on hair strings, hair jewelry offers a scintillating array of options.
Floating Hair Gems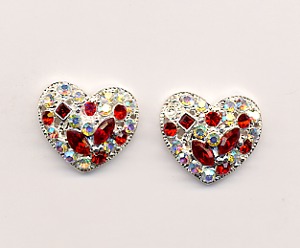 Floating hair gems only recently appeared on the hair scene but they remain very popular. True hair "floaters" range in size from one fourth to one inch in diameter. They are attached to hair with a range of hidden devices from Velcro, tiny magnets, snaps and wired gems so that they give the appearance of floating.
Hair magnets, hair snaps and related items are made with anything from pricey miniature rubies and pearls to Austrian crystals, diamond colored rhinestones and faux stones. They come in all imaginable sizes and shapes and are the Universal hair accessory that can be worn by all hair lengths, textures and ages. Designed to be worn as pure adornments, hair magnets, snaps and wires do not provide any obvious functional hair assistance.
Magnetize Your Glow - It's A Snap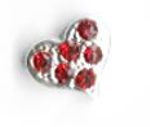 The key to hair magnet harmony is to select magnets that work best for your hair type and texture. Large or heavy magnets may slip right out of super short, fine, thin or stick straight hair unless they are carefully positioned close to the scalp or used in combination with invisible hair pins. Magnets work by sandwiching hair strands between the magnet and the matching metal sphere.
As a general rule, medium to thick curly or wavy hair will handle most magnets very well. Although magnets tend to work best near the hairline or the scalp, carefully placed magnets will float nicely in a bed of curls or waves.
Metal backed hair snaps actually snap into place like snaps on a shirt and will grip hair tighter than magnets. Although they look fabulous near the hairline and scalp, jeweled snaps will float securely in the middle of most updos and curly, wavy or sleeked back styles. Whether you have short or long hair, hair snaps will work well for the majority of hair textures. Only very thin or super fine hair may reject hair snaps.

Velcro hair snaps are the lightest and usually the smallest option for floating hair gems. The Velcro is designed to be lightly rubbed against the hair cuticle so that they "grab". When all other hair jewelry fails, these hair jewels may work quite well because they are the lightest to wear. The downside to Velcro backed jewels is that they are the easiest hair jewels to lose.
Wired hair gems have a very thin metal circle that slides nicely into fat curls, twists, and waves. Although hair gems with wires don't "float" like magnets and hair snaps, they do provide a similar effect.
If you decide to capture the spirit of floating hair gems, remember that less is more. If you are showing off an elegant updo, remember to limit your use of jewels to avoid detracting from your gorgeous style or resembling an overdone miniature Christmas tree.
Barrettes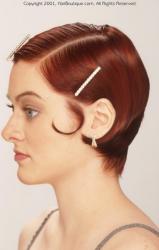 The barrette is one of those super functional hair accessories. Not only are they available in every size, shape and color, they are designed with pop clasps that will help keep the accessory in place all day long. Barrettes can be used as a mock ponytail holder or to secure a messy twist. They can hold all or part of the hair in place.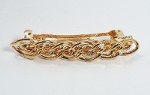 Smaller decorative wire barrettes have been quite popular over the past few years. Perfect for short, fine or medium textured hair, they can instantly get lost or tangled up in super curly or wavy styles. The wire models also are perfect for accenting a section of bangs or floating above the ear.
Ponytail Holders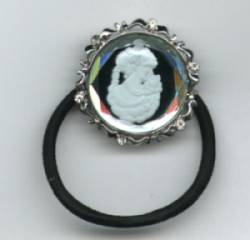 Ponytail holders come in formed metal, soft elastic or thick clips. These hot new hair jewels adjust for any hair that is long enough to be pulled back into a ponytail. Over the past year a dazzling area of decorative pony wrappers have popped up everywhere. Luckily the elastic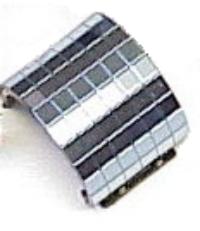 ponytail bands that hold eye popping babbles or beads come in all levels of thickness from thick to thin. Fine haired folks can select a thin band while people with long or extra full locks can go with the thicker bands.
Headbands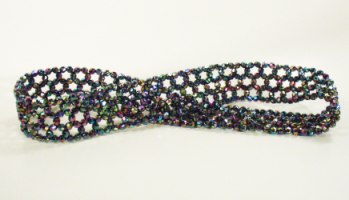 Although the bra band craze has waned, adjustable and elasticized soft headbands that snuggly hold wild hair and curls back from the hairline are still popular. Many curly girls understand that the right adjustable headband can instantly give them a smooth hairline with their tousled locks flowing freely out the back of the band.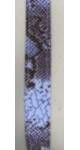 Gwenyth Paltrow favored several types of headbands when she went through her famous "growing it out" phase. Cameron Diaz sported a wide elasticized cloth headband in the recent remake of Charlie's Angels and Charlotte on Sex in The Cities has appeared in the wide shell colored molded headbands that are more decorative than functional.
Thin headbands with tiny teeth can slide into your hair at the crown and create instant hair grooves that add a new dimension to your do. Headbands with teeth will especially help grip thin, fine or slippery hair. Depending on your hair texture you may need to go with a "one size fits all" band that allows your hair to move.
When you are in hair jewelry doubt remember that a rhinestone studded headband can take any attire up a notch.
Tiaras & Combs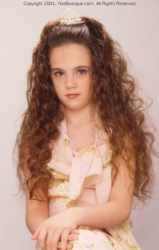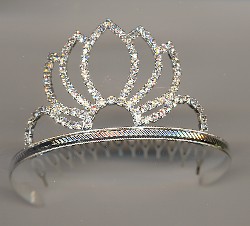 Hair ornaments first rose to major favor in the Middle Ages when no woman of rank or class was considered well dressed without the basic jewelry uniform of rings, bracelets, necklaces, earrings and a tiara or jeweled hair comb. Tiaras and hair combs are influenced by regional trends but are still popular in several areas for weddings, Proms and special formal events.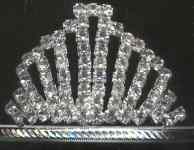 Although a full sized crown and large hair comb are ideal for long or thick locks, the abbreviated tiara combs that perch right at the crown can work well for fine or short hair styles. Hair combs come in all sizes and shapes and can work with hair of any texture that is short to long.
Utilize rhinestone encrusted combs to hold hair elegantly back from the face. Or use a ring of smaller combs to accent a ballerina bun updo. Combs never seem to go out of style and remain popular with all ages from young to old.
Large Hair Pins & Sticks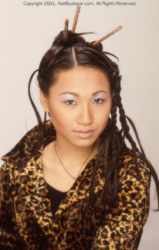 Fun, funky, jeweled or plain, double and triple pronged large hair pins and hair sticks can be worn as a functional hair tool to hold medium to longer locks knotted or wrapped securely in place.
Elegantly handcrafted hair sticks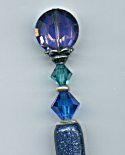 with gorgeous one-of-a-kind Austrian Crystals and stunning jewels are popular for very brides, Prom goers and for just about any dressy event.
Although perfect for thicker locks, hair sticks and pronged
hair pins come in all lengths and sizes. They can be worn as pure accent pieces or tucked in single or multiple formations as decoration for ponytails, braids, chignons or ballerina buns.
It is true that some people with short or super fine hair may have problems wearing hair sticks. If this is the case, miniature hair pins with jeweled heads can be used as a wonderful substitute.
Clip It Back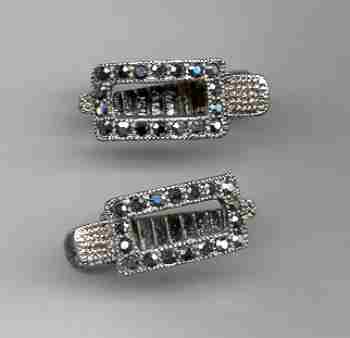 Hair clips range in size from thumbnail sized to full-blown. Known by a variety of descriptive names that range from Alligator and claw clips to Concorde, banana and finger clips, these hair jewels are both functional and decorative.
The Concorde or banana clips are named for the famous airliner and come in all colors from silver and black to colors. Great for holding clumps of hair up in a messy bun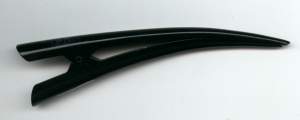 or anchoring a chignon or fat knot, the clips are best for medium to long hair that is medium to thick in texture. The clips are very versatile and one of my favorites.
Tiny sized jeweled hairclips are wonderful accent pieces that nestle well into a sleek and sexy version of a French twist. They also are very popular for holding tiny dreadlocks into place or to form a line of hair twists at the top of the crown.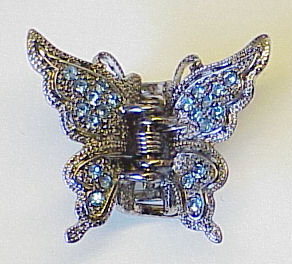 Medium clips do well holding back a few well placed strands around the hairline or above the ears. Whether adorned with snowy pearls or luscious flowers, hair clips will stay put in just about any hair texture.
Instant Add-On Accessories

If your hair won't co-operate with traditional hair accessories and jewels, you can throw caution to the wind and go with the add-on faux braids and hair strings. The good news is that hair strings and other add-ons have tiny clips that will attach onto just about any texture or length of hair. You can go with the traditional rhinestone studded hair strings or blow it out and clip in purple, orange or pink faux hair strands.
Flowers, ribbons and lace are always an option for instant hair adornment. Drew Barrymore started a craze when she wore a stunning flower over her ear for an Academy Awards appearance. Whether you go with one large or lots of smaller flowers, the only challenge is your imagination and your hair texture and length. Anchor the accessory with a hairpin or clip keeping in mind your hair's ability to hold on to the object for any extended period of time.
Summary
Whether you have long or short or long, straight or curly, thick or thin locks, there is an ideal hair accessory or jewel for you. The key to success with hair adornments is to know what gems will be most compatible for your hair and match it to the event you are attending.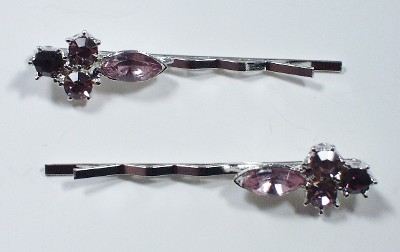 If you have fine, thin or slippery hair look for accessories that grip, stick, cling or clip. Medium to thick hair benefits from larger pieces such as barrettes, hairpins, hair sticks and larger clips. Short hair does best with smaller accent pieces while long hair can wrap around jeweled pony holders, hairpins and sticks. Curly and wavy hair needs pieces that can offer control, convenience and good looks.
Hair jewels and decorations have been popular for thousands of years. Fads and fashions may come and go but one thing is certain. People will always embrace twinkles from head to toe.
If you want to talk more about this or other hair care articles on HairBoutique.com or anywhere else, please post a message on HairBoutique.com's Hair Talk Forums.