December 12th, 2007 by Karen Shelton
Introduction
Layered bangs, when cut correctly, can be some of the most versatile bang styles to select from.
As a big fan of bangs (I have been wearing them all my life), I find layered bangs easy to tousle, straighten, wear messy or sleekly finished.
Of course like everything else in the Bang Hair Universe, some bangs work well for some hair types but not so well for others. Layered bangs usually work best for people with naturally straight hair. They are best when crafted on hair that is medium to thick. Hair that is too thin or baby fine may turn out looking wispy.
Although thick hair can work nicely when cut into layered bangs, if the base of the bangs are cut too far back toward the crown, the bangs may be too heavy to hold a good layered shape.
With layered bangs the lowest layer would be likely be blunt cut across the forehead with a series of ever shorter layers cut from the base layer up. However, it is important to avoid cutting too many or too short of layers or else the bangs will not lay properly and there will be too short strands that may stick up from the top layer.
If the base layer is too long, there is a danger or the ends flipping up and forward. Creating layered bangs are more complex than bangs cut straight across.
When layered bangs are created, it is advised that shear scissors are used instead of a razor. This is because a razor will leave the ends choppy and there may be breakage associated with the ends due to the sharpness of the razor.
Layered Bangs With Panache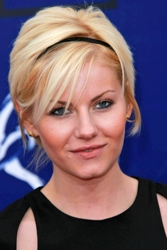 DailyCeleb.com All rights reserved.
Actress Elisha Cuthbert is a great role model for layered bangs. The beautiful blonde star has worn her hair in bangs off and on throughout her entire career.
In December of 2007at the GQ Men Of The Year Celebration Elisha went with a very short chop cut framed by layered bangs. It was a stunning look for Elisha who has a face that combines square jaws and a tapered jaw with a classic dimple.
Elisha's GQ style featured face-framing bang pieces stacked in soft layers. Her December 2007 layered bangs were an abridged version of the style she wore to the 2007 Taurus World Stunt Awards in May of 2007. Elisha knows how to wear her layered bangs with panache.
In May she combined her slightly longer layered bangs with a skinny headband which instantly added volume a few inches behind the base of her bangs. She tucked the longer sides behind her ease which gave her a very sophisticated look.
Even though Elisha has gone through periods of time with no bangs, when she opts to wear them they are always some form of layered bangs which are usually tousled and directed to one side
I had the great fortune to interview the lovely and talented Bai Ling after one of her famous haircuts. I caught her as she was getting ready to fly to the Orient to star in a film.
After chatting with the charming star I can just imagine her delight at adding the unique hair color to offset her famous straight bangs.
Besides her cherry red panels of hair, Bai Ling has been known to offset her straight bangs with a wide range of twists.
Straight bangs are typically cut to hang slightly past the eyebrow by anywhere from 1/8 to 1/4th inch.
Although some hair and beauty experts recommend that only some types of face shapes should wear the straight across bang style, other experts believe that every face shape can benefit from the look. The reality? The straight across bang will draw attention to the eyes, nose and cheeks. The straight across bang is best for thinner faces and to help minimize wide foreheads but is considered less ideal for round or square face shapes.
Types Of Hair Compatible With Layered Bangs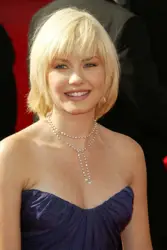 DailyCeleb.com All rights reserved.
Layered bangs can be stunning when combined with any type of hair length from super short to super long and somewhere in-between.
Straight bangs do work best on hair that is naturally straight due to the fact that tresses with any type of bend, wavy or curl will be much more difficult to style.
When hair is naturally curly or wavy, there can be a lot more challenges to wearing bangs of any type but definitely straight bangs pose the largest problem.
How do people with naturally curly hair achieve layered bangs?
There are a number of methods employed by naturally curly haired people although they can be quite time consuming and have as many disadvantages as advantages.
Curly haired people can achieve layered bangs by taking the following action:
1. Blow drying hair straight using straightening balms and/or a combination of straightening balms and anti-defrisants coupled with a good straight brush and/or flat iron. 2. Apply a relaxer to just the bang area to keep the forehead hair straighter. Keep in mind that a relaxer may not completely straighten the curliest of bang hair but it will help relax it so that it is easier to style straight. The disadvantage to relaxing just the bangs versus the entire head of curly hair is that it may cause the rest of the hair to look out of proportion. There is also the challenge of root hair growing in curly. 3. Have the bang hair chemically straightened which will guarantee straight bangs. Keep in mind that chemically straightened bangs may still need to be blow dried straight to avoid any curves or waves. Also, there are the issues of curly root growth and the fact that the rest of the hair may look unbalanced due to the extreme difference in textures consisting of stick straight bangs attached to naturally curly hair.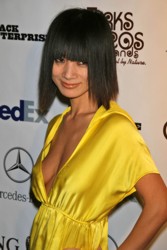 DailyCeleb.com All rights reserved.
Note: For more tips on achieving straight bangs read Bangs - The Straight Scoop. Before you take any steps to relax or straighten your hair be sure to do extensive research since either method can provide long term hair challenges.
Straight across bangs like Bai Ling's may not look as dramatic when created on hair which is naturally thin, wispy or baby fine. Straight bangs also appear more stunning when worn on tresses that are darker, since they reflect light. They also look best when the tresses are shiny, either from being super healthy or from the assistance of shine serums, sprays or similar.
Another option to achieve full, thick straight across bangs is to have tiny human hair extensions applied to just the bang area. Yes, this has been done. Another option is clip-in bangs which are less viable in most cases because they look unnatural and may create the dreaded 60s mall bang look.
To be considered classic, straight bangs must be cut straight across from side to side. Some people like Bai Ling prefer to mix it up a bit so they opt to have their straight bangs cut in a way that the bangs angle down from the end of the eyebrows down towards the ears to create a more triangular effect. This is a departure from classic straight bangs.
Highlighted Layered Bangs
If the goal of straight bangs is to punch up the eyes, carefully applied ribbons of highlights and lowlights intertwined throughout the bangs can have a spectacular effect.
If the highlights and/or lowlights are added to thin, fine hair worn in straight bangs, there is an added benefit of instant plumpness and volume.
Layered Bang Styling Options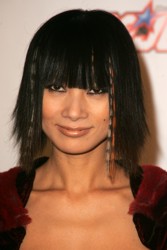 DailyCeleb.com All rights reserved.
Long eyebrow skimming bangs can be styled so that they are worn down in a straight or jagged line extending across the forehead.
Or, sometimes eyebrow skimming bangs are worn swept to one side with the bulk of the bangs draped over one eye Veronica Lake style.
Straight bangs can be worn without any type of adornment or they can be partnered with a wide range of hair accessories.
Headbands are an ideal hair accessories since they can be worn a few inches back from the bangs with actually maximize the beauty of the straight bangs. Experiment with ultra thin or super wide headbands to create a wide range of different looks.
Another great accessory for straight across bangs are thin clip-in bangs in a variety of different clues. The side hair can also be adorned with jeweled bobbies or sassy sleeper clips.
Summary
Layered bangs has been around since before the days of the famous flappers. The straight bang was adopted by Louise Brooks who wore the hair with her famous short bob.
Famed actress, model and star Bai Ling is known for her never ending array of gorgeous and classic straight bangs.
Do layered bangs look good on everyone? Although everyone should wear their hair exactly as they please, straight bangs need to be selected on a case by case basis.
If you want to talk more about this or other hair care articles on HairBoutique.com or anywhere else, please post a message on HairBoutique.com's Hair Talk Forums.