Last updated on July 5th, 2003 by Karen Shelton
Introduction
Ashlee Simpson's life is almost as golden as her streaked tresses.
Having spent her first limelight years as a backup dancer for big sis, Jessica, Ashlee's star is rising on her own merits. Which is exactly what the beautiful Libra wants. She wants to make her own name for herself.
Recently spotted at Teen People's 25 Hottest Stars Under 25 awards, there is little doubt that Ashlee's name could be on that stellar list in the very near future.
Ashlee is very driven to achieve major success as a performer.
Not only does she have her older sister Jessica as her inspiration, her father is a brilliant manager and producer. Of course her mother Tina also does everything she can to help her youngest daughter succeed in the cutthroat entertainment world.
This beautiful and very talented actress recently landed the plum recurring role as Simon Camden's love interest on the wildly popular 7th Heaven series on the WB Network.
Not only did Ashlee achieve instant recognition for her acting abilities, she has become admired for her stunning golden locks and edgy hairstyle.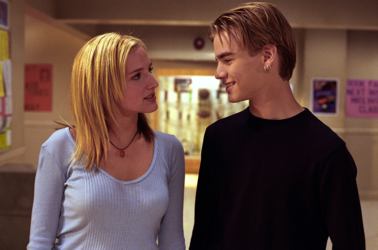 Copyright The WB All Rights Reserved
When it comes to having great hair, Ashlee has some of the best pros in the business helping to create her stunning look. Her current golden hue (shown above) was created by celebrity color guru Rita Hazan. Rita's color wizardry has magically transformed celeb heads ranging from Jennifer Lopez to Celine Dion.
Ashlee's fresh girl-next-door shagged look was cut and stunningly styled by celebrity hairstylist Ken Paves who has worked on an endless list of famous tresses from Lara Flynn Boyle, Celine Dion, JLo and Pam Anderson to those of big sis Jessica.
Celeb stylist Ken Paves and colorist Rita Hazan have worked together for a long time with amazing results.
Therefore it is no surprise that Ashlee's golden strands are colored and cut to absolute perfection.
Due to the combined efforts of Ken and Rita, her current high energy, sleekly textured style complements and enhances her pretty face and large eyes.
Copyright The WB All Rights Reserved
When I caught up with Rita at her chic Manhattan Rita Hazan salon, she explained "she colored Ashlee's hair natural light strands a deeper golden hue to fit the producer's view of how Ashlee should look for the wholesome Cecilia character on 7th Heaven".
Rita noted that she "layered some lighter randomly placed highlights on top of the golden base to add movement, depth and shimmer". Rita selected shades that would accomplish the requested look while playing up Ashlee's eyes and overall skin tones.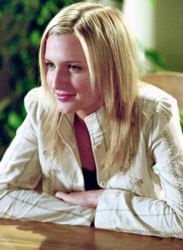 Copyright The WB All Rights Reserved
Ken Paves filled in the blanks about Ashlee's Heavenesque cut and current style.
Since she wanted to ditch her bangs, Ken carefully added "spot extensions along her hairline to help camouflage the remains of her old bangs" and "to add soft movement and a slight fullness around her face". It also helped speed up the bang growing out pains.
Ashlee's hair is layered to just below her shoulders. Ken spliced strategically into Ashlee's "naturally thick and wavy locks with a scissors to achieve the slightly tousled, piecey flicked look at the ends of the strands".
Ken is no stranger to Ashlee's hair, having "created cuts and various hairstyles for her for years". Ken mentioned that he did Ashlee's hair for Jessica's wedding last Fall and that he adores working with her because she is "such a sweetheart" and great to work with.
It's no surprise that Ken is Ashlee's hairdresser since Ken does the strands of all the Simpson women from sister Jessica to mom Tina.
In fact, when I caught up with him by phone to inquire about Ashlee's style he mentioned that he "had just received a call to go by and cut her hair".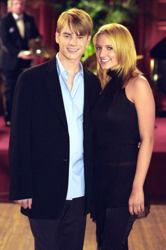 Copyright The WB All Rights Reserved
When it comes to styling her hair, Ken explained that Ashlee blow dries her strands straight using a round brush.
She also uses great products for her hair including several products from the Kerastase line along with the Phytolaque Soie spray. Ken is a big fan of the Phyto line and uses it on the strands of many of his famous clients.
Summary
Ashlee has worked very hard to get to her current career accomplishments.
Starting her career in dancing at the tender age of 4, Ashlee has been extremely dedicated to achieve her goals.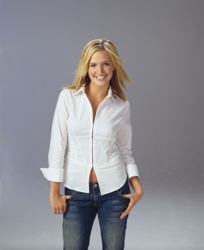 Copyright The WB All Rights Reserved
So don't be surprised if you see the beautiful Ashlee Simpson dancing across the big silver screen in the very near future.
This is one very talented young lady whose star is just beginning to shine.
Watch out world.
Social Media Network Information
Please follow me on Twitter at: http://Twitter.com/HairBoutique. I look forward to meeting new people
from all walks of Twitter and learning from their Tweets. Visit us at Hairboutique.com located at: http://www.HairBoutique.com, on Facebook, MySpace and YouTube.
Thank you for visiting us at The HairBoutique Blog and for leaving your comments. They are very much appreciated. We apologize in advance but must remove any direct advertisements or solicitations.
- Revised Date: 06/02/11
If you want to talk more about this or other hair care articles on HairBoutique.com or anywhere else, please post a message on HairBoutique.com's Hair Talk Forums.