June 23rd, 2004 by Karen Shelton
Introduction
As sweet blonde Cecilia on WB's 7th Heaven, Ashlee Simpson, "Ash" to her friends and family, is one part America's Sweetheart and one part rocker as MTV's star of her own reality TV series.
Struggling against being type cast as blonde Superstar Jessica Simpson's baby sister, the 19 year old actress and rapidly emerging rock diva, recently opted for the ultimate over-the-top instant image transformation which was recorded on her MTV reality show.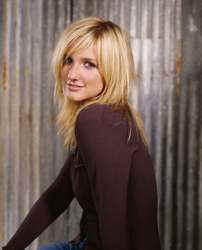 The WB/Kwaku Alston All Rights Reserved
Ashlee did, what so many people do, when they want to make a dramatic change. She decided to color her locks.
Consulting by phone with her longtime New York based celebrity colorist, Rita Hazan, the TV star decided to ditch her 7th Heaven girl-next-door buttery blonde tresses for a dramatic, dark chocolate, Patti Smith inspired hue.
Ashlee is a huge fan of Patti's and would love to cultivate a similar image and style of performance.
Rita, who is also the long time colorist of Jessica, Jennifer Lopez, Brooke Shields and Carmen Electra, confided from her namesake NY salon that LA based Ashlee "wanted me to personally do the dark color transformation for her" but because of impossible "scheduling and timing" conflicts "I just couldn't get to her".
Although big sis Jessica was temporarily brunette with the help of Hazan, a few years back, Ashlee's famous sibling adores being blonde. In fact, its fairly well-known that hubby Nick Lachey prefers Jessica in highlighted blonde hues and longer lengths.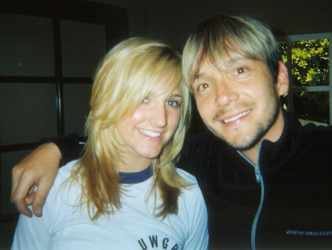 Photo: Ken Paves All Rights Reserved
According to Ken Paves, her longtime celebrity hairdresser, Ashlee's switch from vanilla to dark chocolate color was not all that surprising since "Ash is a young woman who has a very strong sense of her own style and definitely knows how she likes to wear her hair".
Ken, who coifs many of the biggest superstars such as Jessica, Carmen Electra, Celine Dion and Christina Applegate, has been working with Ashlee for "many years".
With A Little Help From Her Friends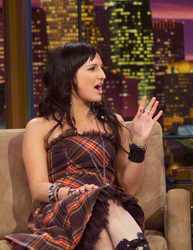 NBC Photos: Bjerke All Rights Reserved
Once filming on the WB series was completely wrapped, the 19 year old Libran boldly decided to do her own color change in the privacy of her home, with some long distance encouragement from Rita and a one-step hair color kit.
While her walk on the hair color dark side was easily and beautifully accomplished, the first four episodes of MTV's The Ashlee Simpson Show caught the star with her former buttery blonde tresses intact.
On the second MTV episode, Ashlee was filmed suffering through an early morning hair trauma as she prepared to shoot a music video with singer/songwriter Ryan Cabrera.
Her still blonde locks were curled and crimped by an unnamed hairdresser into an overdone coif that wigged out the rising rockster.
With the loving assistance of her ever devoted mom Tina, Ashlee was instantly suspended over a bathtub to wash her hair, successfully escaping the stigma of the disastrous do.
Extending Her New Hair Style
After she achieved her gorgeous dark chocolate transformation, hairdresser Paves was like a proud papa making sure that everyone knew that Ashlee did the new color all by herself.
In the past Ken, has styled Ashlee's hair, for major media and red carpet events. He also helped shortcut a painful growing out stage by adding custom extensions around her face line to add instant length to her bangs.
Shortly after her journey to the brunette side of the world, Ken added a series of matching chocolaty hair extensions. The perfectly applied extensions gave the adorable star more length and volume to her chunky, choppy layered style, which Ken had originally created for her.
Back To Her Roots - Sort Of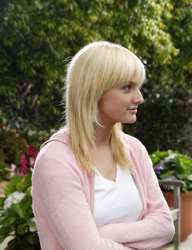 The WB/Kwaku Alston All Rights Reserved
Ironically, when Ashlee returns for her third season as Cecilia on 7th Heaven, she will be required to return to her character's long standing baby blonde locks.
Rita Hazan confirmed that she "will be taking Ashlee back into the world of blondes before filming resumes on the WB hit show in the late Summer". I
Rita explained "the producers of 7th Heaven have a vision of what the character of Cecilia should look like and one key ingredient is soft, beautiful blonde locks".
Both Rita and Ken have stated they really love Ashlee's new edgy brunette style. Not only does it make her look older than her 19 years (Ashlee turns 20 on October 3) it truly shows off her edgy rockster inner style.
Ashlee herself has commented in the media that she prefers herself in the darker locks, as did most of the cast of 7th Heaven, many of her friends and family members.
Her Fans Prefer Her As A Blonde
Oddly, many of her fans prefer the blonde Ashlee to the brunette version.
Of the 1,379 people that voted in a recent poll on Hairboutique.com, 677 or 49.09% indicated that they preferred Ashlee in her former blonde shade. A total of 272 pollsters or 19.72% preferred her new brunette hue while 138 or 10.01% thinks she is gorgeous in either blonde or brunette shades. Approximately 21.17% or 292 respondents simply don't care whether she was blonde or brunette.
The majority or 49.09% of the respondents to the poll liked Ashlee best as a blonde. Maybe because they identify with her as Cecilia on 7th Heaven, or maybe they just believe that she looks more beautiful in her lighter hues.
Summary
Regardless whether Ashlee is blonde, brunette or some other color, watch for this high energy, kooky but fun, rockster to make her own way into superstardom.
If you want to talk more about this or other hair care articles on HairBoutique.com or anywhere else, please post a message on HairBoutique.com's Hair Talk Forums.