Last updated on November 14th, 2001 by Karen Shelton
Strong, sensual, sexy...Conversation Hair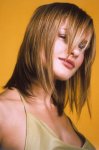 Port Washington, New York.......The word on the street is strong, sensual, sexy hair! Hair that's discussed...hair that's talked about. (All photos courtesy of ARTec, copyright ARTec Systems Group, all rights reserved).
It's hip, hop, and oh, so cool...The runway models wear it, everyone else wants it! What is it?
shredded hair ....reversible hair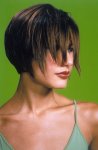 "Shredded hair is weightless hair," says Michael Mazzei, Co-owner of ARTec Worldwide. "It's hair that's been fractured with a razor so just the right amount of weight is removed. It's rough, it's edgy, it's shredded!. This old technique-turned-new is great for women or men, short hair or long. It's street wise and straight up. Shredded hair allows hair color to BLAST!"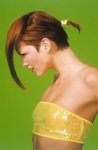 Reversible hair is manipulated hair. Wear it either way -- one side to the next. Reversible hair is cut out underneath, long on top and even longer in the front, allowing you to flip it from side to side. Flip to the left and you'll see one color tone, flip to the right and see another. Manipulate the hairstyle depending on how the hair is directed. Very sensual, very sexy.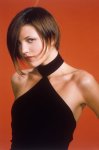 Everyone wants an edge with stronger, sexier, sensual colors...colors that BLAST with pure enamel tones. Colors that cause a conversation. Color tones that strongly contrast each other, skin to hair. Color tones that are so pure you can see yourself in the reflection.
Note: For more information contact Arlene Benza at 516-625-6663 X361 or contact ARTec Systems Group, Inc., 99 Seaview Boulevard, Port Washington, N.Y. 11050-4632 (516) 625-6663. Fax: (516)625-1203.
If you want to talk more about this or other hair care articles on HairBoutique.com or anywhere else, please post a message on HairBoutique.com's Hair Talk Forums.