Last updated on December 1st, 2007 by Karen Shelton
Introduction
Ponytails have been around since the beginning of mankind. Images of the earliest cavemen and women indicated that they tied their hair back off their heads with various "natural" pony holders such as vines, soft twigs or pieces of animal fur.

Since those caveman days the ponytail has evolved and changed through many civilizations and historical periods.

The ancient Egyptians, both men and women (of all ages), wore versions of ponytails to keep the intense heat off of their necks and faces. The early Greeks and Romans also wore a version of pulled back strands akin to today's pony hairstyles.

Modern day celebrities like Mischa Barton, Brittany Murphy, Jennifer Aniston and Jessica Simpson love to wear ponytails for both casual and formal wear. With every popular style that regularly cycles in and out of hair fashion there are a series of tips that can be gleaned that make taking a ponytail trip a more pleasant experience.

There are also various myths that arise about any type of hair style, including the seemingly innocent pony.

Listed below are 17 ponytail tips that include various myths, facts and ponytail trivia.

1. Excessively Tight Ponytails May Cause Tension Alopecia Excessively tight ponytails, where the hair is pulled with extreme tension from the hairline to the base of the pony can increase the risk of tension alopecia, a hair loss condition. This is more true when ponytails are worn for extended periods of time. This is more common when tight ponytails are created on younger children. Usually this requires daily tight ponytails for months or years. The bad news is that tension alopecia may cause permanent hair loss. Avoid the potential problem by wearing looser ponytails or by taking a break in between wearing the style.

There is no danger when wearing ponytails on an occasional basis, even if worn with tight sides and a crown.

2. Always Remove A Ponytail Before Sleeping

Going to bed with a tight ponytail can cause scalp stress and strain. It may also cause unnecessary tangles when the tail parts of the hair get entangled with the pony elastic.

Always gently remove your current ponytail before sleeping.

3. Ponytails Can Cause Headaches
DailyCeleb.com All rights reserved.
If you ever heard that this is true but thought it was a myth, in reality it can happen. Ponytails that cause headaches tend to occur most often when the hair is long to extremely long and thick to very thick. If the ponytail hair is heavy in weight it can cause headaches from tension. In some rare causes a ponytail made with heavy hair can cause neck and back pains. Relieve the problem of heavy ponytails by wearing the hair in a pony with the base near the nape of the neck. This allows for better weight distribution.
4. Ponytails Should Always Be Secured With Hair Friendly Elastics Or Clips
One of the biggest mistakes that ponytail wearers make is securing the base of their ponytails with rubber bands rather than hair friendly elastics that have special coatings to prevent pulling and ripping of hair. Celebrity hairdressers often use Bungee Cords or Blax Bands which are designed specifically for the creation of ponytails. The advantage to the Bungee Cord is that it hooks and unhooks and can be wrapped more than once around the base of the ponytail. This allows for easy removal of a pony.
The advantage of the Blax Bands is that they hold very tight and sleekly. Because they are relatively inexpensive, they can be easily snipped with a scissors to remove them.
5. Barrettes Are A No Ouch Ponytail Solution
If pulling elastics on and off is painful or difficult, opt for a long or extra wide "pony" barrette that will hold the base of the pony in place without pain, pulling or tugging. 6. Angel Hairs Result From Hair Damaged By Ponytails
When hair breakage from rubber bands or other "unfriendly" hair bands cause breakage a line of short hairs that are 2-4 inches fromt eh scalp become visible. These shorter hairs that result from ponytail damage are known as "halo" or "angel hairs". They can easily be prevented by wearing proper "hair friendly" elastic bands, Blax or Bungee Bands.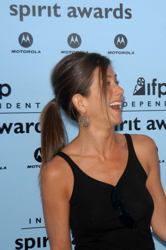 DailyCeleb.com All rights reserved.
7. Ponytails Created On Damp Strands May Hold Tighter Than On Dry Strands
Hair with shorter layers may hold tighter around the sides when created on damp strands that have been prepped with a strong holding gel or mousse. As strands dry the shorter layers will stay put.
8. Slightly Aged Strands Hold Ponytails Better
Ponytails are often easier to style when hair is slightly aged from the last shampoo. Newly washed, soft, or slippery hair, can often be trickier to work with then "day old" hair.
9. Ponytails Are Considered To Be A Universal Style
Ponytails can be done on hair that is long enough to hold a pony elastic. Except for very short hair or someone with no hair, everyone can wear some form of a ponytail. Ponytails can be personalized to suit just about any type, texture or style of hair.
10. Sophisticated Side Ponies
A sleek and simple pony worn to one side can look spectacular. Combined with side swept bangs, a side pony can work for a face shape that doesn't work as well with an off-the-face style. Wear a side pony low and softly tucked behind the ear.
11. High Ponytails Provide Instant Face Lifts
High ponies are set at the top of the head near the back of the crown. The high pony is famous for providing a "mini" facelift by putting tension of the face and emphasizing the cheekbones.
12. Stacked Ponytails Involve Layered Ponies
Stacked ponytails consist of more than one pony or is designed to strategically be pinned around the base to give the appearance of hair that is stacked on top of other strands.
The benefits of a stacked pony is that it creates a lot of fullness around the base. Having more than one pony placed right on top of another creates a lot more volume for the tail section. A similar effect can be created with a circular pattern of bobby pins that lift individual strands and stack them to create a fuller tail section.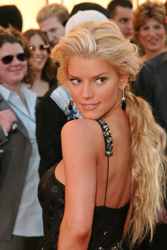 DailyCeleb.com - All rights reserved
13. Add-On Ponytails Work For Ponytail Challenged Strands
If your hair is too short for a ponytail but you adore the look take your mouse and visit the HairUWear site for beautiful and incredibly affordable PutOnPieces that come in an array of add-on pony lengths and hues to match your own hair. You can also shop for a second pony that you can add to your own hair to create a similar stacked look.
14. For Extra Control Apply Firm Holding Gel Or Mousse
Apply a firm holding gel or mousse to help anchor sides and crown into place.
15. Straight Hair Works Best For Ponytails.
Blow dry hair straight using a blow dryer with a concentrator attachment. If hair is naturally curly or wavy, apply a straightening balm like Phytodefrisant or similar to damp strands. Use a boar's head style paddle brush and separate hair into individual sections.
16. You're Never Too Old To Wear A Ponytail
Regardless of age or social status, ponytails are always acceptable.
17. Ponytails Are A Great Bad Hair Day Solution
Since ponytails are the basis for many updo styles, whip your hair into a quick pony when you're in the midst of a bad hair day. Use the popular style as a jumping off point for a quick twist, wrap or casual chignon.
Summary
Ponytails have come a long way from the days of the earliest cave people. Throughout history this popular style for both and women has continued to evolve and change into its current style and form.
Social Media Network Information
Please follow me on Twitter at: http://Twitter.com/HairBoutique. I look forward to meeting new people
from all walks of Twitter and learning from their Tweets. Visit us at Hairboutique.com located at: http://www.HairBoutique.com, on Facebook, MySpace and YouTube.
Thank you for visiting us at The HairBoutique Blog and for leaving your comments. They are very much appreciated. We apologize in advance but must remove any direct advertisements or solicitations.
- Revised Publication Date: 05/22/10
If you want to talk more about this or other hair care articles on HairBoutique.com or anywhere else, please post a message on HairBoutique.com's Hair Talk Forums.